Gerbils are an awesome addition to your family! Their overloading cuteness and individual personalities add more color to your life. Also known as the "sand rat" or the "desert rat", these critters are native to the sandy plains of Asia and Africa before they were introduced to America as pocket pets. Pocket pets like gerbils will always be a lot safer in their cage. So, it is quite understandable that you should choose the best gerbil cage as they will be spending most of their time in a captive environment.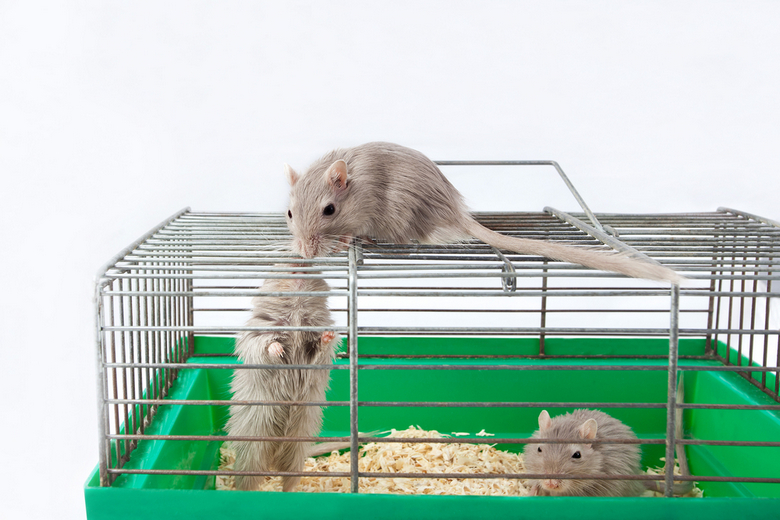 A good home is crucial for your pets as it maximizes their health, as well as boosting the quality of their precious, short lives. It is not a kind act but rather a responsibility as a pet owner. So, if you have a gerbil or are considering getting one, consider our top 10 best cages for gerbils.
What to Look for in a Gerbil Cage
Construction
Unless you are 100% sure that your hobs are angels, it is best not to choose a habitat with plastic components. Even plastic tunnels can be disadvantageous since our little sand rats have the affinity to chew apart everything chewable. They look fun, yes, but the risk for ingesting tiny plastic shards is there.
Know that gerbils are ferocious chewers and diehard diggers; hence, you better provide your tiny pals with a chew-proof enclosure with a deep bottom so they can freely dive into a sea of sawdust. Gerbils are also skilled at escaping. So, it is clear that an aquarium or a metal cage is the best choice. You could use a glass tank with a sturdy wire topper - both of which we have included in our list. Do take note that you have to perform weekly cleanings to minimize ammonia build-up if you opt for a glass tank.
Nevertheless, the decision boils down to the enclosure that makes the most sense to you. If you and your hobs have spent many years using plastic-based cages and experienced no issues whatsoever, then that would be great as well. If you do purchase a plastic cage, be sure to monitor the plastic components regularly. Even the sturdiest plastic cage won't guarantee that a naughty hob can't chew through it eventually.
Size
Gerbils are more active compared to most of his rodent cousins. Although your hobs and jills won't be doing a triathlon inside its enclosure, your pets will still need a good amount of space for substantial exercise. According to the Chicago Exotics Animal Hospital, a gerbil cage has to provide at least 36 inches of space per critter. Having a spacious enclosure also allows you to accessorize and add as many toys as you can to provide mental stimulation and entertainment for your pets.
Vertical Height Space
Gerbils use their hind legs to stand up as they navigate their surroundings and have an eyeful of the interesting spectacles happening outside their cage. Thus, it is important that your pets' habitat must be able to cater to this intrinsic behavior. Likewise, the cage must have a sturdy bottom that can hold the brunt of a miniscule animal acting like a meerkat. The best choice is a non-mesh platform such as wood or metal, which you can line with fleece or bedding. Bear in mind that gerbils may gnaw through even hardwood.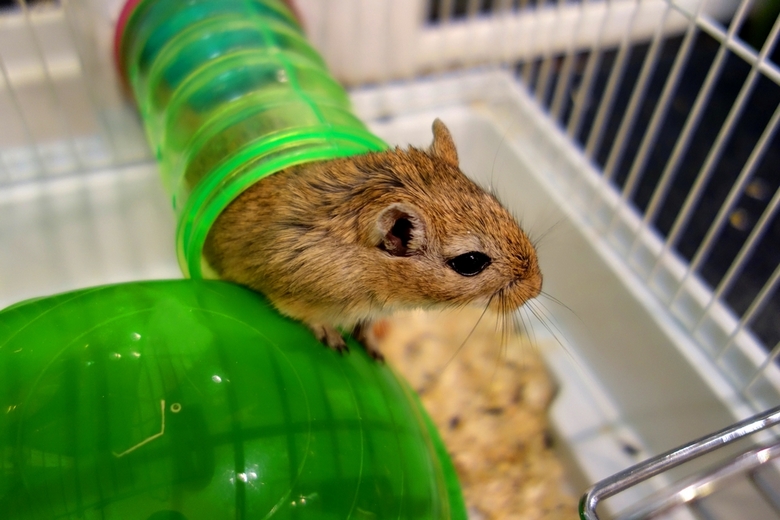 Deep Base
A cage with a deep base also holds benefits of its own. For one, it enables you to fill your pets' cage with lots of bedding to explore and burrow into. The deeper the base, the better as this also prevents bedding and poop from getting thrown out of the cage by an enthusiastic gerbil.
Ventilation and Security
It is imperative that you use a securely fitted wire topper if you use an aquarium for your feisty gerbils. The topper keeps your pets far from harm's reach, especially if you have bigger animals at home. At the same time, it prevents your pet from jumping out of its cage. It also provides maximum airflow to keep the enclosure fresh and cool.
Security
Gerbils possess Houdini-like skills, so you will have to carefully watch for any possible openings in a cage. It takes only a single poorly sealed opening for a gerbil to escape and disappear forever. If you use a wire topper or a wired cage, be sure the wires are small enough to prevent your pets from breaking free.
Ease of Cleaning
Unless you are OCD-diagnosed, you will never find fulfillment in cleaning every day. So, you better get a cage that is easy to maintain. Imagine how many hours you can save for yourself if cleaning a gerbil cage is hassle-free!
10 Best Gerbil Cages
1. Kaytee My 1st Home Tank Topper
The Kaytee My 1st Home Tank Topper effectively doubles the volume of your hob's abode. You can revamp any 10-gallon aquarium into a multi-level gerbil casa. Assembly is a piece of a cake, thanks to the springs that make the connections perfectly snug. Nothing falls off. Everything sits tight. But you can also detach and store away the pieces as simple as ABC when need be.
Adding this tank topper to your critter's digs is also an effective way to supply sufficient ventilation. It is made of chew-proof wire to make sure there will be no furry escapees during the night. However, the only access point would be at the very top of the cage, which is considered a disadvantage by some, as you would have to reach very far to get to the bottom. Nevertheless, you can always remove the tank topper if you badly need to reach those areas. Doing so is also prerequisite during cleaning and maintenance.
Included in this product are stain-resistant comfort shelves and ramps made of sturdy plastic. With the platforms in the right places, it easily makes a bland habitat a lot more fun for your hobs and jills. Additionally, the Kaytee My 1st Home Tank Topper comes with a mini-hideout, a canteen-style water bottle, and a bowl-in-the-hole food dish.
Overall, this product is an incredible solution if you want to upgrade your hob's abode despite the limited space for a pet corner. This product measures 20" x 10" x 10".
pros
½" Horizontal bar spacing
Can be attached to any regular 10-gallon aquarium
Can easily contain 3 to 5 inches of bedding to act as a cushion (additional bedding material provides other benefits)
A cost-effective solution for pet owners who have limited space
Improves ventilation
Free mini-hideout, canteen-style water bottle, and bowl-in-the-hole food dish
Easy to clean inside and minimizes dirt around the enclosure by effectively containing bedding material, food, etc.
Comes with sturdy platforms and ramps that allow gerbils to travel up and down
Hassle-free assembly (no tools needed and comes with built-in safety clips)
Made of chew-proof wire
cons
Limited access; is not recommended for new pets that are yet to be tamed
2. You & Me Small Animal High-Rise Tank Topper
Best Gerbil Tank Topper
The You & Me Small Animal High-Rise Tank Topper is the best gerbil tank topper in terms of convenience, aesthetics, and affordability. This tank topper measures 19.2" x 9.8" x 11.5" with ½" horizontal bar spacing. It arrives at your doorstep fully assembled and can snugly fit any 10-gallon aquarium using the attachable springs that come with this product.
Since it doubles the size of a regular tank, this tank topper gives your hobs the space to be active and curious as they are. Likewise, you can add more accessories to your gerbils' habitat. Although the wire mesh is not the strongest, you can rest assured it is strong enough to keep your rambunctious hobs and jills from playing hooky. There is no way your pets can unlatch the clips that hook to the topper and the edge of the aquarium. Plus, the house design it highlights is such a huge bonus!
pros
½" Horizontal bar spacing
Highlights a beautiful house shape
Sits on top of any regular 10-gallon aquarium
Can easily contain 3 to 5 inches of bedding to act as a cushion (additional bedding material provides other benefits)
A good alternative rather than getting a new bigger cage
Improves ventilation
Easy to clean inside and minimizes dirt around the enclosure by effectively containing bedding material, food, etc.
Comes pre-assembled and has sturdy clips for attachment
cons
Some customers complain they have to use zip ties to hold the ladders in place
Wire thickness needs improvement
3. Ware Manufacturing Chew-Proof Cage Topper
If you don't have the space for a new bigger cage, you can upgrade your pets' cramped aquarium with this cage topper by Ware Manufacturing. Contrary to the item description on Amazon, this product measures 20 ½" x 10 ¾" x 10 ½" and fits perfectly on any 10-gallon aquarium. However, its assembly can take a little pushing and a good deal of patience. You should make sure that the tank you have has the black plastic rim around the top because the topper stays on with two hooks that slide underneath it. Some customers also complained that the shelves are a bit loose; but anyway, it can be fixed with a few zip ties.
Moreover, this product comes with a small dish, two ramps, a water bottle, and two platforms. You will like how this cage topper provides an upper platform for interaction, while your hobs and jills can jump straight into a sea of bedding to create tunnels with the least amount of mess. Also, you can hang a hammock under the upper level or some toys at the bottom of the wire attachment. Additionally, the shelves are wire mesh to keep pee stains and chewed-up plastic at bay. Thankfully, the wire spacing is small enough, so you won't have to worry about your pets' feet getting caught. But if you wish to cover them up, you can.
pros
Topper is easy to remove and clean
Doubles the space of any 10-gallon aquarium
Provides 2 platforms
Can easily contain 3 to 5 inches of bedding to act as a cushion (additional bedding material provides other benefits)
Comes with a free dish and water bottle
Improves ventilation and quality is right for the price
Easy to clean inside and minimizes dirt around the enclosure by effectively containing bedding material
Wire spacing is small enough to keep tiny feet happy
Made of chew-proof wire
cons
The instructions are badly phrased
Lacks accessories stated by its item description
The connections need tighter fitting hooks so it wouldn't come apart when opening
Shelves are wobbly without zip ties
Water bottle and food dish are cheaply made (do not use)
Wire spacing is safe enough for adult gerbils but perhaps not with little ones
4. Aqueon 10-Gallon Black Aquarium
Best Gerbil Aquarium
If you are on a budget and you can't afford a gerbil cage that comes with bells and whistles, the Aqueon Black Aquarium might be the solution to your problems. This product is solid proof that a good quality glass tank doesn't have to be pretty pricey. Its 10-gallon USA-made tank capacity and durable thick glass are its two best features.
According to customer feedback, this tank works great for their hobs and jills even if it is not technically marketed for gerbils. You won't have to worry about your pet's tiny feet getting stuck on a wired floor or whether the bar spacing is wide enough for them to escape, which could damage their fragile little bodies. This glass tank is also quite easy to clean and maintain. However, it does not come with a top, so you have to buy a top for it. But considering the price you paid for it, it is still a steal.
pros
Made with remarkably thick glass
USA-made product
Very affordable
cons
Comes without a top
Nothing fancy
5. Ferplast Black Gerbil Cage
The Ferplast Black Gerbil Cage is an amazing setup for all life stages. It is comprised of a reliable wire mesh structure and a deep clear plastic base. Both young and elderly gerbils can easily navigate between floors. With a double-floor structure, your pets can choose to eat and relax at the upper level, while they burrow around or do their business on the bottom floor. There are no small elevated platforms with abrupt edges and there aren't many levels where your pet can fall from one floor to another.
It is also nice that this cage comes with accessories that promote the health and well-being of your pets. These include a feeding bowl, a water bottle, a wheel, and a little house. Something else to note is the side latches that make it impossible for your pets to escape. Assembly is a piece of cake. There are no tubes required in its setup but if you like tubes, you can find a port on the left side of the cage where you can attach one. However, some customers expressed their dismay regarding the small door on the cage. Although its placement is good, the door is not large enough to make interaction and upkeep a breeze. You have to take the top off for you to reach your pet from the bottom floor or when you need to refill the food dish in a corner.
Overall, the Ferplast Black Gerbil Cage is head and shoulders above the cages in large-scale pet stores. It is stylish and thoughtfully made. Therefore, it is to be expected that you have to pay for the quality which is what this cage is about.
pros
Offers a double-floor structure that is suitable for all ages
You can see your pets at all times
The deep pan fully contains the bedding and gives plenty of space and depth for playing
The pieces go together well and the top snaps securely to the base
Doesn't take long to empty out the base and wipe down surfaces
Large, portable, and fully accessorized
cons
Difficult to access your pets from the bottom floor
Removing the entire top floor may frighten a nervous critter due to the noise
6. GalaPet Blue Gerbil Cage with Toys
The GalaPet Blue Gerbil Cage is inarguably an adorable-looking habitat for your gerbils! This cage features a solid metal wire construction, a sturdy plastic base, and a carrying handle. Cute and lightweight, you can use this cage to take your pets outside for fresh air or as a way for them to tag along during vacation. It is equipped with a list of toys and accessories, such as a wheel that is an adequate size for a gerbil that is also completely silent to boot!
Your pets will surely love climbing the walls, playing in the wooden apartment, running up and down using the stairs, and so forth. With so many things to do inside the cage, your little critters will surely get active. We also bet that you will like the bottom part, which is higher than most, so beddings and food won't spill out. The only downside is the plastic clips, which are made with flimsy plastic. Nonetheless, the cage has a great price for the quality and size. It measures 17.3" x 12.6" x 13.8".
pros
Lightweight metal construction
Has carrying handle
Comes with a wooden platform, a plastic house, an exercise wheel, a water bottle, a bite string, and 4 climbing cylinders
Has a large opening for easy access
cons
The quality of the plastic clips need improvement
Feels a little cramped inside with so many accessories
7. Kaytee CritterTrail 2-Level Super Habitat
The Kaytee CritterTrail 2-Level Super Habitat gives your hobs and jills a lot of room to roam around and play. It is equipped with a bubble plug, a ramp, a shelf, and a port door connector, which you can use to attach CritterTrail accessories that you can buy separately.
Moreover, this beautiful gerbil habitat highlights two spacious levels and a removable petting zone to boot. It measures 30.2" 7.5" x 18.2" and supplies 540 sq. inches of living space. The two front doors, which are made of sturdy wire, gives you easy access to your pet at all times.
pros
Has a penthouse on the top
540 sq. Inches of living area
Can connect CritterTrail accessories or habitats via the port door connector
Narrow ¼" bar spacing for optimum safety
cons
The water bottle needs improvement
The wheel is too loud
Some customers complain that aggressive chewers can chew slightly through the plastic
8. Prevue Hendryx Deluxe Gerbil Cage
The Prevue Hendryx Deluxe Gerbil Cage has a spacious upper level that your hobs and jills can use as a sleeping area and a petting zone. This cage includes a plug, which you can use to keep your pets contained while you give them rubs in the petting zone. The plug also comes in handy for cleaning the cage when the time comes. Additionally, you will receive a food dish, an exercise wheel, and a water bottle if you buy this product. You can keep food and treat bowls on the upper level so bedding won't get in them.
Assembly can be a little tricky but you can't say the same when it comes to cleaning, especially if you do it routinely. You don't even need soap to clean the tubes. Just immerse it in water for 10 minutes. But if you allow a lot of litter to accumulate or if you give your gerbils cardboard to munch on every day, you will have litter spill out of the bars.
This product measures 22 ½" x 12" x 12 ½".
pros
The spacious area allows you to spread things out
Upper area lifts out easily for cleaning, cuddling sessions, etc.
Includes houses, ladders, and platforms
The wheel is among the quietest
Has options for expansion
Easy to clean
cons
Bedding could easily come out of the cage area
9. Mcage Clear 4-Level Gerbil Cage
Best Cages for 2 Gerbils
Although the Mcage Clear 4-Level Gerbil Cage is somewhat difficult to assemble, we guarantee that you will be impressed with the finished product. All pieces are included as shown and rest assured it fits together well. If you look closely at the three levels, you will see that it can be blocked to separate animals in the case of male, female, and baby gerbils. Hence, it saves you money and effort for setting up three different cages.
What is more, it comes with all the basic accessories your pets need to live a healthy life. Included in this product are nine sections of play tubes, three exercise wheels, one water bottle, a six-inch exercise ball, and three feeding dishes. Your pets will be overjoyed to have a tunnel system. However, some customers mentioned that it is also a challenge to clean, but we are pretty sure that practice makes the task super easy.
This cage measures 16" x 11" x 25".
pros
Offers multiple explorable areas with front access door
The top level features a big exercise ball
Complete with three exercise wheels, one water bottle, a six-inch exercise ball, and three feeding dishes
The colorful play tube system
3 Colors to choose from: orange, green, and blue
cons
The assembly will take some time
Difficult to clean and maintain
10. Mcage 23" Gerbil Wire Cage
Best Gerbil Cage with Tubes and a Deep Tray
This colorful 23-inch wire cage by Mcage is also a good choice for your pets. Its most outstanding feature, which we guess is the first thing you notice, is its bright red crossing bridge. Likewise, it comes with two-level mezzanine floors and two ladders. There is also a free water dispenser and a food dish, so you won't have to spend a few bucks to buy these items. This gerbil cage measures 23.2" x 14" x 15.7". Bar spacing is ⅜" while each door measures 5.5" x 5.5".
pros
Cute and colorful
Features a long crossing bridge that connects 2 separate 2-level mezzanine floors
Equipped with an exercise wheel, a deep tray, two ladders, a water bottle, and a food bowl
Has a front door and a top door that measures 5.5" x 5.5" for easy access
cons
Some customers complained that wired shelves need to be covered for comfort
The water bottle is difficult to place at the correct height because of the shelves