Since you can't have your eyes glued on your dog 24/7, it helps to have a portable pet playpen to ensure your dog is having a safer playtime. With it, you won't have to worry that your dog might be picking up random things that could hurt him. If you love to travel, having a portable playpen also gives your pet a little homey retreat. There are actually many ways to use a portable playpen. You can use it to house a senior dog or as a way to potty train a pet. But to maximize its benefits, it is imperative that you choose only the best dog/pet playpen. Don't worry about where to find it, as we have listed 10 of the best brands in the market.
10 Best Dog Portable Playpens
Factors to Consider When Getting Portable Pet Playpens
Materials
The three most commonly used materials for creating a playpen are metal, plastic, and fabric. Among the three, fabric or mesh playpens are the weakest. Nevertheless, they also have their own unique advantages. If you choose a fabric-based playpen, it is, therefore, advisable that you opt for a product that uses a heavy-duty fabric with high strand strength. A good example is a 600-Denier Oxford fabric, as it features good elasticity and waterproof characteristics. Fabrics with a high denier count are thick and sturdy enough to withstand clawing.
Size
There is no point in getting an enclosure if it won't effectively contain your pet. You need to make sure that your dog can sit, lie, and walk inside the playpen. There should also be room for a bed, toys, feeding bowls, and other accessories.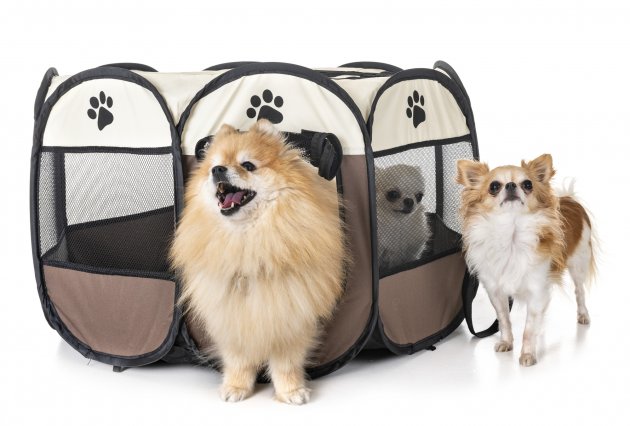 Weight
The weight of the playpen matters because you will need to relocate it from time to time. Likewise, the weight will also determine how secure your pet is kept. A heavy playpen usually has a sturdy metal frame to support it. However, you may need to carry a few extra pounds in exchange for the stability it offers.
Visibility
Playpens should provide entertainment, comfort, and relaxation to your pet, rather than make him feel isolated and claustrophobic. It is, therefore, important that you choose a playpen that offers maximum visibility. A good example would be a playpen that has a mesh screen on each panel. This will give your dog a better view of his surroundings. Visibility also comes hand in hand with ventilation. Having multiple mesh screens will also promote airflow.
Security
Security is a crucial factor to consider, especially if your pet is Houdini-like. Most owners prefer a non-detachable bottom with reinforced stitching and protective seams, as these eliminate the weak spots that most zippered bottoms create. However, others like the ease of cleaning that a zippered bottom provides. If you plan to use the playpen outdoors, opt for a product with an optional roof. You can use it to provide shade, as well as protection from predator birds and insects.
References and resources
Purina, The Benefits of a Puppy Playpen
pets.thenest.com, Setting Up a Puppy Playpen