Dogs – regardless of their coat and stature – are beautiful creatures worthy of love and adoration. However, there is something about white dog breeds that make us melt! Some owners love how white dogs signify purity. But as for me, white dogs are either big clumps of clouds or small walking balls of cotton. I am pretty sure the majority agrees!
Here are the 9 most popular white dog breeds that have captured the hearts of many!
Large White Dog Breeds
Samoyed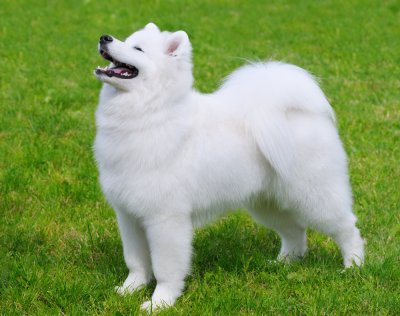 The smiling Samoyed is perhaps the most popular big white dog that roams the Earth! According to the AKC, the Samoyed has been around since 1890 AD. The Samoyed was originally bred for hunting and towing sleds in the coldest locales of Siberia. Its famous white fluffy coat makes the Samoyed impervious to the cold. Even the Samoyed's beautiful smile has a practical function in brutal conditions: it prevents drool from forming into icicles.
Because of their boundless energy and high intelligence, the Samoyed gets easily bored. According to Samoyed aficionados, they have a high tendency of doing canine crimes when sentenced to a tiny apartment in the city. To remain a good boy, they need constant attention, a firm loving hand, a plethora of toys, and a spacious yard.
An aggressive Samoyed is rare, which makes them an incredible choice for new owners and for families with small children. Gentle and friendly, Samoyeds are feeble guardians, but their diligent barking makes up for their poor guarding skills.
Nickname: Smiling Sammie
Positive traits:
Big and cuddly
Gentle to children
Always playful even when old
Negative traits:
Becomes a literal home wrecker when bored
Friendly to burglars
The Great Pyrenees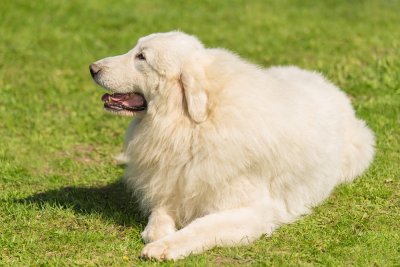 Sure, the Great Pyrenees is a majestic sight to behold, but what else makes them great aside from their beautiful white fur and imposing size?
First of all, the Great Pyrenees is an ancient dog who had wandered the Pyrenean soil since 1,000 BC. These dogs were bred to guard sleeping farmers and protect the livestock from wolves and bears that roam at night.
During the Renaissance, the Great Pyrenees became guardians of French castles and was later declared the Royal Dog of France by King Louis XIV in 1675. Even Queen Victoria coveted such breed and owned one. The first Great Pyrenees stepped on American soil in 1824 with the Marquis de Lafayette, a close friend of George Washington.
Standing guard, however, isn't the only job this confident breed is adept at. The Great Pyrenees were used to bring artillery supplies during World War II and played a crucial part in reviving the bloodline of the St. Bernard in 1870.
As a house pet, this majestic white dog is stubborn as a donkey. They don't see the point of performing tricks when they have something far more important to do. On the other hand, these reserved and independent canines are diligent, loyal, and are willing to fight for their families whenever necessary.
The Great Pyrenees is entirely white with just a few streaks of cream.
Nickname: Pyr
Positive traits:
Fiercely loyal
Immensely powerful
Gentle to children
Negative traits:
Nocturnal and somewhat lazy during summer
Stubborn as a donkey
Dogo Argentino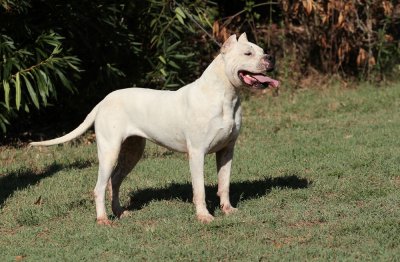 The Dogo Argentino is a large, mastiff-type dog hailing from Argentina. This breed is easily identifiable by its short smooth coat that is exclusively white. Other prominent features include a massive head supported by a thick elegant neck and an athletic body that gives the impression of explosive power and energy.
The Dogo Argentino was developed in 1928 by crossbreeding 10 various breeds with the aim of creating a dog powerful and swift enough to hunt large dangerous game such as wild boars and pumas. Besides hunting, the Dogo Argentino is adept with military and police work.
This breed is not ideal for the average owner. This breed requires a strong consistent leader that can commit to a lot of homework. The Dogo Argentino is not satisfied lazing. But because of its high prey drive, territorial nature, and strong protective instincts, you need to erect a solid high fence to contain your Dogo.
Otherwise, your neighbor's pets will get in trouble!
Despite its imposing appearance, the Dogo Argentino is kind and affectionate towards humans. They are headstrong when it comes to protecting their family members from all kinds of threats.
Nickname: Dogo, The White Hulk
Positive traits:
Swift and powerful
Courageous yet kind
Loves to cuddle
Negative traits:
Troublemaker outside the home
Berger Blanc Suisse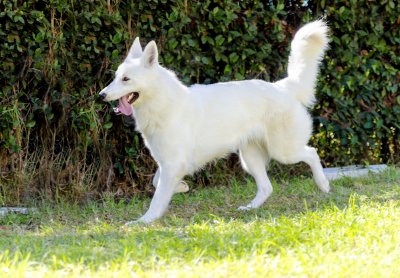 Everybody knows what German Shepherds look like because they are the Tom Cruise of the canine world, but have you heard of its low-key cousin, the Berger Blanc Suisse?
Also known as the White Swiss Shepherd, this canine traces its roots to the GSD breeding program in Germany in the 1800s where it was rejected for being white. For many years, shepherds with the recessive genes for a white coat were considered defective and were barred from competitions and clubs. It wasn't until 1991 when Switzerland recognized them as a separate breed. Hence, the name. In 2017, the UK KC officially announced that the White Swiss Shepherd is the 219th pedigree breed.
The White Swiss Shepherd shares the same powerful physique as the GSD. They too have a graceful stance, a tail that looks like a saber, and a pair of large pointy ears that resemble that of a wolf. Likewise, the White Swiss Shepherd has a weather-resistant double coat that is dense, straight, and close lying.
Although the White Swiss Shepherd may have the appearance of a GSD, this breed is quite mellow, clingy, and shy. That is why you can't employ this dog for police or military work. Alerting the family of strangers or some unfamiliar objects is as far as the guard dog duty goes. This breed is prone to separation anxiety, thus early training is a must.
Nickname: The White GSD
Positive traits:
Strong and energetic
Alert and playful
Shoe-loving goody-two-shoes
Negative traits:
Shy and skittish without family members
Small White Dog Breeds
American Eskimo Dog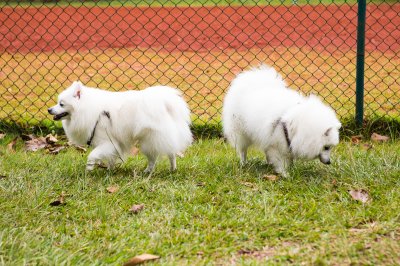 The American Eskimo Dog looks a lot like the Samoyed – a picture of agility, beauty, and intelligence. However, these two breeds differ in ways aplenty. There are three distinct size varieties of the American Eskimo Dog: toy, miniature, and standard.
Contrary to its name, the American Eskimo Dog originated in Germany and has nothing to do with Eskimos. These fluffy dogs skyrocketed to fame when they performed acts in the Cooper Brothers' Railroad Circus and the Barnum & Bailey Circus. Before their reputation as charming entertainers, the American Eskimo Dog was employed as a valiant watchdog in Northern Europe. It is not an aggressive breed but rather a vocal and territorial one.
As you can see, the American Eskimo Dog will do anything to please their family members, even if that means walking on a tightrope or dancing with clowns. However, they are not suitable for new owners because they require a great amount of mental stimulation and physical exercise to satisfy their curiosity. Otherwise, they become restless or depressed.
Nickname: Eskie
Positive traits:
Eager to please
Highly trainable
Inquisitive little Sherlock Holmes
Negative traits:
Loves his own voice
Spins around when high-strung
Japanese Spitz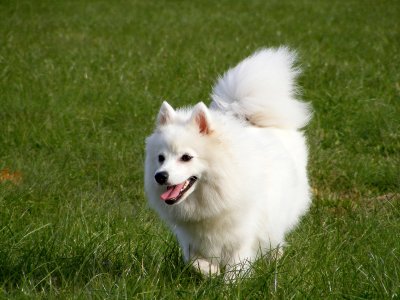 The Japanese Spitz looks like a Samoyed with the body of a toy American Eskimo. It features a wedge-shaped head, pointy ears, a petite frame that is thickly covered with pure white fur, and a lion-like ruff. Also, it has a long furry tail carried over the back. The Japanese Spitz has no other color variant other than white.
The Japanese Spitz is the result of crossbreeding various Spitz dogs with the aim of creating a more manageable canine. In 1925, Canada imported two pairs of the new breed. The breed was further developed in the 1930s and became a huge hit 20 years later. Because it shares many physical similarities with the Samoyed and the American Eskimo Dog, the American Kennel Club refused to recognize the breed. Nevertheless, the Japanese Spitz is a popular dog among American homes and has been recognized by a majority of kennel clubs.
Courageous, alert, and overly protective, these small dogs are always suspicious of strangers. But are always warm towards their family members and are too eager to please. The Japanese Spitz is a suitable pet for city dwellers because they aren't the type to wander alone outdoors. They prefer staying cozy inside the house and are happiest when they receive lots of attention from their owners. Likewise, they love to be neat and it's a relief that their luxurious coat is not that hard to maintain.
Nickname: Mini Samoyed
Positive traits:
Feisty and protective
Quick to learn
Neat
Negative traits:
Has a loud forceful bark
Can be slightly aggressive to new people
Bichon Frise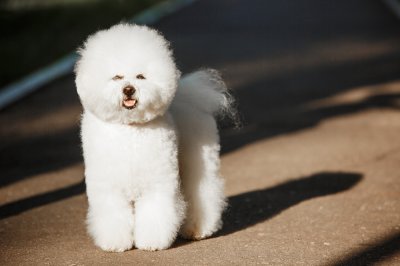 For starters, the breed's name is pronounced as bee-shon free-zay. This breed originated in Tenerife, the largest of the Canary Islands. Since their arrival in mainland Europe, these tiny cotton balls stole the hearts of Italian and French nobility. They lavish the dogs with satin bows, perfume, and whatnot.
Back then they were called Barbichon Tenerife, which means "lapdog of Tenerife" in French. The name was later shortened to Bichon Tenerife and eventually, Tenerife was changed to Frisé, which means "curly." Bichons sport an entirely white hypoallergenic coat that feels velvety to the touch.
Unfortunately, the Bichon's popularity dwindled and the dogs were left in the streets to fend for themselves. Thanks to their nimble wits and sunny disposition, the Bichons survived life's ups and downs and even enjoyed an illustrious career as performers. Remember Pudsey? Today, these canine comedians have secured a spot in the hearts of dog lovers.
Bichons bond easily with their owners and they enjoy being the center of attention. While most lap dogs are content with a quiet cuddle, the Bichon Frisé enjoys a little mischief and plenty of playtimes.
Nickname: The Velcro Dog
Positive traits:
Affectionate
Eager to please
Cheerful
Negative traits:
Maltese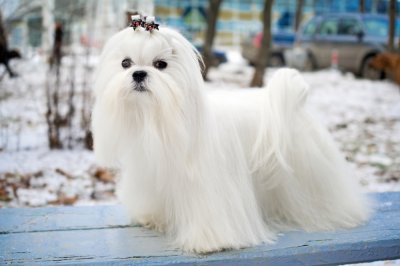 The Maltese is an ancient breed and is believed to be over 2,800 years old. Because it is so old, the Maltese's exact origins are murky at best. The most compelling theory is that it hailed from the Mediterranean island of Malta, thus the name. How these cotton balls made their way to Europe remains a mystery until now. Some say these cute dogs were snatched by Romans, while others believe they migrated along with nomadic tribes.
Nevertheless, there are several references about the Maltese within ancient Greek and Roman literature, which dates around 500 BC. These affectionate toy dogs have been warming up their tooshies on the laps of ancient Greeks, Romans, and Egyptians. Romans adore their thick white coat of hair, as the color white represents divinity.
These small charming dogs are also hardy and adaptable despite their aristocratic bearing. They make good watchdogs and excellent playmates with children.
Nickname: Roman ladies' dog
Positive traits:
Fearless in a charming way
Affectionate
Negative traits:
HavaneseHavanese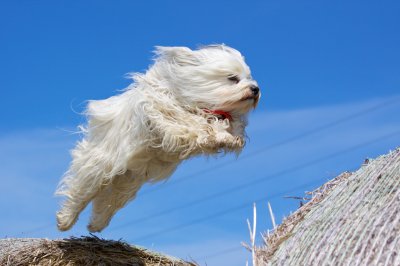 These little love bugs hail from Cuba's biggest city, Havana. Hence, the name. The only breed native to Cuba is the Havanese. Since its admission to the AKC in 1999, the Havanese became a big hit among American pet owners. Today, the Havanese secured the 31st spot of America's most famous dogs.
Also known as the Havana Silk Dog, this breed features a hypoallergenic coat that feels like fine silk. Its beautiful silky coat can grow up to 12 inches, so regular brushing is required to keep it from matting. While the Havanese is often considered a white dog, they actually come in many colors including champagne, chocolate, and cream.
The Havanese is a cuddly and cheerful dog who thrives in the presence of its family members. They are the perfect pet for apartment dwellers or for people looking for a tiny dog that doesn't require too much homework. These dogs are content with snuggling, sleeping, and playing games with their owners.
Nickname: Havana Silk Dog
Positive traits:
Affectionate
Eager to please
Cheerful
Negative traits: