If you're a cat owner, you surely understand how important it is to potty train your whiskered friend and provide him with an effective litter box. Let's be honest. Cat poop stinks regardless if you have a pedigreed cat or a Moggie! But what if you need to travel and had to take your little mouser with you? It could be a cross-country trip for the holiday, an immediate house relocation, or just a weekend joyride with your friends.

On average, traveling with a cat is quite tough. If your cat is typical, his anxiety will go full throttle when he's away from home. He'll poop and pee many, many times in your car or in the passenger vehicle. So, what's the solution? Take along a portable litter box so your feline companion has a clean, comfortable spot to do his business. If possible, you can take your cat into the washroom and set up his travel litter box.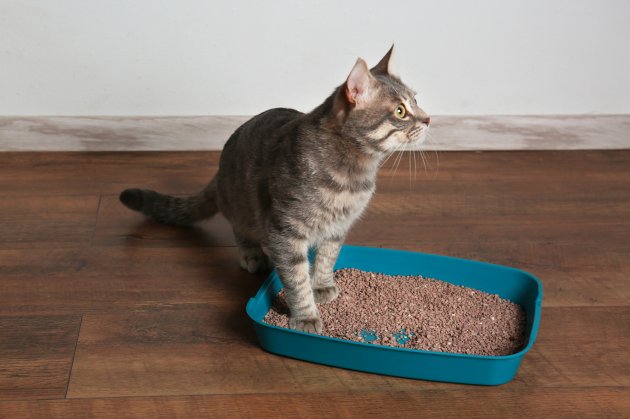 Without further ado, let's check out what major points you need to consider while choosing a travel litter box to ensure you get the one that suits your needs. We've also rounded up 10 of the best travel litter boxes for your kitty to make your shopping experience quick and smooth.
Factors to Consider
Purpose
The first strategy to success is making sure the product you choose serves the purpose to which you need it for. For instance, if you're a gallivanter with a cat for a sidekick, you should consider getting a portable litter box that can be re-washed and re-used multiple times. Fabric-based litter boxes are perfect for travels that would span for a couple of days. For shorter travels and emergencies, a disposable litter box would be a good option, particularly if you aren't fond of poop scooping and washing.
Construction
The materials used to make the travel litter box are an important criterion. Lighter materials have less rigid walls and have more chances of bending. The best fabric-based litter boxes are usually made of heavy canvas, nylon, and Oxford cloth. These fabrics can withstand some clawing by your cat.
Water-resistance
The portable litter box should offer water-resistance; otherwise, what's the point of getting one in the first place? A water-resistant liner simplifies cleaning and prevents leakage, too. You can simply wipe the walls using a damp cloth or a wet wipe for spot cleaning and sanitize it with a disinfectant spray. The quality, however, should be topnotch. If not, your cat could easily tear it down and cause the entire product to lose its purpose. When it comes to disposable portable litter boxes, choose one that is finished with a waterproof coat to prevent urine from seeping through the bottom.
Size
Travel litter boxes are typically smaller compared to standard cat litter boxes used in homes. Still, you need to find a product that is comfortable enough for your pet to do his business. So, check out the product dimensions. A good rule of thumb is to choose a portable litter box that is 1.5x bigger than your whiskered pal.
Packaging size and design
Fabric-based litter boxes are lightweight and extremely compact, as you can fold it into half its size or even smaller. If you don't mind packing bags of litter and emptying contents out of the litter box, choose an open design. Otherwise, choose an enclosed model that can store waste. Enclosed models have a zipper cover and once sealed, it prevents litter and odor from leaking out.
10 Best Portable Litter Boxes for Cats
References
All Feline Hospital, Traveling with your cat
Pet Travel,Pet Travel with a Cat