We love our furry feline friends, but who wants to deal with all that messy cat litter day-after-day? Not me! For those of you who share my sentiments when it comes to stray and strewn cat litter, you may want to consider a top-entry litter box.

What is a top-entry litter box? It's basically a tall litter box with the entry-point (hole) at the top of the unit instead of the front.
Let's "uncover" the benefits of the top-entry litter box and our picks for the 10 best top-entry litter boxes on the market today. Are you worried that your cat won't use one of these new-fangled boxes? We have some tips to help you with that, too!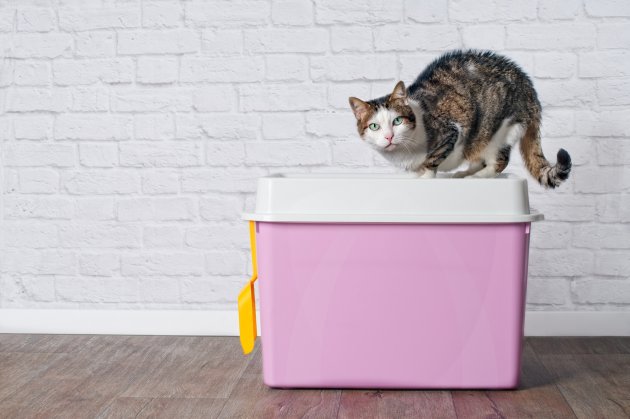 Why Choose a Top-Entry Litter Box?
If you've never used one of these marvels of manufacturing, then you're in for a real treat. Here are ten reasons why you should choose a top-entry litter box.
Less Mess - We can all use less mess in our lives. The top-entry cat box is perfect for reducing the "kick-back" of kitty litter - you know, when your cat covers his waste with the force of a tsunami until he's scratching the bottom of the box? A lot of that litter inevitably finds its way onto the floor. With top-entry, it stays where it belongs, in the box.

Less Smell - More litter remaining in the box, means Kitty can completely cover up his/her 'business,' which reduces that nasty odor.

Saves Money - Once again, when the litter stays in the litter box (and not being swept up off the floor) you will save money in the long run.

Reduced Noise - Maybe it's just me, but after listening to my cat cover up his poopies for 15 minutes, it starts to grate on my nerves. More litter in the box means no more constant scraping and scratching at the bottom of the box.

Easy to Clean - How often have you struggled with those snap/clamps on the side-entry litter boxes, until they finally break off altogether? With the top-entry, you simply tilt the top up, scoop, and be done with it,

Aesthetically Pleasing - Top-entry litter boxes don't really look like a litter box, so if you live in a small space (where the box will be visible to visitors), it's more appealing than those traditional models.

Less Space - Since Kitty goes in and out from the top, you can have this litter box in a tighter space or up against a wall.

No Mat Required - You also don't need to use a kitty litter catch-mat because most of the litter stays on top or falls back into the unit.

Easier to Move - No clamps, no top, no problem when it comes to moving the box around these units are easy-peasy.

More Difficult for Doggies - Do you have a dog that likes to munch on kitty feces? The top-entry box will make it a lot more difficult for Fido to dine on those "delectables."
Now that we know what the top-entry kitty litter box is and why they are so awesome let's review our top 10 picks for the best on the market today.
Best Top-Entry Litter Box Reviews
1. IRIS Top Entry Cat Litter Box
Big or small the IRIS Top-Entry Litter Box fits them all with a spacious 10.5" by 9" entry/exit hole. The deep design gives your feline plenty of room to maneuver, as well as bury his "business" to his heart's content - it measures a spacious 20.47" x 16.14" x 14.56."
The deep-grooved lid acts as a mat to capture Kitty's paw-litter before it has a chance to scatter all over the floor. The rounded design is pleasant to look at and will fit nicely into tighter places. Plus, it's available in seven two-tone colors including neutrals greys, white, black, and a funky orange. The IRIS Top-Entry Box also includes a scoop that hangs conveniently on the side of the unit.
pros
Spacious enough for larger cats
Durable design
Aesthetically pleasing to the eye
Comes in a wide range of two-tone colors to fit any decor
Reasonably priced
Ships from the USA
Deeply grooved lid captures litter
Easy to clean
Great for cats that want more privacy
Litter scoop included with a side-hook mount
cons
Some cats may over jump the top, which could lead to litter scatter
The large size will require a significant amount of cat litter
2. Petmate Top Entry Litter Pan Cat Litter Box
Petmate is dedicated to pet parents. This company has 50 plus years of experience making top-of-the-line products for people who love their fur babies.
The Top-Entry Litter Pan is designed with your feline in mind. It measures in at 20" x 15" x 15" and is perfect for those Kitties that love privacy when they poop. The full top provides ease of access while keeping busy toddlers or pooches out of its contents.
The tall rounded walls keep the mess inside the unit, no matter how much your feline digs, scratches, and "sweeps" the litter around. The non-slip textured lid gently captures those stray pieces to keep the mess contained.
This top-entry box also has built-in handles for easy lifting, pouring, and moving. It's made in the USA from 95% "pre-consumer recyclable materials," so it's not only great for your cat, it's great for our planet, too!
pros
Eco-friendly
Extra tall walls for bigger felines
Promotes a sense of privacy
Litter-cling lid design captures more litter
Easy to clean
Large top opening
Litter liner capability
Litter scoop and side-hanger included
Rounded edges for ease of lifting and pouring
Hinged lid for easy access
Reasonably priced
cons
Only available in 'brushed nickel with pearl-colored top'
You will have to remove the captured paw litter from the top before popping the hinge, or it will scatter
3. Clevercat Top Entry Litter Box
This award-winning top-entry litter box sports a clever design that is also American made. The durable unit measures 20" x 15" x 15" with a 9-inch diameter entry/exit hole. The uniquely grooved top captures more litter from your cat's paws before it has a chance to scatter across the room.
The tall, seamless sides prevent urine leakage and feces flinging from an ambitious cover-upper. Your cat will love the privacy the Clevercat Top-entry Litter Box provides, as well as the extra headroom. This unit is also relatively dog-proof, so you don't have to keep it elevated or hidden away in a closet.
pros
Made from durable, high-quality plastic
Grooved top captures more litter
Easy to clean
Litter is contained and out of sight
Does not look like a typical litter box
Cuts down on odor and dust
Bigger size and no front opening allows for more litter available for Kitty to cover his business.
Made in the USA
Cat Fancy Magazine Editor's Choice Award
cons
The design may not accommodate larger, senior, or disabled cats
Pricier than other similar models
Only available in grey
4. AmazonBasics Hooded Cat Litter Box
The AmazonBasics Hooded Cat Litter Box is the sanitary choice for discerning pet parents. This model measures 20.1" x 15.4" x 15", so it's big enough to accommodate those larger felines. The textured roof gently whisks away any cat litter that is still clinging to Kitty's toes, keeping the mess contained, and not all over the floor.
This top-entry box also has a convenient snap-top lid that is easily popped back for cleaning or detached for those throughout washings. The rounded edges make it appealing to the eye, as well as simple to pour or move around.
pros
Made from heavy-duty plastic
Removable top for easy scooping
Grooved lid captures stray cat litter
Generous top-entry for larger felines
Aesthetically pleasing
Reasonably priced
Litter-bag ready
The tight-fitting lid makes it difficult for dogs to access the contents
cons
Two crevices in the walls of the box may be difficult to clean
Only available in grey
5. PetSafe ScoopFree Ultra Self-Cleaning Cat Litter Box
The PetSafe brand is known for its innovation of pet products, and the ScoopFree Ultra Self-Cleaning Litter Box is no exception - this unit is the "Cadillac" of Kitty boxes!
First off, it is self-cleaning, which means you never have to scoop litter. The specialized crystals are designed to trap urine, and the "comb" mechanism sweeps the feces into the hidden waste trap after your feline leaves the box. About once-a-month, all you have to do is replace the self-contained, disposable tray.
The second great feature of the PetSafe ScoopFree box is the large size. The lid is designed to prevent litter scatter by it falling back into the box. The top grate is also reversible, so it can be flipped to catch more litter (perfect for tighter spaces or when the box is against a wall). This unit cuts down on odor, dust, and the mess left behind by traditional litter boxes.
Lastly, the PetSafe model comes with a "Health Counter" that will track how many times your feline uses the box, which could be the first indicator of health problems. The "Safety Sensor" also automatically resets the timer if your cat quickly re-enters the box.
pros
Self-cleaning (never touch a litter scoop again)
Uses crystal-form cat litter and disposable trays for ease of cleaning
Keeps mess contained and out of sight
Low odor and dust
Large unit
Health Counter keeps track of Kitty's bathroom usage
The rake will reset if your cat immediately re-enters the box
The reversible grate allows you to control how much litter is being gathered from paws.
Adjustable rake timer
Quiet motor
cons
Crystal cat litter can be pricey
Unit is pricey
The large unit takes up more room
Only available in purple
May take some cats time to get used to it
6. Favorite 25" Large Top Entry Enclosed Hooded Cat Litter Box
Made by the Favorite company, this top-entry litter box takes us back to a more traditional style litter box where the top portion is clamped to the pan. This feature allows you to take the entire lid off for throughout cleanings.
The top slip-free grid features a cute paw print and enough holes to really hold onto the stray litter from your cat's feet. It measures a generous 25" x 19.5" x 16.5" with an interior bottom of 18" x 12.5." The top opening entry/exit circle measures in at a 9" diameter.
It is made from high-quality plastic and is available in black (bottom) and a white top.
pros
Durable construction
Slip-free grid captures more litter
Generous size
Can take the entire top off for easy cleaning
Comes with spare locker
Creates a sense of privacy for your cat
Can be used for multicat households
cons
Very pricey
Only available in black and white
7. Modkat Litter Box
You and your cat won't have to be considered "modern" to enjoy the benefits of the Modkat Litter Box. This unit is pleasing to look at with its sleek, yet practical design. As with all top-entry litter boxes, it is built to capture the litter before it hits the floor; however, Modkat's larger holes ensure more litter will be dropped back into the box when Kitty exits. Plus the swivel-action lid pours the rest when you pop it to clean.
If you love those liners, Modkat has given them a fitted tension band that keeps it firmly in place. It even comes with its own durable scoop that hangs conveniently on the side of the box.
The many features of the Modkat Top-Entry Litter Box have landed it in top magazines such as Forbes, New York Times, and Animal Planet, to name a few.
pros
Measures 16" x 16" x 15" tall with a 9" entry/exit hole
Reusable liners fit perfectly and are rip-resistant. One liner can last up to three months
Sleek, appealing design
Durable
Large holed top drops litter back into pan upon exiting
Swivel-top for easy cleaning
Litter scoop included with side-hanger
cons
Pricey compared to other models
Only available in white
Must use Modkat liners for optimal performance
8. Nature's Miracle Top-Entry Litter Pan
Nature's Miracle wants to keep your house odor-free, that's why they have designed their top-entry litter pan with "antimicrobial" protection which inhibits the odors caused by bacteria. Its non-stick surface makes cleaning Kitty's box a snap, plus this unit is durable, as well.
This top-entry litter box measures in at 25.5" x 8.8" x 20" so your cat can get "comfy" enough inside to feel at ease to do her business. The lid is removable so you can quickly separate the bottom for throughout cleaning, or if you don't want to reach into the top opening to scoop.
pros
Simple, yet effective design
Quality product
Easy to clean
Affordable
Top grate captures paw litter
Antimicrobial protection for low odor and easy cleaning
cons
Only available in grey
May not be suitable for large felines
9. Petmate Arm & Hammer Top-Entry Litter Pan
Arm & Hammer is a name you can trust when it comes to quality products. Folks are claiming they've certainly "hit the nail with the hammer" with this top-entry litter pan. The unit is a snap to clean as the square-shape fits the scoop perfectly in those hard-to-reach corners. The large holes on top allow all that loose litter to fall right back into the box and the full entry/exit hole is big enough to accommodate most sizes of felines.
The unit itself measures in at 20" x 15" x 15" and is made with antimicrobial protection to inhibit the odor. Your cat will love the privacy this spacious litter box provides, and you will love the latched lid that flips for easy cleaning and the molded-in hook for scoop storage.
pros
Durable design
Easy to clean - no extra crevices to work the urine out of
Antimicrobial protection for odor control
Flip top for easy cleaning
Affordable
Uses any litter
Grated top prevents litter scatter
Tight-fitting lid keeps dogs out
cons
Only available in one color
Company has designed the unit with functionality over fashion
10. So Phresh Top-Entry Litter Box
Easy to clean, big enough for large cats, and a built-in tracking mat that guides stray litter back into the box, these are only a few reasons why the So Phresh Top-Entry Litter Box is a favorite among cats and the humans that love them.
This model measures a spacious 23.2" x 15.5" x 15.1" with a tight-fitting lid that tilts for easy scooping. The rounded, seamless sides prevent feces and urine from becoming trapped. The So Phresh Litter Box does just that - it keeps your home smelling "so fresh."
pros
Roomy enough for larger felines
Built-in top mat collects litter from Kitty's paws before it hits the floor.
Tilting lid slides the litter back into the box before you clean the unit
Top-entry hole is large enough for your cat, but not so much so that your curious canine will be tempted to check out the contents.
cons
Pricier than other similar models
Only available in grey
Tips on Using a Top-Entry Litter Box
It's wonderful to replace the old litter box with a new top-entry litter box, but not so much so, if Kitty refuses to use it. Check out these tips on using a top-entry litter box.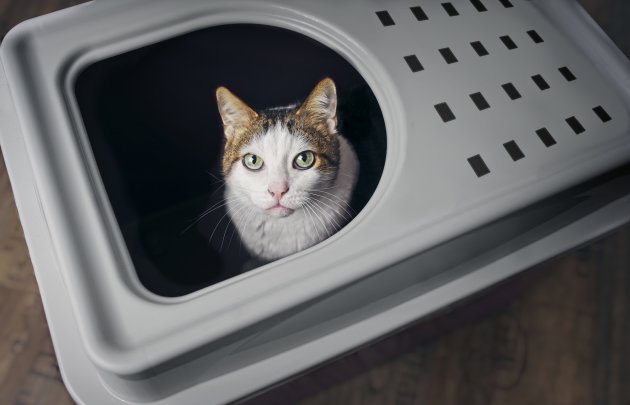 Tips #1 - Put the box in the same spot as the old one, so your cat knows that's his new "toilet."
Tip #2 - Use the same litter. Pour the remains of the used litter from the old box (cleaned of course) into your new top-entry box.
Tip #3 - Show your cat the new box. Let him sniff it and investigate it on his terms. Don't make a huge deal of it, or Kitty will catch-on to your "anxiety."
Tip #4 - Some pet parents have found for reluctant-users, taking the lid completely off of the top-entry box until your cat is used to the concept has worked wonders.
Tip #5 - Remove the old box altogether, so your cat doesn't have the option of going back to the "his comfort zone."
Kitty Boxes Shouldn't Be a Hassle!
We love our cats, so it's only reasonable that we want a product that suits both our feline's tastes and our own. If you've been struggling to find a litter box that does both, why not give a top-entry kitty box a try? You may find you even look forward to cleaning it...or at least...not dread the very thought of it.