One of the worst things about having a pet can be the mess they leave behind during their daily routines. Perhaps one of the worst messes you will ever find with any animal you own is the dreaded shedding our furry friends do. Some owners have an allergic reaction to fur or just want to pick a dog without the need for cleaning up after it. For owners who live in an apartment, this can become a challenge as picking an unfurry dog that's small in size can require a lot of research. Luckily, we have comprised this list below of some of the best small dogs with the least amount of shedding to help keep your living space fur-free.
Chinese Crested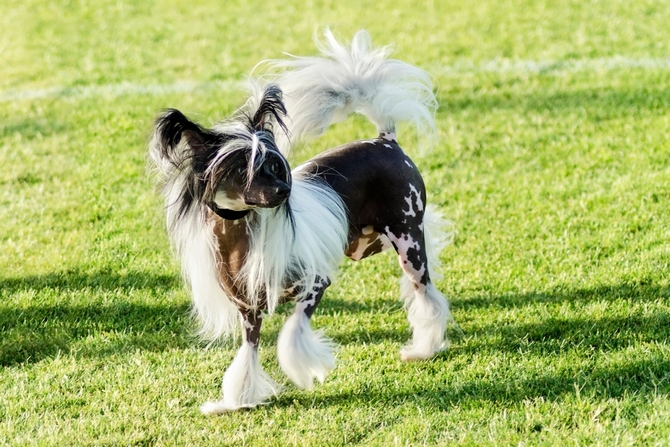 The Chinese Crested is a very strange breed of dog that may remind you of the popular Sphynx breed of cat. This dog breed is known for its rather eccentric looks and wild tufts of hair in the spots it is able to produce it. Most usually have what looks like an interesting hairdo on top of their heads and can have tufts reminiscent of a poodle above their feet. They may have tiny bits of fur across the rest of their body but for the most part look bald in most places. This makes their shedding minimal as they don't have much hair to lose while going about their daily business. On top of that, you may not find any hair at all since their body is more inclined to not have a shedding season to cool them down.
This tiny breed generally weighs in between 5.1 to 12 pounds keeping to a small and easy-to-manage size. The breed will grow up to9 to 12 inches for females and 11 to 13 inches for males. The lifespan for Chinese Crested dogs is between 13 to 15 years making them a longer commitment than most breeds on the list. This dog has to be kept inside due to its mostly hairless nature and can have health complications if not adequately kept warm. You may find that these dogs like to snuggle up to you on cold nights so prepare for having the ultimate cuddle buddy.
Chihuahua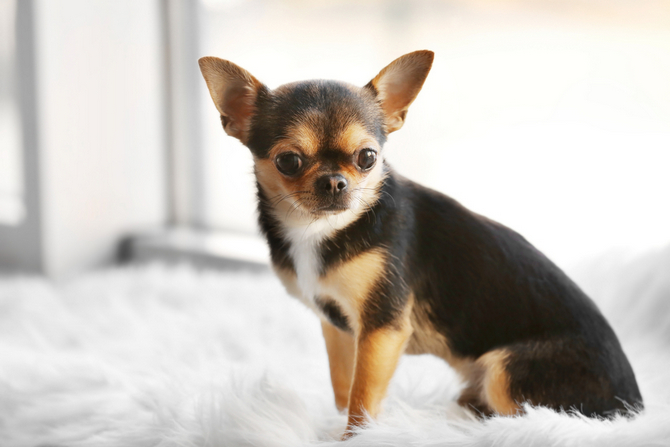 The Chihuahua is one of the easiest recognizable breeds of dogs in the world, even among people who generally know little to nothing of different breeds. This is because many people associate the dog with hot sauces and major food chain brands like Taco Bell causing the dog's likeness to be a topic of mass advertising. These small dogs are also known for their adorable yips and jittery energetic nature. They have even been confused with other animals due to their small stature and giant ears. This dog also comes with an extremely short thin coat that tends to stay on the dog more than your living room rug.
So, exactly how big is the Chihuahua? Well, they usually range in between 5.9 to 9 Inches and only weigh about 3.3 to 6.6 pounds. You can even go get a teacup chihuahua if you're looking for a smaller version of the dog which looks like a puppy for most of its life. The lifespan of this breed ranges between 10 to 18 years. Be warned that this breed can be fast on its feet making it difficult to catch at times. Combined with its small size you may find yourself in a game of hide and seek.
Teacup Poodle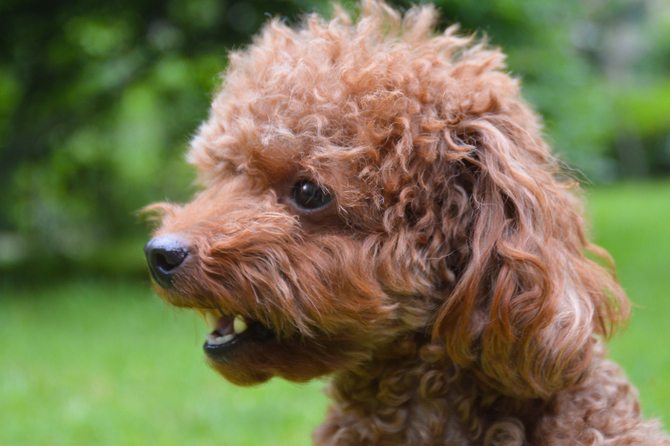 Teacup always means you are getting a miniature sized dog to add to the family and the poodle is no exception to this rule. This micro-sized dog can fit into almost any living space including a 2 room apartment like some younger people find themselves living in as they start out in life. On top of that, they are easy to carry around and small dog beds cost much less than larger ones, meaning you can pamper your new friend. Their coat may be thick but it's not prone to shedding much due to its curled nature. This dog type is also a popular breed of dog for women due to its dainty appearance and nature.
This tiny breed of dog grows up to 9 inches but has no breed standard in how small it can be. Their weight also isn't set but most dogs in the breed fall below 6 pounds in weight. The life expectancy of this breed comes in at around 12 to 15 years. This dog will require regular grooming to keep its coat from matting or overgrowing. This breed of dog also makes a wonderful choice for first-time owners due to their quaint nature and eager to please attitude. You may find that this size is easy to handle for a person of smaller stature but due to its size may not do well with small children.
Beagle
The Beagle is another widely recognized dog that has found itself popularized in a lot of cartoon settings. This dog is a small and compact hunting breed that will fit in well with the country lifestyle. This dog will make a great companion for an outdoorsman. The most common image of a beagle includes floppy ears with white, brown, and black splotched all over the dog, they also are known for the classic puppy dog face. This breed actually makes a rather cozy family dog and tends to do well with children.
The beagles usually weigh around 22 to 24 pounds if male or 20 to 22 if female making it the largest breed on the list. For size, beagles usually grow from 14 to 16 inches for males and 13 to 15 inches for females. Their life expectancy is between 12 to 15 years. This dog will require regular exercise and toys to play with to keep boredom at bay. This breed also can easily be kept both as an inside or outside dog making it a versatile option for owners. This dog does have a determined nature so make sure to train him well.
Dachshund
Dachshunds are often referred to as a "weenie dog" because of their strangely shaped bodies. These dogs have long and round torsos as well as stubby legs that keep them close to the ground. These funny looking dogs have extremely short hair and while they may drag the ground from time to time while playing due to their tiny legs you generally won't find a lot of fur that flies away from this breed. These dogs also can make a great hunting companion and were originally bred to find and chase badgers out of their holes.
The Dachshund weighs in between 16 to 33 pounds making it the heaviest breed on the list. However, due to their short legs, they only grow to between 8 to 9 inches at the shoulder and can be prone to gaining weight easily. Their life expectancy is between 12 to 15 years. This breed is another one that can be a little difficult to train at times due to their stubborn nature. On the other hand, they are very loyal and will be devoted to and protective of their family. Be sure to watch these dog's diets though to keep from any health-related issues derived from weight gain.
Affenpinscher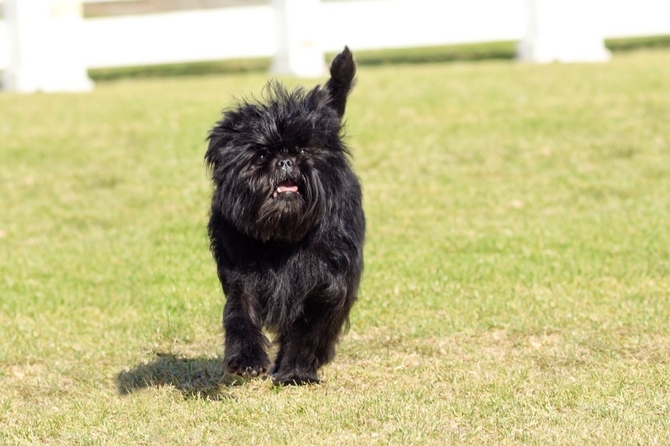 This dog is often called the "monkey terrier" and looks like he almost has a mustache on his face. This dog breed is known for having an extremely potent personality and can be very stubborn at times, sometimes making training a bit hard. It's also worth noting that this dog may be difficult to housebreak and may be more of an outside companion than an indoor dog. If you get past their training issues this breed loves to play and can keep you on your toes for most of the day.
The Affenpinscher is about 9 to 11 inches in height and is known for having a small litter of puppies making the breeding process slow. They weigh in between 6.4 to 13 pounds with their life expectancy being between 12 to 14 years. This dog breed is known for their adventurous nature making them want to explore their surroundings. It's best to keep these dogs on a short leash and as an inside dog to keep them from getting lost easily. This dog breed is also credited as being one of the oldest toy breeds in the world making them an important part of the toy lines history!
Bolognese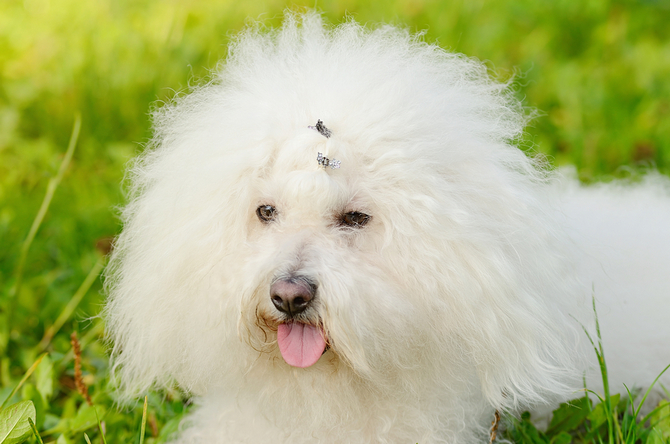 This small breed of dog radiates cute with its small stature and unique hair swoop. At times you may even mistake this breed for a doll due to its toy like features. This dog is mainly kept as a house pet due to its charming nature and small stature. They are a very affectionate and loving breed of dog, that would take pride in snuggling up in your lap during the day. Be warned though these dogs are a rare breed to find which may make acquiring one harder than the other dogs on this list.
This dog will grow to be up to a foot tall and be as small as 9 inches. Both males and females weigh in at the same weight of 5.5 to 8.8 pounds making them easy to pick up and carry around. This dog breed lives between 12 to 14 years and generally is found to have a very docile nature about them. Remember that this breed is considered to be a companion dog and would prefer not to be left alone for extended periods of time. Be sure to make proper arrangements if you work often for the best living arrangement for your new pet.
Shih Tzu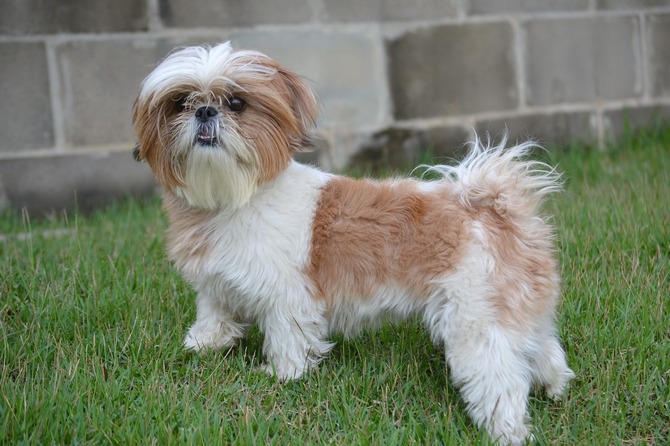 While Shih Tzus are a fairly adaptable breed and mingle well with other household pets, there are some potential setbacks with training and everyday life. Initially, pups from this breed are notoriously hard to potty train so extra patience and preparation will go a long way. Additionally, the breed is surprisingly known to be talented jumpers, so take precautions similar to those for growing kittens to avoid accidents from a misjudged jump.
Shih Tzu's are a breed well known for their loyalty and companionship. One of the smaller breeds, an adult Shih Tzu only averages about 9 or 10 inches tall and their healthy weight range is anywhere from 9 to 16 pounds depending on their size. The life expectancy of this breed ranges between 10 to 16 years. This breed is great for keeping you on your toes and will fit in well if you have a small living space. Make sure to give this dog plenty of play time to tire them out and keep them away from trouble.
Xoloitzcuintli (Mexican Hairless Dog)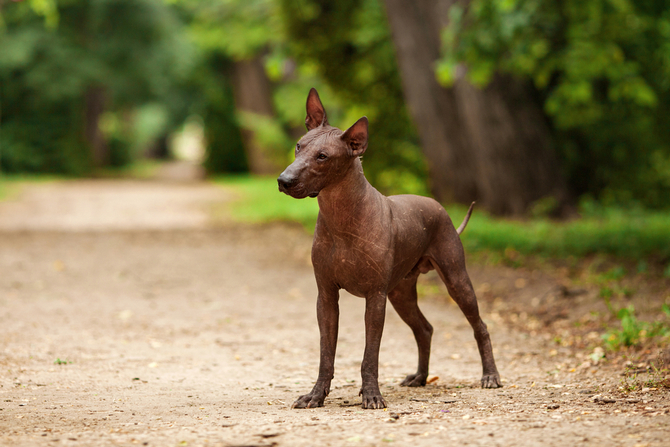 Even stranger than the Chinese crested dog and it's crazy haircut and comes in several different sizes including toy. This dog breed is almost totally hairless and may even shock you the first time you lay eyes on one. This breed is a genetic mutation and breeders are currently trying to trace back where exactly the line came from. This dog is a non-sporting breed and can seem to be lazy at different points in the day. Due to its hairless nature, however, it can not be an outside dog at any part of the year due to chances of sunburn, frostbite, or other health complications from not having protection from the weather.
The Xoloitzcuintli toy size comes in at around 9 to 14 inches in height. Their weight can be between 5 to 15 pounds making them have a larger weight range than other breeds. This breed has a life expectancy of about 15 to 20 years winning them the top spot on our list. This breed will need a lot of attention and depend on you for keeping it warm at night. This dog can easily become a cuddle buddy and is best recommended for someone who likes to stay in more than they like to go out. Be sure to purchase toys for inside play to help them relieve energy.