Do you have a dog who sheds as though his skin is constantly on fire? Perhaps, you have a cat who loves to kick her litter or push things off of tables and shelves when she's moody. Cleaning up after our furry housemate is an unpleasant chore even if they do poop rainbows and glitter. Many pet owners, however, endure it as though it is a necessary evil. So, how do you pluck the stress out of your life? The only way out is to get yourself the best robot vacuum for pet hair, dander, and other messes.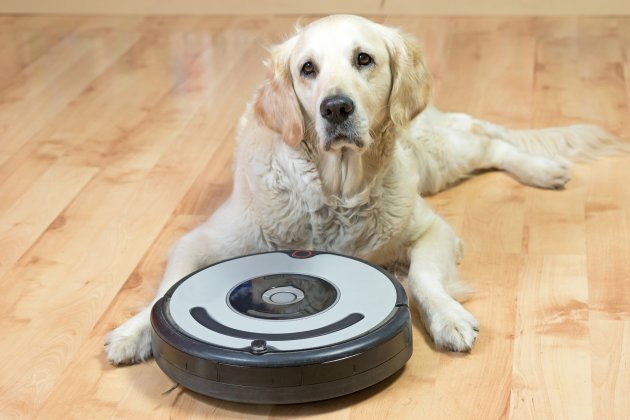 Robot vacuums for pets are a couple of steps above your regular robot vacuum, though. They are equipped with special brushes and innovative technologies that make them highly efficient against a variety of pet messes. It cuts down your chore load, so you can spend more time with your family.
So, we did extensive research to determine which among the best-selling robot vacuums are in the top 10. Whether you need to replace a lazy housekeeper or prevent dust bunnies from usurping your house, our top 10 candidates will surely benefit you as a pet owner.
Best Robot Vacuums for Dog or Cat Hair
1. iRobot Roomba 690
The iRobot Roomba 690 is an excellent budget option. It is equipped with fundamental features, including Wi-Fi connectivity, and an incredible filtration system. When it comes to performance, it is the best in its price category!
This model boasts of its High-Performance AeroVac filter. It is not a HEPA filter but still, it effectively captures dander, dirt, dust, and other minute particles that affect the air quality of your home. An efficient filter, such as this, guarantees clean exhaust air.
It has a Dual Multi-Surface Brush that loosens up tangled pet hair so that the suction can easily pull it in from plush rugs and carpeted floors. The high-quality brush quickly adapts to the surface for optimal and careful cleaning. However, we suggest you get a bot with a stronger suction power for high-pile carpeting.
There are also a few advanced features thrown in the Roomba 690. These include the Roomba Virtual Wall Barrier, which you can use to limit the vacuum's cleaning areas. This is an important feature for pet owners because it prevents the vacuum from making spills or from disturbing your pet while eating or drinking. Additionally, it has Dirt Direction Technology that detects high-traffic areas that need in-depth cleaning.
As expected of its price, this model uses the iAdapt 1.0 navigation system, which is fairly a basic system. It does not enable mapping but rather uses its bumper to gather information about its surroundings. As a result, the cleaning paths will be random and might fail to clean some areas sometimes.
Nevertheless, its navigation delivers sufficient information for the vacuum and so, daily cleaning cycles will ensure dust bunnies won't amass beneath your furniture.
The Roomba 690 has 90 minutes of running time, which is good enough for a robot vacuum within its price range. It will automatically dock itself to its Home Base for charging. It reaches full battery within three hours.
You can manually operate the bot, but we suggest you install the iRobot Home application on your smartphone for more convenience. This way you can start cleaning while you're away, so you can come home to a freshly vacuumed carpet and clean air every day. Additionally, you can schedule cleanups and view its cleaning history.
pros
The best robot vacuum within its price category
3-stage filtration system featuring Roomba High-Performance AeroVac filter
Dual Multi-Surface Brush cleans various floor types
Features Roomba Virtual Wall Barrier and Dirt Direction Technology
Runs for 90 minutes
Automatically returns to its dock for charging
Maximum charging time is 3 hours
Includes Wi-Fi connectivity for a more convenient operation
You can link Google Home or Amazon Alexa to give voice commands
cons
Not suitable for high-pile carpeting
Larger homes need longer runtime
The lack of a smarter navigation system may sometimes cause the vacuum to miss some areas
2. Eufy BoostIQ RoboVac 11S
Another option worth considering in terms of budget is the Eufy BoostIQ RoboVac 11S. Digital Trends voted RoboVac 11S as the Best Robot Vacuum in 2018. It is the successor of the RoboVac 11 and the "S" there stands for slim. With a height of 2.85 inches, the bot travels with ease under furniture where spider webs and dust bunnies lurk.
Although it's a lower-priced vacuum, it is not without premium qualities. The RoboVac 11S has a powerful 1,300 Pa. suction and a total runtime of 100 minutes. It features BoostIQ Technology in which it automatically increases its suction power to get the best clean in low to medium-pile carpets. Likewise, it has a tempered glass top for aesthetics and protection from dents and scratches. It also has drop-sensing technology to prevent deadly falls.
The RoboVac 11S comes with a remote control, a cleaning tool, extra filters, and, three backup brushes. Installing it is a breeze, but you need to plug it in an outlet with at least six feet of clear space. Like a toddler learning to walk, the bot isn't smart enough to find its way back when it is low in battery. It has infrared sensors to prevent collisions, but it won't make your bot smarter.
According to users, the bot has a hard time heading back to its dock, especially when there are wires and small items scattered across its berth. The bot is prone to jamming and so we don't recommend you start it if you plan to leave halfway through its operation. It doesn't map rooms and store data. However, you must accept a few compromises for the price you pay.
While you won't find voice control and other advanced features, its cleaning ability is exemplary. It collects an extraordinary amount of dirt in one outing. It produces minimal noise, too.
pros
Voted as the Best Robot Vacuum in 2018
1,300 Pa. suction power
100 Minutes of running time
BoostIQ technology increases suction power when needed
Suitable for solid floors and low to medium-pile carpets
Has a sturdy, anti-scratch tempered glass top
Includes infrared sensors and drop-sensing technology
Complete with three backup brushes and extra filters
Quiet operation
Compact design
cons
Needs a wide, clear berth
Doesn't map and store data
Needs supervision to prevent jamming
3. Eufy BoostIQ RoboVac 30
The Eufy BoostIQ RoboVac 30 is a mid-range robot vacuum that offers numerous features once reserved for high-end models. It is among the most popular robot vacuums for pet hair because the price-quality ratio is tremendous.
A 14.4-volt lithium-ion battery with 2,600-mAh capacity powers the bot. With this battery, it can run up to 100 minutes per charge. It automatically docks itself back to its base as soon as the battery gets low. Then, it continues to operate when it is full. The bot is accessible by a button but the handy remote surely gives you more control.
In addition to its incredible battery, it is equipped with a complete brush system. It comes with two edge-cleaning brushes for collecting debris from every nook and cranny. There is also a central rolling brush for pulling out pet hair tangled against carpet fibers. Eufy has also thoughtfully included an extra pair of side brushes to boot.
The RoboVac 30's best feature is its 1,500 Pa. suction power, which is much more than what the RoboVac 11S can offer. It can suction off almost anything on the floor – dander, dirt, fleas, hair, pollen, and whatnot. You can also switch between suction strengths using the BoostIQ feature. Either way, this bot runs peacefully. The decibel scale never rose above 55. Therefore, snoozing pets will remain asleep.
Moreover, the RoboVac 30 comes with nine infrared sensors for evading obstacles, drop-sensing technology, and six cleaning modes. Using its Boundary Strips, the robot vacuum cleans only the places you want.
Measuring 12.8 inches wide and 2.85 inches tall, this bot can easily glide underneath from one furniture to another. It has treaded wheels to make sure it can plow through thick carpet fibers and tidy up hardwood floors without leaving marks.
All the contaminants it collects pass through a reinforced suction inlet before it reaches the dirt compartment. The bin has a capacity of 0.6 liters. It is equipped with three filters and a hinged lid to prevent leaks.
pros
Runs up to 100 minutes per charge
Heads back automatically to its base for charging
Continues to operate when fully charged
1500 Pa. suction suctions almost anything
BoostIQ feature allows you to switch suction strengths
Only produces 55 dB of noise
Equipped with 9 obstacle sensors and 6 cleaning modes
Includes 13.2 ft. Boundary Strips
Automatically adjusts to various surfaces
Slim design
cons
Lacks Wi-Fi connectivity
Doesn't alert when dirt compartment is full and creates a backflow when it happens
4. iRobot Roomba 960
The Roomba 960 falls somewhere in the middle but its price puts it closer to the high-end range. Rest assured you'd get your money's worth, as it shares many features found in top-of-the-line Roombas.
Unlike vacuums that only rely on sensors, the Roomba 960 has a camera embedded at the front. Not to mention it uses iAdapt 2.0. The result is better navigation and a smooth transition across varying floor surfaces. While you can use buttons to initiate cleaning, nothing beats the convenience brought by the iRobot Home app. You can also give voice commands using Amazon Alexa or Google Assistant.
The Roomba 960 measures 13.8 inches wide and 8.5 inches tall. Because of its size, the bot can easily sneak underneath furniture without being stuck. Measly obstacles won't slow it down. The bot won't attempt to roll over objects cluttering its path. It would halt and analyze the obstacle it encounters on the floor to determine which way is best to clean around it. It cleverly weaved between and around tables and chairs.
Another advantage of the Roomba 960 is that it has a selection of cleaning modes: automatic, one-cleaning pass, and two-cleaning pass. The two-cleaning pass is particularly beneficial for homes with pets as it allows the bot to double back over the cleaned areas. This vacuum operates using a lithium-ion battery that will give you 75 minutes of running time per charge.
The Roomba 960 leaves your floors spotless - be it linoleum, low-pile carpeting, hardwood flooring, etc. Simply use the included Virtual Wall Barrier if there are places you want your robot vacuum to avoid. Set it on the floor in front of the restricted area. The bot will emit an invisible barrier, which blocks itself from entering.
pros
Comes with iAdapt 2.0 and a top-mounted camera
Equipped with cliff sensors to prevent falling
Goes back to the same route after recharging
Maximum charging time is 3 hours
Includes Wi-Fi connectivity for a more convenient operation
You can link Google Home and Amazon Alexa to give voice commands
Alerts when the dustbin is full
cons
Lacks the carpet boost functionality of more expensive Roombas
Has a slightly less powerful motor
Runs up to 75 minutes only
5. iLife V3s Pro
The iLife V3s Pro is among the least expensive units in our list but its affordability is not a red flag for poor quality. It isn't perfect but its cleaning capabilities aren't limited. It is particularly helpful for pet owners, as it can tidy up scattered cat litter, pet hair, and kibble.
The V3s Pro is an independent piece of equipment equipped with straightforward settings. It works with minimum supervision and it ensures its owner does as little work as possible. You can choose between three cleaning modes that suit a particular room. Its lack of smartphone convenience is what actually simplifies things. There is only a single button to deal with. By pressing the "clean" button via remote control or touch screen function, the bot gets to work right away.
With the V3s Pro, you don't have to worry about charging the machine yourself. We also guarantee it has a little chance of damaging itself while it tries to self-charge. This robot vacuum is equipped with an anti-bump technology and a cliff-like sensory setting. As a result, it detects furniture in the way and avoids falls in the process of work. However, it takes the unit 300 minutes to recharge but it runs for 120 minutes once it is juiced up. Since it is also quiet, you can leave it in a room to work while your pet is asleep. Weighing at five pounds, you can easily grab the bot by hand and store.
The V3s Pro isn't smart but does a nice job at navigating around small houses. This unit is of low profile. It glides under tables, beds, and other furniture. Likewise, it slithers around table legs with ease. The V3s Pro has a suction power of 850 Pa. Our only gripe is that it struggles with transitions. It gets confused, sometimes even shutting itself down when it tries to go from bare floors to carpets. Although constant monitoring is unnecessary for this device, we can't promise that it won't jam on a few different obstacles. It doesn't have virtual walls or boundary markers that vacuums that are more expensive have. It won't even signal whether the dustbin needs to be emptied out.
pros
120 Minutes of running time
850 Pa. suction power
Collects all types of pet mess
Basic, hassle-free controls
Silent operation
Offers 3 cleaning modes
Equipped with anti-bump technology and cliff sensors
Self-charging
Lightweight and compact
cons
Suitable for bare floors and small rooms
Charging time is 300 minutes
Doesn't alert when the dust bin is full
Struggles with transitions
6. iRobot Roomba 980
A majority of robot vacuums in the market deals with bare floors effortlessly but tends to struggle with carpets. This is not the case for the Roomba 980. In fact, this model is the king when it comes to carpet cleaning. If you have a sizeable home with a number of pets and carpeting, this unit is for you.
The Roomba 980 is a high-end robot vacuum cleaner specifically designed to clean plush rugs and high-pile carpets. It features Carpet Boost technology, which increases its suction power up to 10x more. Therefore, it pulls out crisp fragments and pet hair tangled in carpets.
The Roomba 980 also packs a lot of handy features. While it is a fantastic choice for carpet cleaning, it also does a superb job of keeping bare floors squeaky clean. This little vacuum boasts of a high-efficiency filter, which captures minute dust particles and ensures they remain trapped within the dust compartment.
Additionally, it comes with tangle-free multi-surface brushes for collecting large debris. There is also an edge-sweeping brush to extend the reach of the main brushes and reach the tricky corners of the room. It effortlessly picks up kibble, cat litter, dander, sand, and anything else that your naughty pet manages to collect.
As with other Roombas, this model has cliff detection sensors and dirt detect technology to prevent unnecessary collisions and deadly falls. Boundary markers are also included, which you can use to create a no-vacuum zone. The Roomba 980 possesses the most advanced navigation that many low-end and mid-range units lack. It sets apart fixtures from clutters, and it fittingly deals with each obstacle it encounters. Likewise, it doesn't have problems transitioning between different floor surfaces.
As expected of a high-end robot vacuum, the Roomba 980 has Wi-Fi connectivity. Install the designated app to access several features via your smartphone. Better yet, integrate Amazon Alexa or Google Assistant for audio commands. You can also view cleaning reports using your smartphone.
The Roomba 980 has a battery life of 120 minutes per charge – the longest runtime in the Roomba series. This bot automatically heads back to its charging cradle and resumes cleaning as soon as it is juiced up.
The Roomba 980 is inarguably one of the best performers from the Roomba series. Actually, this model used to be the kingpin of robot vacuums until iRobot released a newer model just recently. If only the company marked down its price, pet owners would enthusiastically order one in a jiffy!
pros
120 minutes of running time
Wi-Fi connectivity
Can be controlled using Google Assistant or Amazon Alexa
Carpet boost technology increases suction power up to 10x its normal rate
Perfect for both bare and carpeted floors
Equipped with tangle-free rubber rollers for tackling pet hair
Equipped with a HEPA filter
Edge-sweeping brush cleans every nook and cranny of each room
Advanced navigation capabilities
Boundary markers are included
Sensitive dirt and cliff sensors
Smooth transitions between various surfaces
cons
Comes with an expensive price tag
Produces noticeable white noise when you enable the Carpet boost mode
7. Ecovacs Deebot N79S
The Ecovacs Deebot N79S is a low-cost robot vacuum cleaner that punches above its weight. It looks similar to other bots in the lineup, but it lacks the laser navigation. The Deebot N79S uses basic navigation to keep its price down. On the bright side, this unit uses a HEPA filter, which is a treat for asthma sufferers. Because of its compact design, it easily glides underneath most furniture.
In addition, the Deebot N79S has multiple cleaning modes to tackle different jobs: Auto, Spot, Edge, and Single Room modes. Running the vacuum in Auto mode, however, is a little haphazard. It sends the bot bouncing around a room until it hits something. This continues until the battery is running out and the bot has to return to its dock to juice up. Rest assured, the Deebot N79s covers every spot of the room despite its random movement although it takes a long time to clean. The Deebot N79S has 1,000 Pa. suction power, which is great considering its price.
You can initiate cleaning by pressing the single button on top of the bot and use a remote to change the suction power from Standard to Max. Likewise, you can use an app on your phone for a good deal of control over your robot vacuum. From the app, you can set cleaning schedules, change its cleaning mode, monitor a cleaning, or send the robot back to its dock.
Moreover, the Deebot N79S is relatively quiet, as it runs at a measured 59 dB on standard mode. When Max mode is on, it runs at 62.7 dB, which isn't very loud. The vacuum can run for 90 minutes, depending on its cleaning mode. For optimum performance, the company recommends using the Deebot N79S on bare floors, such as hardwood, linoleum, and vinyl. The bot will automatically return to its dock and recharge itself when the battery is low.
The Ecovacs Deebot N79S is a good robot vacuum for homes with pets, given its low price. One thing for sure – it does come with some limitations.
pros
Cleans well in small areas with bare floors
90 Minutes of running time
1,000 Pa. suction power
Equipped HEPA filter
Nearly silent operation
Offers multiple cleaning modes
Self-charging
Lightweight
Compatible with Amazon Alexa and Google Assistant
cons
Uses basic navigation
Not suitable for carpets and rugs
8. Roborock E25
The Roborock E25 is a mid-range robot vacuum sold under Xioawa. Equipped with laser navigation, it determines the shape and size of the room when it launches for cleaning. It starts at the center of the room, moves in parallel lines and progresses to the edges. The fact that it knows where it is heading means it's nimble and timesaving, too. Additionally, you can view the area the bot has finished cleaning. The only downside is that it won't allow you to draw virtual barriers, unlike models that are more expensive.
Moreover, the E25's talents aren't limited to room scanning. This robot vacuum also mops your floors! Simply fill the tank with sudsy water and attach the special attachment that comes with the unit. While this is reasonably effective, you have to wash the cleaning pad.
There are four cleaning modes to choose from. These are Silent, Standard, Strong, and Max. Suction power is rated at 1,800 Pa. in Max mode. Additionally, there are special cleaning modes that you can access through your smartphone. These include a carpet mode, which boosts suction power in order to lift up larger particles, such as tangled pet hair, bits of kibble, and crisp fragments.
Nevertheless, the E25 sends alerts to your smartphone just in case it is stuck. You can set it to Spot Clean mode, so it won't have to restart and clean the entire room. The only physical controls on the E25 are the spot-cleaning button and power button, which doubles as a start and stop button. There is no remote included but you can use your smartphone to influence your bot.
What the E25 lacks is a particularly large dustbin. With a capacity of 0.64L, you need to empty it out frequently. It also lacks a sensor that tells when the dustbin is full, although the app will tell you when it needs a new HEPA filter or which brush to replace.
pros
Uses laser navigation to set out a methodical way of cleaning
1,800 Pa. suction power
Features multiple cleaning modes
Includes carpet boost technology
Can mop floors when the special attachment is used
Equipped with HEPA filter
Has Wi-Fi connectivity
The app tells you which parts need replacements
cons
Small dustbin
Doesn't alert when the dustbin is full
Can't create virtual walls
9. Shark ION ROBOT 750
Setting up the Shark Ion R750 is straightforward. The controls are intuitive. There is a button for general cleaning, spot cleaning, and another one to send the bot back to its charging cradle. Better yet, download the Shark ION ROBOT app so you can access several features for your robot vacuum even when you are away from home. Through the app, you can construct a cleaning schedule and receive maintenance alerts among others.
You can also integrate Google Home and Amazon Alexa, which is a surprising treat at this price point. Turning on the voice-control capability allows you to command the bot to initiate cleaning, pause an in-progress session, or send the bot back to its dock for charging.
The R750 lacks sophisticated mapping navigation, which is no surprise at this price point. However, Shark equipped the unit with proximity sensors to detect huge objects, pets, or people in its path. The manufacturer also included a 9-foot boundary strip and a pair of BotBoundary connectors. You can use these inclusions to create a no-vacuum zone. Additionally, the R750 has grip wheels, allowing better transitions between bare floors to rugs or low-pile carpets. Likewise, the bot is only 2.6 inches tall and so itt easily rolls underneath furniture.
Equipped with dual side brushes, the R750 is highly adept at picking up minute particles to large debris but it cleverly avoids stray objects that may cause jamming. This bot also comes with a large brush roll to maintain itself. Thanks to its powerful lithium-ion battery, the R750 can run for an hour before it needs recharging.
pros
Multiple cleaning modes
Controllable via Shark ION ROBOT app, Google Assistant, or Amazon Alexa
Includes a 9-foot boundary strip and a pair of BotBoundary connectors
Comes with a brush roll to loosen up pet hair
Compact design
Uses a HEPA filter
Has a battery level indicator
cons
Needs 3 hours to fully charge
Navigation needs improvement
10. Pure Clean PUCRC26B
The Pure Clean PUCRC26B.5 may lack flashy features but it does a good job at containing your pets' mess. This unit comes with dual rotating brushes to lengthen the reach of the vacuum. The result is that it catches more dirt and debris in tricky corners of the room. Its height is just over two inches and so, it can easily roll under most pieces of furniture.
Additionally, this humble bot is equipped with a high-efficiency filtration system to help keep the air as pure as possible. It uses a HEPA filter, which captures up to 99.97% of minute particles, as well as making sure the contaminants remain inside the dustbin. Since the dustbin only has a 200 ml capacity, you have to empty its contents more often.
Moreover, the upgraded version of Pure Clean robot vacuum has a battery life of 50 minutes. Despite the absence of a path-planning feature, the humble bot has bump and cliff sensors to avoid collision and falls.
Overall, we love the cleaning abilities of this little vacuum. As long as you don't use it for a kennel of longhaired pets, then it will work fine.
pros
Includes scheduling function
Equipped with a dual rotating brush for better cleaning
Uses a HEPA filter, which captures dust particles up to 0.3 µm
Compact design
cons
No virtual walls for blocking a separate area
Lacks mopping feature
Small dustbin
Not supported by Amazon Alexa or Google Assistant
Battery capacity is only 850 mAh