The American Pit Bull Terrier is often portrayed as a savage dog eager for the fray. This misconception is often rooted in the fact that this canine was bred for the wrong reasons. Several anti-Pit Bull groups even claim that this breed is the most lethal. Not to mention how the media loves to cook up bone-chilling stories.
@pitch_flow/instagram
Yes, Pits are infamous in the dog fighting arena and those who were considered unfit to fight, end up wandering in the streets. Lack of basic necessities and years of abuse can, of course, take a toll on a dog. Thus, the reported Pit Bull attacks.
However, Pits are a rough diamond. Underneath that ruthless and fearsome facade is a kind-hearted dog yearning for love and respect. Truth be told, there is more to a Pit Bull than its muscle mass!
Fun Facts About the American Pit Bull Terrier
The American Pit Bull Terrier did not originate in America
The Pit Bull originated in the United Kingdom, not in the United States. Old English Bulldogs and terriers were crossed in the early 1800s to produce a breed capable of manifesting exemplary strength, agility, and tenacity in battle. Its name was coined from the fact that this breed was thrown in pits for bear baiting, dog fighting, rat killing, and other cruel blood sports.
Prior to the English Civil War, immigrants flocked to the United States with their Pit Bulls. Demonstrating their work ethic, these dogs later became an invaluable fixture of the developing nation of America. By 1930, the American Kennel Club recognized the breed under its new name.
A tiny Chihuahua is more aggressive than a hulking Pit Bull
According to Dr. James Serpell, a celebrated professor of Animal Ethics and Welfare at the University of Pennsylvania, the most aggressive breeds are the Jack Russell Terrier, Chihuahua, and Dachshund. The Pit Bull has an average temperament rating of 87.4%, which is even lower than the Cocker Spaniel, the Border Collie, and the Beagle.
The American Veterinary Medical Association has also noted that it is not within the inherent nature of the Pit Bull to bite humans. But of course, any dog regardless of breed that was cultivated for aggression is capable of terrorizing an entire neighborhood.
The American Pit Bull Terrier is often mistaken for other breeds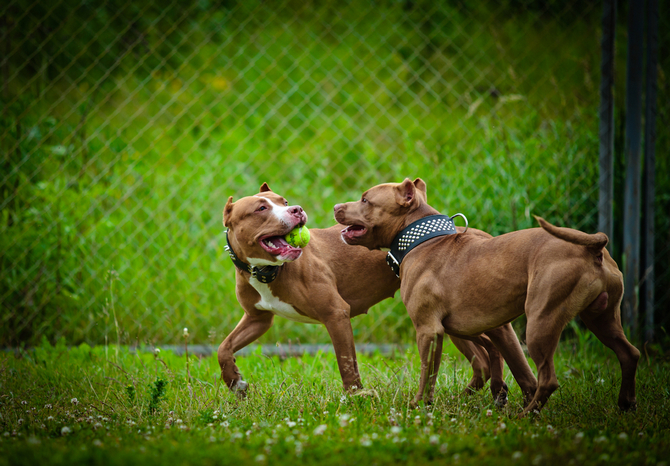 The American Pit Bull Terrier is a distinct breed but all too often the masses use the term "pit bull" as a reference to many breeds. There is so much confusion due to incorrect information and crossbreeding practices. The following breeds are just a few of the many breeds that people assume belong under the Pit Bull umbrella:
Dogo Argentino
Cane Corso
Presa Canario
American Bulldog
Bullmastiff
English Mastiff
Boxer
Bull Terrier
Staffordshire Bull Terrier
The most decorated dog of WWI was a Pit Bull
World War I propaganda posters use illustrations of dogs to represent different countries. The American Pit Bull Terrier was the patriotic representation of the United States: brave, loyal, and determined.
Pit Bulls also represent the American forces in the field. A Pit Bull named Sergeant Stubby ventured 17 battles, fighting alongside American soldiers on the Western Front in France. The presence and loving nature of the legendary canine have given solace to countless wounded soldiers.
Sergeant Stubby received the Purple Heart award and lived to a ripe old age alongside his beloved owner.
A Pit Bull is not the closest thing you'll encounter next to a shark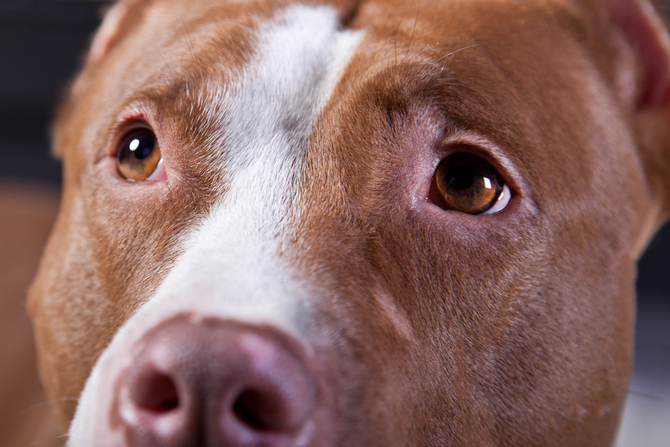 One of the most insidious misconceptions about Pits is their "locking jaw." Pit Bulls share the same common physical mechanism and general skeletal structure as any other dog breed. However, Pit Bulls are determined dogs. Whatever they do, Pits do it with a great deal of enthusiasm. So, expect them not to easily yield when they bite down on something. This trait makes it seem as though Pits have a locking jaw.
Additionally, they don't bite as hard. True, Pit Bulls are tenacious with a high prey drive, but a Pit's bite is nothing compared to the Belgian Malinois that aims to maim its attacker. A Pit Bull's bite only produces 320 lbs. of pressure, which is twice as much as a regular human bite.
Pits have a well-established fanbase in Hollywood
Pit Bulls are loved by famous celebrities. This includes Kaley Cuoco, an actress and an advocate for Pit Bull awareness; famous couple Jessica Biel and Justin Timberlake; veteran actor Kevin Bacon; chef celebrity Rachael Ray; and the list goes on. These famous celebrities have shown the world how awesome life could be if you have a Pit as your canine companion.
Pits are good actors to boot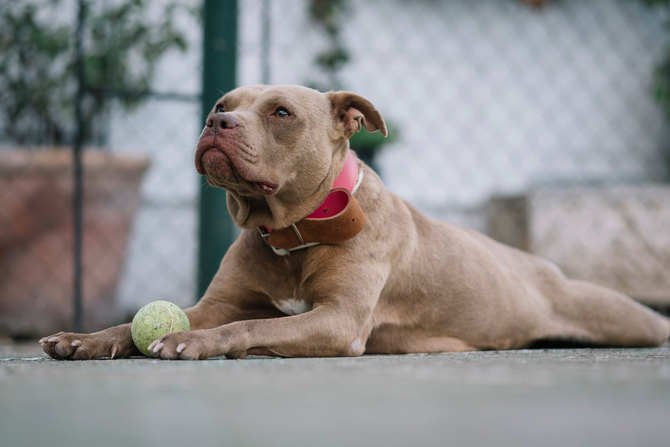 If you were born between the '80s and '90s, it's hard for you to miss the epic movie, The Little Rascals. Remember Petey, the dog with a circle around his right eye? Well, Petey is a Pit Bull! The good boy is best known for his appearance in The Little Rascals back in 1994, but he also starred in The Minus Man in 1999 and Homeward Bound II: Lost in San Francisco in 1996. But before The Little Rascals, the first dog to play Petey was a Pit Bull named Pal, The Wonder Dog.
The largest Pit bull weighs a whopping 175 lbs.
Hulk, the largest American Pit Bull, weighs a staggering 175 lbs! Marlon Grennan, the founder and owner of the Dark Dynasty K9s protection dog company, aims to break the stereotype that Pits aren't ideal protection dogs.
Hulk and his other ginormous brothers are constantly trained to maximize their full potential. Powerful, intelligent, and fearless, these dogs will do everything for their family and will never back down even if it costs them their lives.
But despite his highly imposing appearance, Hulk is one of the gentlest and most affectionate dogs in the entire world! In fact, the colossal canine often babysits his human brother, says Grennan.
Pups sired by the world's largest Pit Bull costs $55K each
Hulk's puppies sell for $30,000 each at birth. If the pup was to be trained as an elite protection dog like his dad, the price could go up to $55,000.
Pits can look after your children
The American Pit Bull Terrier is dubbed as "the nanny dog" since the early 1900s. Both rich and poor families of America trusted Pits to guard their children. Pits are among the gentlest and most tolerant family-oriented breeds. Sadly, the media's affinity for exaggerated stories has embarrassingly portrayed Pits as the most terrifying dogs since the '80s.
Thankfully, Pit Bull advocates, such as Marlon Grennan, are trying to break the stigma. If you watch his YouTube videos, you will see that Hulk is often looking after his son. If you are looking for a nanny to babysit your children, just ask your Pittie for free! Treats will be enthusiastically received, too.
The True Dog Whisperer is a Pit Bull
The famous Dog Whisperer, Cesar Millan, adopted a four-month-old American Pit Bull Terrier named Daddy. Since then, his life was never the same again!
Daddy was a calm, affectionate, tolerant, and intuitive Pit Bull, says Millan. Serving as the perfect role model, Daddy became an integral part of Millan's work. Millan astoundingly rehabilitated aggressive dogs with Daddy's help. Millan later chose Junior, who is another Pit Bull, as Daddy's protege. He quickly learned Daddy's ways and assumed Daddy's role in 2010.
Cesar Millan remains grateful for everything Daddy has done. He noted that Daddy was the True Dog Whisperer who never even made a mistake all throughout his canine life.
Pits are part monkey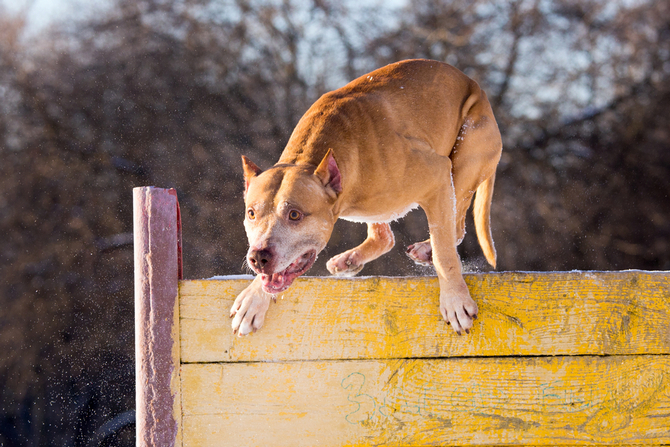 Pit Bulls are fantastic climbers due to their agility and brute strength. They can scale walls that other dogs could only dream of doing. Antara, a competitive Pitbull from Mexico, is the Grand Champion of Vertical Wall Climbing. Defying gravity, she runs up fences, trees, and even a 13-feet vertical wall with ease. Antara has amassed a bevy of awards to boot.
You can download or listen to deathgrind music by Pit Bulls using the Spotify app
Pit Bull Terriers named Budgie and Basil are the lead singers of the Caninus grindcore band. The said band was signed to War Torn Records and was followed by three releases, including Now the Animals Have a Voice. They also have a split with Cattle Decapitation, an American death metal band. Unfortunately, the band was torn when Budgie and Basil died. On the bright side, you can still listen to their songs on Spotify!
A Pit Bull discovered $147,029,344 worth of illegal drugs
Who says Pits can't sniff out narcotics and bombs just like Belgian Mals and GSDs? Although not as popular as the two working breeds, Pit Bulls have also served for decades in the army and law enforcement. In fact, America's no.1 Customs Dog is an American Pit Bull Terrier named Popsicle.
Popsicle was left to die in a freezer after being used as a bait dog. Fortunately, he was discovered in a drug bust operation. He was trained at the Canine Enforcement Training Center not long after his rescue.
Popsicle started working at the Pharr and Hidalgo bridges in Texas where he discovered 1.5 tons of cocaine with a street value of $139,605,000. He was later transferred to the Port of Roma where he alerted to 12,080 pounds of Marijuana with a street value of $640,000; 148 lbs. of cocaine worth $6,719,200; and two currency seizures with a value of $65,144.
Now retired, Popsicle is living a life of leisure with his owner.
Conclusion
We hope you enjoy the fun facts we shared about Pit Bulls. Sergeant Stubby, Daddy, Petey, Hulk, and Popsicle are just a few of the many Pit Bulls that prove they are capable of doing incredible feats. If you encounter a Pittie with an abusive start, please don't be reluctant to give him a second chance at life. Now, we hope you will spread the word, so Pits get a more positive press!
References and further readings: