So you're thinking about getting a pet macaw, or you need to update your current bird's cage. These are strong, intelligent creatures, so choosing the right cage is vital for the safety and wellbeing of your feathery friend.
Well, you're in the right spot, as we've "pecked" our way through the web and have found what your macaw needs in a quality cage. Plus, we have our top eight picks to help you narrow in on the right cage for your needs.
Let's get started!
Top Eight Reviews of Macaw Cages
What to Look for in a Macaw Cage
Macaws come in a variety of colors and sizes. However, what they all have in common are their strong beaks and exuberant personalities - this can make them a challenging pet.
Macaws love to climb and explore, so the cage you provide this curious bird has to be sturdy and able to withstand the macaw's sharp talons and "destructive" beak. Other than the bird itself, the macaw cage will be your next most significant investment for this type of pet.
If you have a mini macaw, the minimum cage requirement should be 24x36x48 inches. Larger macaws will require a bigger cage that measures a minimum of 36x48x60 inches. Remember, these cages are only meant to be a place for your bird to sleep or rest when you are away. Macaws are interactive, busy creatures that cannot be left for long hours in a cage.
Another feature you will want in a cage is one that is constructed of heavy-duty material such as stainless steel. This will ensure the unit can withstand the wear-and-tear of the macaw species.
What Else Does the Macaw Cage Need?
Because the macaw is an intelligent bird, you should provide it with all kinds of toys that will stimulate both its mind and its instincts (chewing, clawing, etc.). Wooden toys or even plain chunks of wood (untreated) provide your parrot with a safe way to satisfy its chewing urges. Interactive toys designed to be taken apart for a food reward are also an excellent choice, as are those that provide your bird with the ability to climb.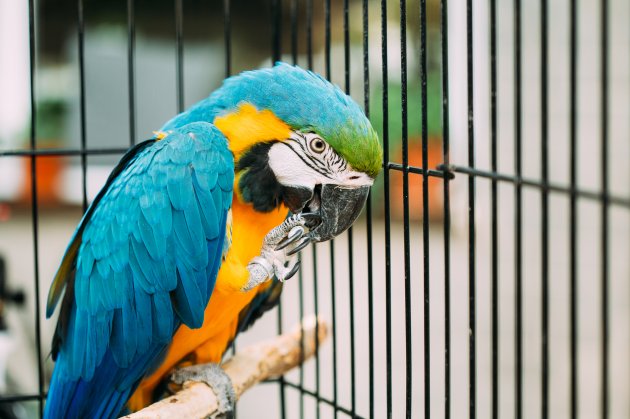 Remember, even though toys are a must-have for the macaw, they also take up room, so you will want to keep that in mind when shopping for a macaw cage (again, bigger is better).
The Best Cage for a Macaw
When it comes to choosing the best cage for a macaw, be sure to do your research and pick a unit that is both durable and large enough to keep your pet happy and healthy. The macaw is a long-lived bird, so choosing the best cage now, will save you money in the future.
References:
Center for Animal Rehab, Guidelines for Cage Size and Bar Spacing
PearlParrots, Wingspan/Cage Measurements