Every time we visit the local pet center we face hundreds if not thousands of dog foods. Food for puppies, dry food, semi-moist food, meals for dogs, prescription diets, organic food, food with added nutrients, therapeutic diets, canned food, meals in sealed packets, chicken flavor, dog food with chicken, chicken dog food, kibble…the list goes on and on in terms of ingredients, flavors, textures, types, quality and prices.
But what makes certain dog food a better option than the rest? And how to make the right choice?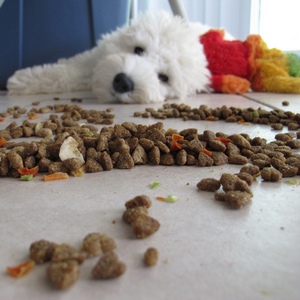 With so many commercially available types and brands, all using different wording and marketing claims, going on a dog food shopping can be a rather daunting and challenging task. Even though there is no ideal food and ultimately everything comes down to what your dog needs and what is most practical for you, to make things easier, we have reviewed few important steps towards the right decision. First of all, you need to consider several different variables such as age, breed, body composition, gender (including whether neutered or not), temperament, activity level and last but not least – taste preferences.
The perfect food is supposed to be the ideal balance of the six major nutrient groups: proteins, carbohydrates, fats and oils, vitamins, minerals and water.
More often than not, we forget to pay attention to the label and check out the ingredients list of the dog food we purchase. Being the manufacturer's primary means of communication with you, as dog parent, the food label is of crucial importance. Although it may sound like a no-brainer, always look for a statement indicating that the food is specifically made for dogs. Dogs have particular nutritional needs and require certain things in their diets.
Commercial dog food is required to be nutritionally complete/balanced, meaning the food can be used as sole source of nutrition because it contains all necessary nutrients for your dog to grow and thrive. You do not need to worry about deficiencies, unless your dog has specific issues that require special diet or supplements.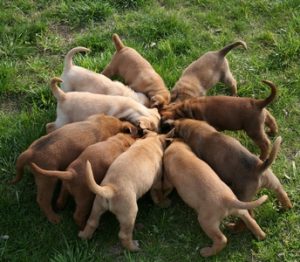 One of those special diets is the low protein diet. As previously mentioned, protein is an essential nutrient that all dogs need to grow and maintain normal bodily functions. Proteins are made of amino acids. Amino acids are the building blocks in a dog's body. Dogs require 22 amino acids, 12 of which they can synthesize on their own. The other 10 amino acids (essential) must come from the diet. Dogs suffering from certain chronic health conditions, have limited ability to digest those amino acids. For them, too much protein can be detrimental. Health issues that require special low protein diets include: chronic kidney disease, acute kidney failure, glomerulonephritis, Lyme-disease associated nephritis, nephropathies and other inflammatory kidney diseases, porto-systemic or liver shunts, hepatic encephalopathies, cirrhosis, Cushing's disease, congestive heart failure and some types of urinary stones. Low protein diets are also indicated for naturally aging dogs, large dog breeds at risk of overgrowth and obese dogs that need to lose weight.
Addressing health concerns with corresponding diets, not only extends your dog's survival period, it also increases the quality of life. However deciding your dog has to eat low protein foods must be medically supported. Low protein dog food is generally not recommended for healthy dogs. Therefore, low protein diets, are not available over the counter. They can only be recommended and prescribed by a licensed veterinarian. Regardless of what your vet prescribes, as a responsible dog parent, you should always monitor your dog's body weight and condition.
Buying guide – Best Low Protein Dog Food
Nevertheless, being low in proteins, is not the only criteria, low protein dog foods should meet. To successfully navigate the minefield of choice and find the best option, we wrote a short Buying Guide and described few important criteria:
1. Brand – we are all brand-driven purchasers. When it comes to health products, opting for a proven brand is always a smart choice. Stick to a brand you know and trust, even if it costs a few extra bucks.
2. Quality – as previously mentioned the diet must contain high-quality, easily digestible proteins. Preferred high-quality protein sources in low protein diets include chicken, eggs, fish, soy, dairy and beef.
3. Balance – pay attention to all ingredients and not just the proteins. Make sure the diet can be used as a complete meal and it does not contain harmful ingredients such as meat by-products, generic fat sources like animal fat or chicken fat, artificial preservatives, colors, flavors and harmful sweeteners like sucrose or corn syrup.
4. Palatability – since most of the flavor of the food comes from the protein, dog foods with limited proteins can be rather tasteless. Buy small amounts of several different brands and let you dog decide which one it prefers. However, do not offer him too many varieties all at once, as it may lead to upset stomach and gastric pain.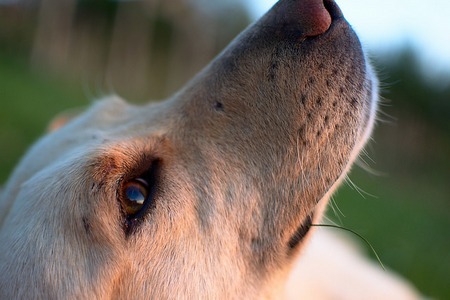 5. Nature of the dog food – the good news is that low protein dog food is manufactured in both dry and canned varieties, so finding a tasty option for your dog is not that hard. Most dogs prefer canned food since it has more appealing smell and greater amount of animal preservatives. On the other hand dry food is easier to measure and buy in bulk, has a longer shelf-life and usually more nutritious. Whatever you decide on, make sure you understand how to compare canned food with dry food. For example 18% protein on the label of wet dog food is not the same as 18% protein on the dry dog food label. Canned food is generally much higher in protein than dry food, even though it may appear otherwise when comparing the labels.
6. Flavor – always choose the flavor your dog wants. To avoid unwanted digestive issues pick a flavor you dog has previously eaten. The most popular flavor in low protein foods is chicken. Go with it, before trying new flavors such as – turkey, salmon or duck.
7. Appropriateness – believe it or not, even dog food shopping comes with rules. One of the most important rules would be to never buy puppy food for an adult dog and the other way around. Certain food product serves as a complete and balanced meal, but only for a specific developmental period of your dog's life. In a nutshell, puppies should eat puppy foods, adult dogs should eat adult dog foods and seniors should eat senior dog foods. Low protein puppy foods are specially formulated for fast-growing bodies while those for older dogs are useful for joint care.
8. Phosphorus levels – low phosphorus levels are also important for maintaining the kidney's health and proper function. However, low-phosphorus diet should be supplemented with enough B vitamins, potassium, antioxidants, buffering agents and omega-3 fatty acids.
9. Professional advice – last, but not least seek professional opinion. Consult with the salesperson at the pet center, a dog nutritionist or your trusted vet. Keep in mind that there is no universally good, one-bag-fits-all type of dog food, especially when it comes to therapeutic diets. When making the right choice, special attention should be paid at some additional factors:
Spayed and neutered dogs – they are prone to weight gaining because of increased appetite and decreased activity
Breeds predisposed to allergies – Cocker Spaniels, Lhasa Apsos, Dalmatians, Miniature Schnauzers and English Springer Spaniels are allergic to certain dog foods
Pregnant and lactating bitches – they have higher energy requirements
Environmental conditions – dogs who spend time outside in the cold, depending on the temperatures, usually need 10-90% more energy than those who live indoors or in temperate climates.
TIP: If buying low protein dog food online, choose a good and reputable company with a return policy.
To make things even simpler and easier for you to understand we have compiled a list of the 10 best low protein foods for dogs, available on Amazon.
Top 10 Best Low Protein Dog Foods
1. Purina NF KidNey Function Canine Formula Canned Dog Food 12/13.3 oz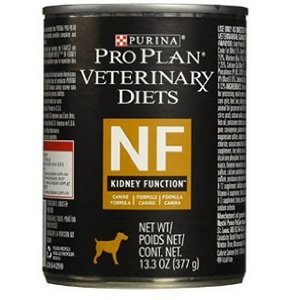 The Purina NF KidNey Function Canned Canine Formula is scientifically formulated to help minimize the signs of kidney failure and slow down the disease's progression. To support proper and healthy kidney function it has low protein levels, low phosphorus levels, reduced sodium levels and high omega fatty acids levels. Low protein levels help reduce the workload of the kidneys. Low phosphorus prevents kidney damage, while reduced levels of sodium help compensate the damaged kidney's inability to regulate this important mineral. Increased levels of omega-3 fatty acids help reduce glomerular hypertension. The added B-complex vitamins help protecting the body and ensure easy nutrients' break down. Additionally it serves as complete and balanced nutrition for maintenance of adult dogs.
Purina NF, Canned Dog Food's first 5 ingredients are water sufficient for processing, meat by-products, rice, corn grits and beef.
The formula is indicated for dogs with acute and chronic kidney disease, hepatic disease associated with encephalopathy and for dogs suffering from any condition that would benefit from restricted sodium levels.
Crude Protein (min)

2.5%

Crude Fat (min)

5.5%
Pros:
Specifically designed therapeutic diet for dogs with renal issues
Low protein, low phosphorus, reduced sodium and increase omega fatty acids to support proper kidney function
Complete and balanced nutrition
Highly palatable, as with other canned foods
Made in the USA
Cons:
Some owners complain the formula is not available in different flavors
Some owners are concerned the formula contains by-products
Too expensive
2. Royal Canin Veterinary Diet Canine Gastro Intestinal Low Fat Canned Dog Food 24/13.6 oz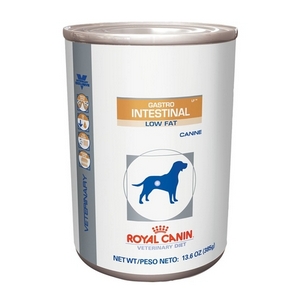 Royal Canin Gastrointestinal Low Fat Canned Dog Food is a specific nutrient blend developed by nutritionists and veterinarians. It is specifically formulated to reduce acute intestinal absorption disorders and promote nutritional restoration and convalescence.
The formula contains easily digestible, high-quality proteins that can be readily absorbed by the dog's digestive system. The fact that it is low in fiber, adds to the easy digestibility. The diet includes hydrolyzed yeast, fructooligosaccharides and zeolite, which nourish the intestinal tissue and microflora. It also has important vitamins and minerals to help reestablish natural balance in the gastrointestinal system, while building strong environmental defenses. Royal Canine Gastrointestinal also helps maintain healthy weight.
The first 5 ingredients of the formula are: water sufficient for processing, pork by-products, rice flour, corn grits and corn meal.
Royal Canin Gastrointestinal Low Fat Canned Dog Food is indicated for dogs suffering from acute and chronic pancreatitis, acute and chronic diarrhea, hyperlipidemia, lymphangietctasia, oxidative enteropathy, exocrine pancreatic insufficiency, bacterial overgrowth and bile acid deficiency.
Crude Protein (min)

6.0%

Crude Fat (min)

1.0%
Pros:
Complete and balanced nutrition
Adequate energy content to meet the needs of adult dogs without overloading the stomach
Contains highly digestible proteins and carbohydrates
Low fat content for decreased stress on the dog's digestive system
Low in fiber for improved nutrient absorption
Nourishes the intestinal tissue and microflora
Naturally preserved
High palatability to satisfy decreased or fussy appetites
Cons:
The diet's main ingredients are animal by-products and grains
Quite pricey
3. Mattie's healthy treats for dogs with kidney disease 16 oz(1 lb)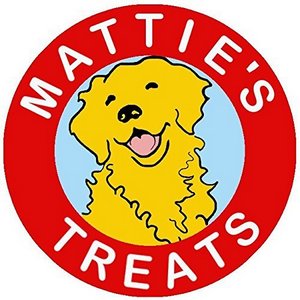 Mattie's healthy treats for dogs with kidney disease are specifically designed to complement prescription diets. They use simple, natural ingredients to provide low protein and low phosphorus, tasty treats. All dogs love the real pumpkin and cinnamon taste.
Mattie's healthy treats for dogs with kidney disease contain light rye flour, tapioca flour, pure pumpkin, cinnamon, omega 3 fish oil, canola oil.
Crude Protein (min)

6.8%

Crude Fat (min)

2.2%
Pros:
Low protein and low phosphorus
Do not contain wheat, soy and corn
Great taste, suitable for picky eaters
Brittle enough to be easily broken into smaller pieces for smaller dog breeds
A percentage of the sales is donated to fund research dedicated to canine kidney disease eradication
Made in the USA
Cons:
No suggested serving size on the box
Low quality packaging, which leads to many broken pieces on the bottom of the bag
Too expensive
Some owners said their dogs got bored with the taste after a while
4. Veterinary Diets Purina Veterinary Canine NF Kidney Function Dry Dog Food, 6 lb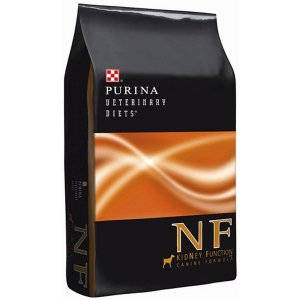 Purina Veterinary Canine NF Kidney Function Dry Dog Food is specially formulated for normal operation of your dog's renal system. It is a clinical diet, designed to help manage chronic renal failure and its complications in adult and ageing dogs.Nutrients such as low sodium, potassium and boosted omega-3, omega-6 bolster the dog's health, while specifically focusing on the urinary tract.
Reduced sodium levels compensate the functionally deprived kidney's capacity to regulate this important mineral. Purina Canine NF decreases the production of nitrogenous waste products, which also aids the kidney's proper functioning.Purina Canine NF is indicated in cases of chronic renal failures, renal failures associated with Lyme disease, early stages of heart diseases, hepatic diseases associated with encephalopathy and conditions that require restricted dietary sodium.
Crude Protein (min)

12.0%

Crude Fat (min)

13.0%
Pros:
Complete and balanced meal for adult dogs
Helps maintain good kidney function and slows progression of renal failure
Reduces the urate, cystine and calcium oxalate urinary stone formation
Restricted amount of high-quality protein
Low in phosphorus to help support kidney function and reduced sodium
Added B-complex vitamins
Decreases production of nitrogenous products
Great taste suitable for picky eaters
Cons:
Zero meat content and low-quality grains
The diet does not come in smaller kibble size for small dog breeds
Too expensive
5. Royal Canin Veterinary Diet Canine Urinary SO Dry Dog Food 6.6 lb bag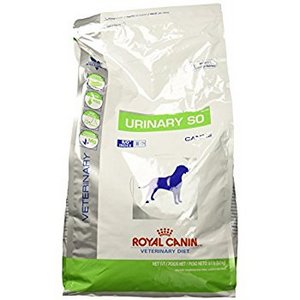 With more than 40 years working experience, Royal Canin is leading expert in the health nutrition area. Its product, Royal Canin Urinary SO is a complete and balanced diet for adult dogs formulated to aid in the nutritional management of calcium oxalate and struvite urolithiasis. The formula promotes a urinary environment unfavorable to the development of both struvite and calcium oxalate crystals. It is designed to ensure the production of a urine undersaturated with struvite and with a level of calcium oxalate saturation at which spontaneous homogeneous crystallization will not occur.
The first five ingredients include brewers rice, corn, chicken by-product meal, chicken fat and natural flavors. Additionally, the diet is enriched with omega-3 fatty acids to aid your dog's urinary tract fight infection and inflammation.
Royal Canin Veterinary Diet Canine Urinary SO Dry Dog Food is indicated for dogs suffering from Lower Urinary Tract Disease (LUTD). LUTD refers to a number of health situations that lead to irritation of the urinary tract. Among the most common causing issues are bacterial infections and urinary stones. The formula successfully addresses both causes.
Crude Protein (min)

14.0%

Crude Fat (min)

14.0%
Pros:
100% complete and balanced nutrition and 100% satisfaction guaranteed
Promotes urinary health by supporting struvite dissolution and increasing the urine volume in order to decrease struvit and oxalate levels
Contains reduced magnesium levels
Contains ingredients that acidify the urine and prevent stone buildup
Highly palatable for better acceptance
6. Hill's Science Diet Adult 7+ Active Longevity Chicken Meal, Rice & Barley Dry Dog Food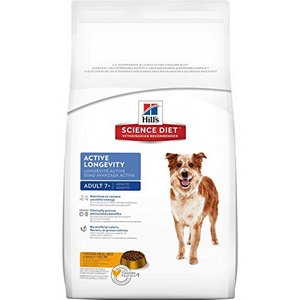 Hill's Science Diet Adult 7+ Active Longevity is a dry food that provides precisely balanced nutrition for dogs age 7 and older. Its easy to digest ingredients, promote youthful vitality. Hill's Science Diet Adult 7+ Active Longevity is Veterinarians' #1 choice to feed their own pets. The diet is also popular among owners of dogs that need low protein foods.
The first five ingredients in this food are: chicken meal, whole grain wheat, whole grain sorghum, brewers rice and brown rice. The food is enriched with omega 6 fatty acids and vitamin E for skin and coat quality improvement and glucosamine and chondroitin for healthier joints and easier mobility.
Crude Protein (min)

19.6%

Crude Fat (min)

14.9%
Pros:
Formulated specifically for senior dogs
Contains natural ingredients, amino acids, vitamins and minerals
Contains a clinically proven antioxidant blend with vitamins C + T to help support a healthy immune system
Has no artificial colors, flavors, preservatives and teeth-destructive sweeteners
Available in two flavors
Pet owners noticed their senior dogs had more energy when fed with this diet
Pet owners noticed their dogs lost the excess weight without sacrificing energy and vitality
Cons:
Contains corn, which in the ingredient list is labeled as "whole grain"
Most of the calories in this food come from carbohydrate sources
It is quite pricey
Made in the USA, but uses some imported ingredients
7. Natural Balance Limited Ingredient Diets Dry Dog Food – Sweet Potato & Bison Formula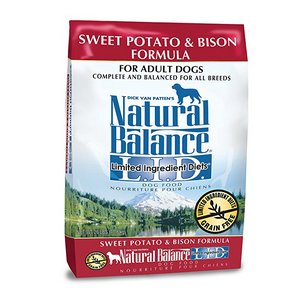 Natural Balance Limited Ingredient Diets Dry Dog Food is made of hormone-free bison meat – famously known for its high-quality protein content. The type of protein in bison meat is low on calories. That is why this diet makes overweight, inactive dogs achieve an ideal weight, while maintaining high energy levels. The food also contains sweet potatoes, as an adequate energy and potassium source.
Natural Balance Limited Ingredients Diets Dry Dog Food – Sweet Potato & Bison formula, is a grain-free diet, perfectly suited for dogs in any life stage. The diet is an excellent source of DHA, which keep your dog's brain sharp and focused. Additionally, the formula promotes healthy skin and healthy, shiny coat.
Crude Protein (min)

20.0%

Crude Fat (min)

10.0%
Pros:
Limited ingredients formula
Contains high in quality and low in calories meat source
Does not contain artificial ingredients, colors and preservatives.
Free from gluten-rich grains
Contains brown rice, rich with fiber and essential oils and flax seeds, rich with omega 3 fatty acids
Because of the single animal protein source this formula is perfect for dogs with food sensitivities
Available in several other flavors – chicken, fish and venison
Cons:
Some costumers noted that the formula changed over time and the ratio of bison to sweet potato decreased
8. Premium Edge Lamb, Rice and Vegetables Dry Dog Food for Senior Dog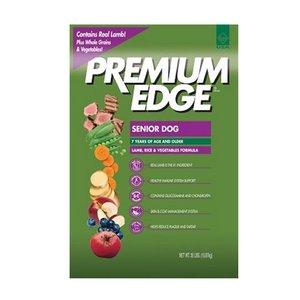 Premium Edge Foods are made with the finest and freshest ingredients. Their foods contain no ground corn, wheat or soy. Number one ingredient in Premium Edge's every formula is real meat. Ingredient #1 in this specially formulated premium dog food is lamb. Other major ingredients in this formula include lamb meal, oatmeal, whole grain brown rice and cracked pearled barley.
This real lamb combined with healthy vegetables offer your senior dog optimal nutrition and health. The formula is enriched with omega fatty acids which provide healthy skin and coat, potent antioxidants for overall good health, taurine for a healthy heart, and glucosamine and chondroitin for healthy joints. In a nutshell this meal is packed with good nutrition.
Crude Protein (min)

20.0%

Crude Fat (min)

10.0%
Pros:
Specifically formulated for senior
Contains L-Carnitine which promotes fat burning; probiotics and digestive enzymes, which promote a healthy GI tract; taurine, which supports normal heart muscle function and eyesight in senior dogs; glucosamine and chondroitin, which support healthy joints and fresh fruits and vegetables packed with natural antioxidants
Calorie content of 3421 kcal/kg or 320 kcal/cup
Made in the USA
Cons:
Although made from descent, high-quality grains, the formula appears to be heavy in grains
Since the 13th ingredient on the list is "ocean fish meal" some owners are concerned for the lack of ethoxyquin-free label on the product (ethoxyquin is a carcinogenic chemical preservative added to fish destined for meals)
9. NUTRO ULTRA Weight Management Adult Dry Dog Food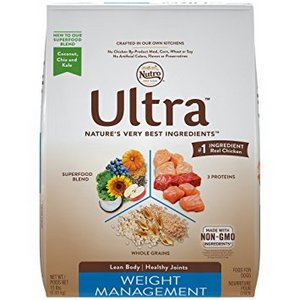 According to many kidney dog food reviews, Nutro Ultra Weight Management Adult, is one of the best low protein dog foods available on the market. The main reasons for this, are the food's finest quality organic ingredients. They promote and support skin and coat quality, heart health, vision and healthy immune system status. Specially made for overweight and less active dogs, this food provides 100% complete and balanced nutrition for adult maintenance. Contains three lean animal proteins from farm-raised chicken, pasture-fed lamb and salmon, which provide unique and complementary amino acids that work together to promote strong, lean muscles.
Nutro Ultra Weight helps overweight dogs achieve and maintain an ideal weight. The high vegetable content of the dog food is responsible for preventing the buildup of fat that could result from high-calorie diets. The plants included in this low-protein dog food are carrots, beet pulp, spinach, pumpkin and tomato. It also contains natural antioxidants, essential vitamins and Nutro Ultra Weight Management has an excellent, delicious taste that mimics the real food's original taste. That is why your dog thinks that it is still eating much and tasty while healthily losing weight.
Crude Protein (min)

23.0%

Crude Fat (min)

10.0%
Pros:
Specially formulated for weight loss
Organic, all-natural ingredients, offering total and balanced nutrition
It is the perfect mix of premium lean proteins, antioxidant-rich fruits and vegetables, whole grains and healthy oils
Natural antioxidants for unwanted disease prevention
Contains thiamine for breaking down carbohydrates into more useful forms
Delicious taste
Available in multiple sizes
Available as canned formula too
Made in the USA
Cons:
More expensive than other best low protein dog foods
10. Holistic Select Natural Dry Weight Management Dog Food, 28-Pound Bag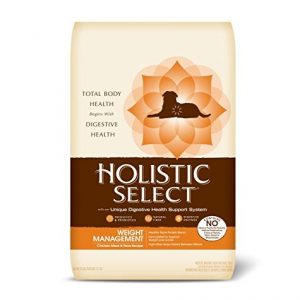 Holistic Select has been focused on using the finest natural ingredients fruits, vegetables and healthy proteins to support healthy digestion, for more than 10 years. Its food is made with prebiotics, probiotics, natural fiber, digestive enzymes & digestive botanicals to promote overall health. Holistic Select Natural Dry Weight Management Dog Food is considered to be super premium dog food.
Holistic Select Natural Dry Weight Management Dog Food is a natural dry dog food specially formulated for overweight dogs. The brand's unique Digestive Health Support System includes active probiotics, healthy fibers and digestive enzymes combined with high-quality natural ingredients like chicken and peas. Made with fewer calories, this food helps support healthy weight loss goals.
Crude Protein (min)

26.0%

Crude Fat (min)

8.0%
Pros:
Everyday complete and balanced diet
Contains premium quality, natural ingredients
No meat by-products, wheat, wheat-gluten or artificial colors, flavors or fillers
Contains protease which aids the protein's break down, cellulase for cellulose's break down and alpha-amylase for starch's break down
Has glucosamine, which supports healthy joints
The formula supports absorption and utilization of vital nutrients
It satiates the dog's hunger, without overwhelming the body
Formulated for weight loss with less fat
Caloric content of 2348 kcal/kg or 331 kcal/cup
Available in various sizes
Cons:
As with all premium foods, the price is high
Some consumers noticed a fishy smell to their dog's breath after switching to this food
Because of the different ingredient content, it should be gradually introduced into your dog's diet
Best Low Protein Grain Free Dog Food
From a quantitative point of view, low protein foods as the name suggests, do not contain many proteins. However, from a qualitative point of view, low protein foods must contain proteins of high-quality, because only high-quality proteins have a good balance of all essential amino acids. There is theory suggesting that dogs can tell when their food lacks certain amino acid and will avoid such meal.
Grain-free diets are recommended for dogs sensitive to grains. Additionally dogs find certain grains to be hard to digest. Consuming such grains over a longer period of time, causes damage to the lining of the digestive system, which results in bowel inflammation disorders, food sensitivities, food allergies, leaky gut and obesity. However it all depends on your dog's health status and the type of grain used in the food. For example, while corn, soy and wheat are considered to be cheap fillers, barley and quinoa are considered to be "super foods".
Our knowledge of the relationship between diet and health advances every day. Additionally the range of foods available for dogs continues to expand. Therefore it is important to base our feeding choices on good, science-based information.
1. CANIDAE Grain Free PURE Dry Dog Food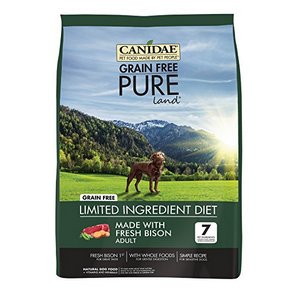 Canidae Grain Free PURE with Bison is simple diet specially formulated for adult sensitive dogs. It is limited-ingredient formula, made with only 7 key ingredients. It contains bison, lamb meal, sweet potatoes, peas and chickpeas.
Bison is high-quality and novel protein source, perfect for dogs allergic to common protein sources. The lamb meal fortifies the protein source. Sweet potatoes are great carbohydrate source. Peas and chickpeas are fiber-rich legumes. The caloric content of the food is 1.686 kcal/lb or 474 kcal/cup.
Crude Protein (min)

25%

Crude Fat (min)

15%
Pros:
Limited ingredient formula (7 ingredients)
Suitable for sensitive dogs
Bison meat as first ingredient
Made with whole foods
Added vitamins, minerals and probiotics mix
Gluten and grain-free
Antibiotics and hormones-free
Great taste
Kibble size suitable for all breeds
Cons:
Too expensive
Contains canola oil instead of flaxseed oil
2. BLUE Wilderness Adult Grain-Free Salmon Dry Dog Food 24-lb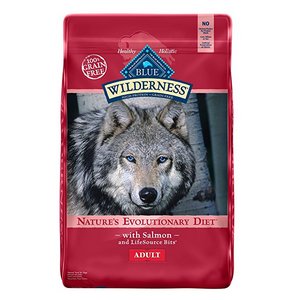 Blue Buffalo Wilderness Adult Grain-Free Salmon Dry Dog Food is a healthy alternative to a raw diet. It is one of the best low protein diets for adult dogs. The first five ingredients are deboned salmon, chicken meal, tapioca starch, peas and Menhaden fish meal.
Salmon is high-quality protein source, rich in omega-3 fatty acids. Chicken meal is meat concentrate, high in proteins. Tapioca starch is a gluten-free starchy carbohydrate. Peas are fiber-rich legumes. Menhaden fish meal is a healthy omega-3 fatty acids source. The caloric content of the food is 3.587 kcal/kg or 415 kcal/cup.
Crude Protein (min)

34%

Crude Fat (min)

15%
Pros:
Complete and balanced meal
Deboned salmon as first ingredient and main protein source
Added vitamins, minerals and antioxidants
Does not contain grains
Does not contain artificial colors, flavors and preservatives
Made in the USA
Cons:
Too expensive
Some owners noticed diarrhea or smelly stool after feeding the diet to their dogs