The Best Leopard Gecko Habitat: Make Your Lizard Feel Right at Home
Leopard geckos make wonderful, easy to care for pets. If you're thinking about adding a new reptile to your family, you need to choose the correct habitat for them to thrive in. In this article, you will learn how to take care of your new friend and what kind of habitat it will need. Listed below will be some popular habitat choices along with reviews from buyers pros and cons. Hopefully, by the end of this article, you will have enough knowledge to make an informed decision about your new lizard's home.
The lifespan of a leopard gecko is longer than the average lizard, they can live up to twenty years in captivity. Careful consideration before purchase is necessary because they do require such a long-term commitment. Their care is easy though, so do not let their long lives scare you off from bringing a leopard gecko into your home.
Leopard geckos are very unique creatures. They are nocturnal and thus do not require a UVB light to mimic the sun's rays. They also are a good size lizard, the females can grow to eight inches and the males ten. Their needs are simple and straightforward: food, fresh water and a warm, safe place to hide and sleep.
Below are five different terrariums suitable as a leopard gecko habitat. Each one will have a detailed description along with the pros and cons and also what people are saying about the habitat after they have made the purchase.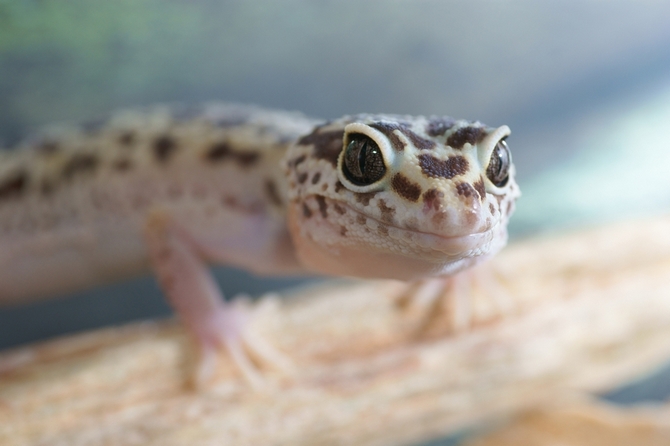 Top 5 Best Leopard Gecko Habitat
1. Exo Terra Short All Glass Terrarium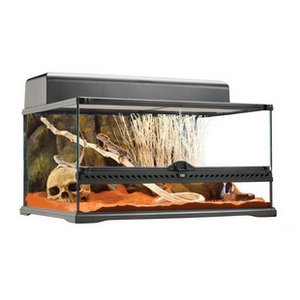 This terrarium has many usable features and is perfect for one or two leopard geckos. This is a 20-gallon tank and it is recommended you use at least a 10-gallon for one gecko and a 15-gallon for two. If you choose to have three geckos, a 20-gallon is necessary. Since it is a larger tank, if you start out with one leopard gecko and choose to add another at a later date, you will not need to buy a new tank.
The dimensions are 24 inches wide, 18 inches deep and 12 inches tall. This is perfect for a leopard gecko because they do not climb well and don't need a very tall tank. The sides and bottom are all glass which makes keeping the terrarium clean and sanitized very easy. Glass does not scratch as easily as plastic and is more durable. It also retains heat and humidity well. There is a secure, snap-on removable top and it is mesh for good ventilation. The bottom of the terrarium is waterproof to contain water spills or liquid waste. The front has two separate doors that can open independently of each other.
This is great for feeding and changing water or substrate. The underside of the habitat is raised up onto feet which is very useful if you want to use a stick-on, under tank heating pad. The back of the tank has five openings for wires or tubes that are also closeable. This is great for heat rocks, lamps or thermometers that have an attached plug. The back wall of the tank has a natural looking rock formation that is aesthetically pleasing but can also be removed if desired. There's plenty of room for a hide, water bowl and decor.
Reviews of the Exo Terra Short All Glass Terrarium are very positive. Everyone seems to like the generous size and the front-mounted doors. The biggest issue noted is the foam backing that can hide feeder insects or get gecko waste stuck in it.
Pros:
Large 20-gallon size, good for one, two or three geckoes
Dual front opening doors for easy access
All glass
Raised bottom
Cons:
Foam backing can hide insects or waste
All glass so it is fragile and heavy
The lid is a plastic screen, not metal which may break or melt from a heat lamp more easily.
2. Exo Terra Outback Terrarium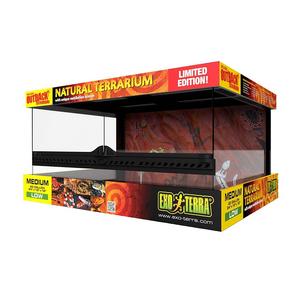 This terrarium is very similar to the Exo Terra Short All Glass Terrarium. The only differences are that the foam backing is a limited edition **hand-painted design**, the lid is wire mesh instead of plastic and also the front doors are ventilated. The **20-gallon tank** is a very generous size, great for up to three geckos. It is all glass for cleanliness and durability. The terrarium is short and wide which is great for ground dwelling leopard geckos. The dual opening front doors are convenient for easy access. It also has a raised bottom which is **perfect for an under tank heater**. The back has five closable holes for wires, the lid is a very durable wire mesh and the bottom is completely water-tight.
This terrarium has great reviews as well. The only issues are with the glass being fragile, the backing hiding insects or waste and the extra ventilation in the front doors that is unnecessary for leopard geckos and may be detrimental if conditions are not properly maintained.
Pros:
Roomy 20 gallon size
Dual front opening doors
Raised bottom
Metal mesh lid
Cons:
Fragile glass that can shatter and is heavy
Ventilated front doors which may reduce the temperature and humidity too much
The same removable backing as the one above with holes that can hide insects or waste
3. Exo Terra Allglass Terrarium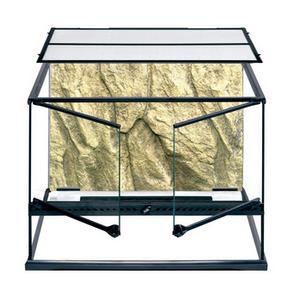 This Exo Terra terrarium comes in many different sizes and has many of the same features as the others ones mentioned above. For the purpose of this review, the size described will be the Medium Wide version and the dimensions are 24 inches wide, 18 inches tall and 18 inches deep. It is all glass for durability and cleanliness. The bottom is raised like the others for an under-mount heater. The front panel has two locking doors that function separately. The terrarium is a 23-gallon size which is a great size for up to three leopard geckos. The bottom is waterproof, perfect for containing spills and liquid waste. The removable top is wire mesh for durability. There are five holes for wires and thermometers that can be closed.
This terrarium is also very highly rated, just like the other ones. One thing to look out for is the wasted space. The leopard gecko will not utilize a tall tank the same as some other lizards will. They prefer to be on the ground and do not climb much. Also, there is some discussion about crickets escaping this terrarium. This could be due to mishandling or not properly plugging up the wire holes if not in use.
Pros:
All glass
Raised bottom
Very roomy
Waterproof bottom
Cons:
Too tall for the ground-dwelling geckos
Fragile and heavy glass
Ventilated doors may cause heat and humidity loss
Same foam back that can cause food or waste to get stuck
4. Exo Terra Leopard Gecko Starter Kit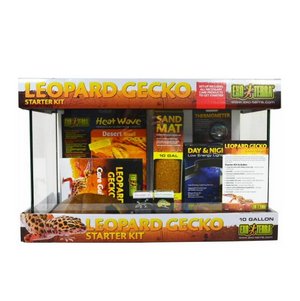 This is a great all-in-one starter kit from Exo Terra for your new leopard gecko. The kit includes the tank, a substrate mat, under-mount heater, thermometer, vitamin and mineral supplement, LED light, water bowl and a hide cave. It is worth noting that this is a 10-gallon tank and only suitable for one lizard.
Included in this kit is a necessary supplement for your leopard gecko: calcium and Vitamin D. Gecko's need to have a hide to feel safe in, sleep and shed, which is also included. You also get an easy to clean, shallow water bowl. The substrate mat has been known to shed some of the rocks and sand which could be very dangerous to your leopard gecko if it's ingested. It also seems to hold on to odors that cannot be washed away, per reviewers. The tank does not have a raised bottom like the others above so if the included under-mount heating pad is used, the tank should be raised up to create airflow and prevent burning of the surface your tank sits on. The only way to get into the tank is through the top, and it's a sliding mesh door with a pin-lock.  The other tanks mentioned above have the much more convenient dual-opening front mounted doors. There's an included LED light which is completely unnecessary for a leopard gecko. They are happy with ambient light from the room they are housed in. They do not rely on the UVB lights from the sun and an LED light puts out no UVA or UVB rays, regardless.
All in all, this is a pretty good starter kit if you don't want the hassle of buying all of the required pieces of the habitat separately. Some reviewers complain that the heating pad included did not keep the terrarium hot enough for a leopard gecko to thrive. People also complained about the substrate mat falling apart and causing a hazard of impaction for their lizard. Not to mention that the substrate mat seems to be difficult to clean and holds on to foul odors.
Cons:
A potentially dangerous sand substrate
10-gallon tank is only large enough for one gecko
Negative reviews about the heating pad not being strong enough
No front opening, the only access is through the top
5. Exo Terra Desert Habitat Kit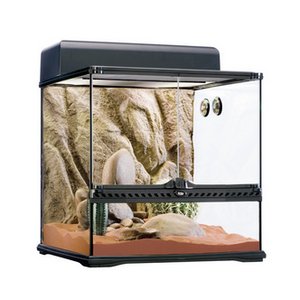 The Exo Terra Desert Habitat Kit is a great starter kit for your new leopard gecko. It has an all-glass 18x18x18 inches terrarium, sand substrate, a hide, a water bowl, a light fixture and some decorations. This terrarium is recommended for one, maybe two lizards since it is not quite large enough to house three comfortably.
The terrarium is all glass and watertight. The lid is metal mesh for durability. Included is a top mounted light, however, you need to purchase a bulb separately. The bottom of the terrarium is raised so an under-mount heating pad can be used safely. The included sand substrate is not recommended for leopard geckos unless you feed them in a separate cage so they do not swallow too much sand with their food and cause impaction. The light fixture included is not necessary for a leopard gecko but would be useful for aesthetic reasons. The terrarium is 18 inches tall which is a waste of space for the ground-loving leopard gecko. The terrarium is all glass and heavy so it is prone breakage if enough force is used to hit it, or it is dropped.
The reviews are generally pretty good for this Exo Terra kit. The issues come with the included substrate when being used with a leopard gecko, and also the lighting kit since it is kind of unnecessary. This kit would be better suited for a lizard that requires a UVB lamp.
Pros:
Good starter kit
Waterproof bottom
15-gallon tank
Raised bottom
Metal lid
All glass construction
Cons:
Too tall, space is wasted
The included light fixture could be a waste
Buying Guide: Things to consider when purchasing a leopard gecko habitat
Now that you have all the information you need about different habitats available for your leopard gecko, you need to know what to look for yourself when buying a habitat and also caring for your new friend. Read on to find out what you should keep into consideration when choosing a home for your new pet.
What should your gecko habitat be made of?
All of the habitats reviewed above are made out of glass, but that is not the only choice you have. There are also tanks made out of acrylic. The benefit of a plastic tank is that they are lighter than glass and also do not shatter. A glass terrarium is heavy and if dropped will shatter into dangerous shards. An acrylic one will break if enough force is applied, but the resulting damage is not sharp. The problem with acrylic is that it does scratch very easily, an abrasive scrub pad is enough to do damage. Also, plastic is not as insulating as glass so you may have trouble keeping your gecko's home at an optimum temperature.
Accessibility
When choosing your habitat, one of the things to consider is the doors. A front opening terrarium will be much easier to access for water changes, feeding time and spot cleaning than one with only a removable lid. Also, give some thought to potentially having to remove a heat lamp, or other fixtures you may have installed on the top of the tank every time you need access to your lizard.
Room to move
Depending on how many leopard geckos you are planning on joining your family determines the size of the habitat you need to provide. Leopard geckos need ample space to move around in to feel comfortable and happy. When you add more than one gecko to the mix, it ups the size requirements significantly. Consider initially purchasing a larger terrarium than needed for one gecko if you think you might want to add one or two in the future.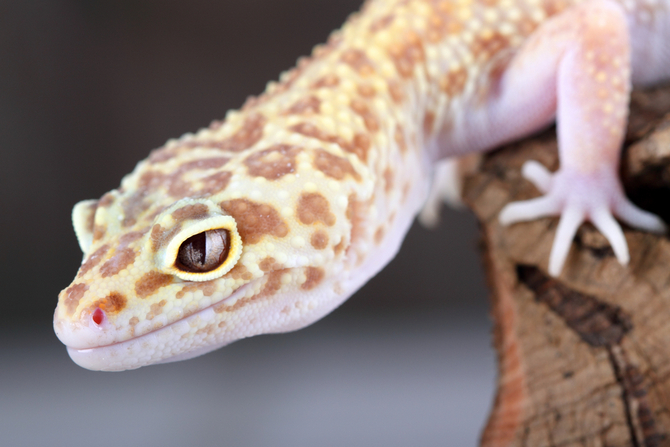 Frequently Asked Questions
How big should a leopard gecko's tank be?
A: Leopard geckos are ground-dwelling creatures, meaning they do not have sticky feet like some lizards to climb vertical walls. They prefer to stay low to the ground. Not saying they won't climb on to the top of a rock or their hide, but they won't be hanging from the ceiling of their terrarium like you often see with other types of geckos. Because they like the ground, they need ample space to move around in, that's why a short, wide terrarium is better than a tall, slim one. If you are planning on having a single gecko, then a 10-gallon tank will suffice. If you even have an inkling that you may like two lizards at some point, get a 15-gallon tank at a minimum. The duo of lizards will need to have enough room to feel comfortable with each other. Adding a third gecko raises the required size to a 20-gallon tank. For reference, a 18inx18inx18in tank is roughly 20 gallons.
What should I put in my leopard gecko's tank?
A: The Leopard Gecko is a pretty easy lizard to take care of and doesn't require anything fancy. They need a source of fresh water, a place to hide, a heat source and access to food.
Flooring
The substrate you choose for your lizard is important. You can choose newspaper, artificial (plastic) flooring, disposable liners or sand. Any substrate you choose should be easy to clean or disposable to remove when it gets soiled.
Water
A source of fresh water is necessary to have available at all times and should be changed daily. A shallow bowl would suffice.
A cozy place to hide
Leopard geckos require a hide for them to sleep in and to also shed in. Leopard geckos need to shed their skin like many other reptiles. A constant humidity level of 40-60 percent is needed so they can shed their skin periodically. If the humidity in their tank is low, you can put some moist peat moss in their hide so they can shed. A humidistat can be helpful to tell you exactly the conditions inside the terrarium.
Extras to make a house feel like a home
In order to make your gecko as happy as possible, you should also include items from its natural habitat. Some examples would be a hollow long to run through and climb over, large rocks and woody bushes (natural or artificial).
How do you clean a leopard gecko's tank?
A: Cleaning your lizard's tank is easy. Leopard geckos are relatively clean creatures. Often times, they only use one area of their terrarium as a restroom so cleaning is easy. Daily, you need to change the water, remove old food and spot clean the areas used as a toilet. Weekly you should remove everything and give it a deep clean. Do also change the substrate when it becomes soiled and remove any food, dead or alive a few hours after feeding.
Do leopard geckos need UVB light?
A: The short answer is that they don't need any extra light provided you aren't keeping them in a pitch black closet. The light from the room you keep them in should be fine. Often times lizards need UVB lights to simulate sunshine. Leopard geckos are different in that they do not need the UVB light since they are nocturnal. They may need a heat lamp if you struggle to keep the temperature in their enclosure high enough at the recommended 80 degrees Fahrenheit. An LED light can be mounted and used, but know that it is just for your viewing, the gecko does not require it.
Is sand bad for a leopard gecko?
A: Their natural habitat is rocky, grassy terrain, not desert sand. There is concern that if you use sand as a substrate, your gecko could ingest large amounts while eating and cause intestinal impaction which can be deadly. It is recommended that if you choose sand that you do not feed your gecko in that same cage.
What temperature do leopard geckos need to live?
A: It is very important that you monitor the temperature inside your gecko's terrarium. Leopard geckos thrive in a warm environment. They need to have an ambient temperature of at least 80 degrees Fahrenheit and they should also have a "hot side", often times where a heating pad is located at around 90 degrees. They are cold-blooded creatures and need to keep their body temperature up in order to function correctly and lead healthy lives.
What is the natural habitat of the leopard gecko?
A: The leopard gecko's home is in the Eastern Hemisphere and Asia where there are dry grasslands and desert-like areas. They prefer rocky terrains and low to the ground shrubbery. Although, the leopard geckos that are available for purchase are almost always bred in captivity.
Do leopard geckos like to live together?
A: If you want your new pet to have a pal, you should follow these guidelines. Make sure that you have purchased a large enough tank for multiples. A 20-gallon terrarium could house a maximum of three geckos. Do not put males together, they will fight each other and be very unhappy living in such close proximity. If you choose to have a male and female, they will reproduce. The leopard gecko is quite easy to breed if you choose to do so. Male leopard geckos are very territorial, that is why you can only ever have one in the same habitat. Females generally do not have an issue living together but may become territorial if their habitat is too confined. If you are wanting to have three geckos, you should only have one male with two females. Do know that if you keep an opposite-sex pair, they will breed.   
Do leopard geckos like to climb?
A: As discussed above, the answer is no. They are not prolific climbers and do not have the sticky hair on their feet to help them grip vertical surfaces like their kin. They do like to scurry about on uneven terrain and low rock formations though so make sure to have plenty for them to do in their terrarium.
References:
Animal Planet, Leopard Gecko: Stats & Facts
That Pet Place, The Ideal Gecko Terrarium
OnlineGeckos, Leopard gecko terrarium setup
Hopefully, you are now able to purchase a home for your new friend, armed with the knowledge that you know exactly what they need to start off their new life with you in the healthiest and happiest way possible. Keep the general guidelines and rules outlined above in mind when purchasing your new lizard's home and you will have a friend for many, many years to come.