If you have pets, travelling can be a big issue as you don't want to leave them behind, and you cannot always carry them with you. Also, travelling with your cute little hamsters can be very difficult. You require proper travel carriers/cages for your hamsters to carry them safely and enjoying having your trip.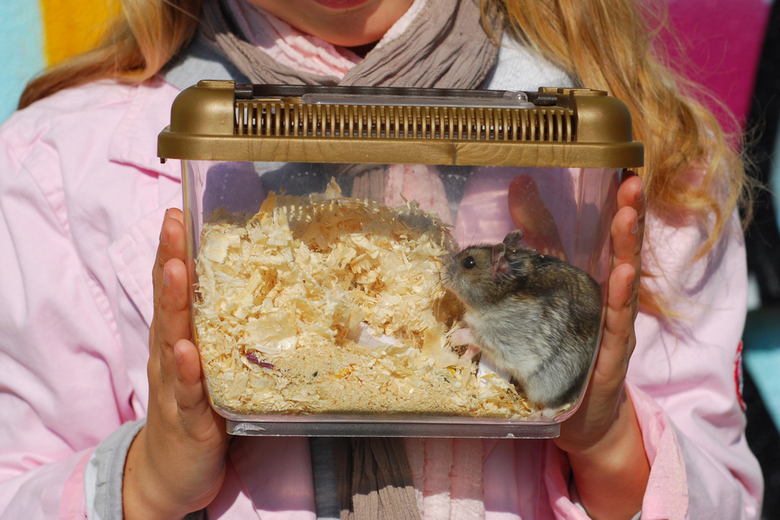 Like you need proper travelling baggage and need proper attire for your trip, in the same way, your hamster needs a proper travelling carrier for its travelling needs. You need to keep in mind that hamsters like to stay alone and are very sensitive to their surroundings. They get anxious very easily and travelling for even short trips can make them anxious if they are not properly taken care of.
You need to get the proper travelling cage for your hamster, the right products and utmost care to take your little hamster with you. They make great travel buddies if taken care of in the right way.
Things to Ensure Before You Travel
Healthy and Fit Hamster
It is important for your pet to be healthy and fit to undergo travelling. You need to take your hamster to the vet and get a certificate of fitness for your hamster if you are travelling between states. The veterinarian will certify that your pet is disease-free and healthy.
If your hamster is on any kind of medication, have enough medication which will last the trip and keep a copy of the medical records of your hamster with you while you travel. Also, hamsters are very sensitive and get stressed very easily by a change of surroundings.
You should also search and make a list of vets at your destination which you might need in case of an emergency. It is always better to be ready beforehand.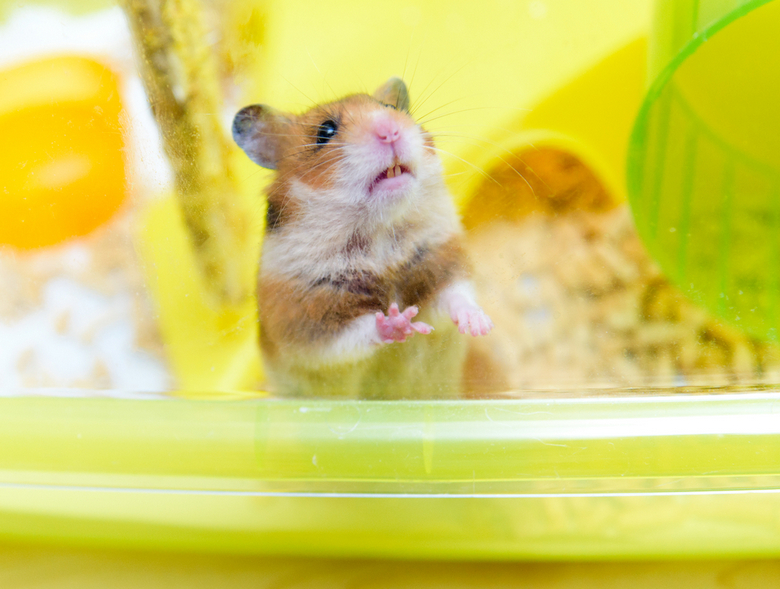 Pet-friendly Hotel
Place your bookings with a pet-friendly hotel or you might have a lot of trouble. You should also place a tag on your hamster's travel cage with your name and phone number while travelling. Pack a lot of regular food and water for your pet as they need to be on their regular diet to avoid any kind of stress.
Packing Some Cleaning Supplies
You also need to pack some cleaning supplies for your pet's cage if you are going on a long trip. It is recommended to keep your hamster's cage clean and tidy as hamsters like to stay in tidy surroundings only.
Choosing a Traveling Cage for Your Little Buddy
There are a number of travel cages available in the market for hamsters, but not just anything will suit your hamster. You need to look for carriers which have plenty of ventilation and are secure in every way.
If you are going for a long trip and a lot of travelling is involved, your travel carrier should have space for bedding, food, water, small exercise wheel, toilet for your hamster and its walls should be sturdy with a good amount of ventilation.
Travel carriers should be small and portable so that they do not take up much space in your car while travelling. A food dish and a water bottle is an essential feature in any of the travel cages as your hamster needs its clean food and water. It should also have a carrying handle so that you can carry it around at your ease while travelling to your destination.
Best Traveling Carriers for Your Hamster Reviews
1. Living World Hagen Pet Carrier
The Living World Hagen hamster carrier is one of the best solutions for travelling with your hamster with a size of 11.8 inches X 9 inches X 8.3 inches. It is very durable and has two easy handles for carrying the cage around. It can also be accessed and cleaned easily with its large opening. It has an ample amount of ventilation to ensure an airy environment for your fluffy little friend. It is made on non-chewable plastic which is durable and lasting. It also has a ridged bottom to avoid it from slipping and has secure footing.
A locking system is also installed in the cage so that your little friend does not escape. It is best for the travelling needs of your hamster.
pros
Easy to carry with handles
Good ventilation
Ridged non-slip floor
Durable and built to last with non-chewable plastic walls.
Secure locking system
cons
Hard to assemble
Not meant for Syrian Hamsters.
Does not include a water bottle
2. Habitrail OVO
Habitrail OVO Transport Unit is perfect for a small hamster with a carrying handle for easy carrying of your hamster. It is safe and has a retractable roof for easy viewing of your hamster. It is easy to clean and is easy to use. Its dimensions are 7 x 7.8 x 5.4 inches and has proper air flow to keep your hamster comfortable and ventilated.
pros
Easy to clean
Easy to carry
Safe and secure
Durable
Good airflow and ventilation
Connects easily to other Habitat Accessories
Portable
cons
The lock is not a very tight fit
Hard to assemble
Plastic is not non-chewable
Does not include a water bottle
3. Lee's Kritter Keeper
Lee's Kritter Keeper is rectangular in shape and has self-locking lids with feeder windows. It has handles which makes it portable and easy to carry while travelling. It comes in various colours which makes it an attractive choice for your children's hamster pets. A small water bottle can also be placed as it has a small cut out for the same.
It is perfect for your hamsters and the upper lid is removable which makes it easy to clean.
pros
Safe and secure
Self-locking lid
Easy to carry with handles
Comes in a variety of colours
Perfect for small pets
cons
The ventilation is not proper in the cage.
Hard to remove the lid gently
4. Kaytee CritterTrail
Kaytee CritterTrail Carry & Go Travel Habitat is the best travel carrier available for travelling with your little fluffy hamster. It has a small water bottle, a food dish and an exercise wheel for your hamster to keep it active and energized. It is safe and secure. It has a convenient handle which makes it easy to carry and transport. It can be attached to other accessories of CritterTrail which makes more room for your little hamster. It is ideal for long trips as it contains everything for your hamster.
pros
Easy to carry with robust handles
Has a small water bottle and food dish
Clear plastic for easy viewing
Contains an exercise wheel
Ample ventilation
Hamster-friendly
Chew resistant plastic
cons
Difficult to assemble
Not very sturdy
The position of water bottle blocks the tube hole
Water bottle leaks when the cage moves
5. Favourite Portable Cage
Favourite Top Load Portable carrier is a lightweight carrier for your hamster travel plans. It is easy to clean and has a clear top so that you can keep an eye on your hamster easily. It has plenty of holes so that there is ample ventilation and your hamster remains airy and happy. It is easy to carry and perfect for short trips. It has a very elegant shape and has sufficient space for bedding, a food dish and a water bottle for your little hamster. It has non-chewable plastic and comes in the cute colour of blue and white.
The dimensions are 18.5 L X 12 W X 11 H, the bottom is 13 L X 6 W, and the top load is 12.5 L X 6 W which is perfect to keep hamsters.
pros
Easy to open and clean
Attractive colours
Light-weight
Portable and easy to carry
Transparent lid for easy looking at the hamsters
Secure and safe construction
Easy assembly
Recommendable ventilation
cons
The closures are hard to close
Build is not very sturdy
6. Kaytee CritterTrail Off To School
Kaytee Crittertrail off to School Pet Carrier is a sturdy, cute and colourful pet carrier for your hamster. You can take your small friend away on tips in this cute carrier. It has a push bottom and flip down front door which allows safe and secure access to your pets.
It is compatible with all types of accessories from Crittertrail and can be used for creating more space for your hamster. It comes in a variety of colours like blue and yellow and red and yellow. This is a multipurpose school bus carrier and has wheels for playing. It has a small food dish and a water bottle along with a rooftop opening for your hamster.
pros
Attractive looking
Best for short trips
Compatible with all Crittertrail accessories
Can be used for extra space
Safe and simple access
Flip down front door
Complete dashboard with a food dish and water bottle
Easy to clean
Proper ventilation
Best for short trips
cons
Water bottle leaks
Not very sturdy
Not recommended for long trips
7. IRIS Extra Small Carrier
IRIS Extra Small Animal and Critter Carrier is a carrier which is best for the travelling needs of your hamster. It keeps your hamster airy and comfortable and is easy to clean. It has a water bottle included in it which makes it easier to feed water to your hamster. Its top is see through and you can easily view your hamster. Its internal dimensions are 8 ¾ x 4 ¾, with a height of 4 ¼ inches to the top of the basket. It can be carried easily with a secure handle and has a latch for locking the cage.
pros
It is perfect for Syrian hamsters
Easy to clean
Nice attractive look
Sturdy build
See through top
Proper ventilation
The water bottle is included
cons
The latch is difficult to open
It does not have non-chewable plastic
8. Kaytee CritterTrail Portable Petite Habitat
Kaytee CritterTrail carrier is easy to carry with a strong handle and it includes a food dish, water bottle and exercise wheel for your hamster to spend time. It is also compatible with all other Crittertrail accessories and is the perfect travel companion for small hamsters
It has proper ventilation and provides a happy and safe environment for your pets. It has a sleek design and is easy to clean. It has enough space for your hamster to feel comfortable and is recommended for longer trips.
pros
Proper Ventilation
Attractive colour
Food dish, water bottle and exercise wheel
Sturdy handle for easy carrying
Easy to assemble
Compact and portable
cons
Side tubes do not attach properly
Not very sturdily built
Water bottle does not work properly
9. Miscue Portable Carrier
Miscue Portable Carrier is a great carrying case for carrying your hamsters and going on short trips. It has a small water bottle from where your hamster can drink water easily and has holes on the top for proper ventilation. It has a clear top and the grid design of the cage makes it easy to clean. It is a safe carrier for your pet and comes in soothing colours. It has a secure lock which prevents your hamster from escaping and you can carry this light-weight cage with your anywhere.
pros
Soothing colour carrier
Compact
Proper ventilation
Best for short trips
The water bottle is included
Ample space for the hamster
Safe and secure
cons
Difficult to assemble
Jerky and not very sturdy
Not meant for longer trips
10. Shoresu Outdoor Portable Cage
It is a double layer cage with a handle for safe transportation. It comes in three colours: orange, green and pink. The hamster can move around in the cage where the top layer is for sleeping and drinking water while your hamster can play and eat on the lower layer. The upper and lower layers are connected with a slide which adds a fun element to the cage. It is durable and has proper ventilation.
pros
Multi-functional
Double Layer Cage
Durable
Comes in a variety of colours
Spacious and stylish design
Water bottle and feeder is included
cons
Not very secure and hamster can try to escape
Water bottle leaks