Guinea pigs, also known as cavies, are popular pets for children as they are fluffy, cute, and relatively easy to take care. Likewise, they are well-suited to apartment lifestyle as they don't demand a huge portion of your house, unlike dogs and cats. You can contain your fluffy cavies in a particular area, making them safer to have around even with toddlers and bigger pets.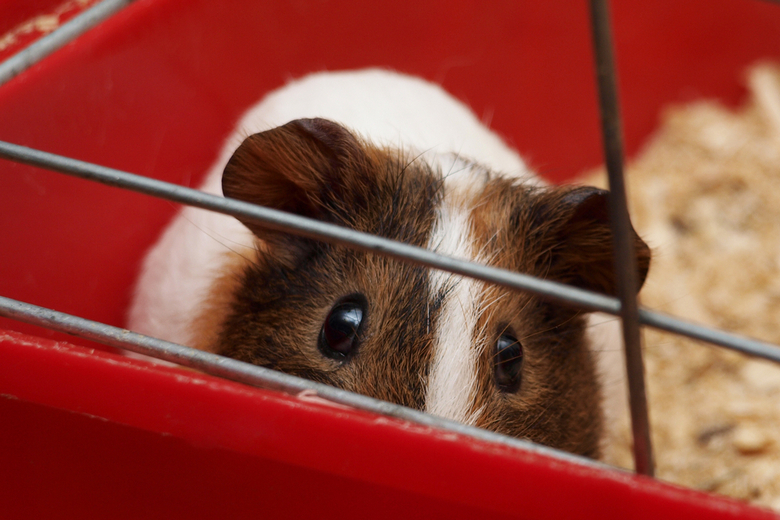 Understand that although they are easy to look after, guinea pigs still have specific needs that you should cater to. The biggest mistake a majority of first-time owners commit is getting the wrong cage. Your cavies' cage doesn't have to be flashy, but it has to meet a few specifications to keep your furry friends hale and hearty. To learn more, you can check out our detailed buying guide below.
But if you already own a pair and is planning to make an upgrade, you can skip our buying guide and go directly to our top picks. We reviewed countless guinea pig cages and narrowed it down to 10 of the best models to make it a breeze for you to pick out the best for your fluffy pig.
What to Look for in a Guinea Pig Cage
1. Size
Guinea pigs are among the largest rodents. (Yes, they are rodents. Not pigs!) However, most cages marketed specifically for guinea pigs are actually way too small. That is why all too often rabbit and rat cages are good options for your cavies.
According to the Humane Society of the United States, one guinea pig should at least have a room that measures 30" x 36" but more is always better. A roomier cage offers numerous advantages that you and your fluffy pig can enjoy.
Benefits:
Enriches your pet's life
Guinea pigs can live up to nine years. As a responsible owner, you don't want your pets to get agitated or depressed due to a lack of stimulation. With a large enclosure, you can add as many toys as you can to keep your pets occupied. Plus, they can roam around as they please.
Help prevent medical conditions
Being able to roam around their cage means your pets are getting adequate exercise that will help prevent medical conditions, including diabetes and cardiovascular disease. What is more, your pets can exercise on their own schedule.
Promotes peaceful co-existence
Cavies are social critters and they thrive best when they are housed together. However, having multiple pets also means a mix of different personalities. So, it is important to have a large enclosure to increase the chances of a peaceful co-existence among many guinea pigs.
2. More floor space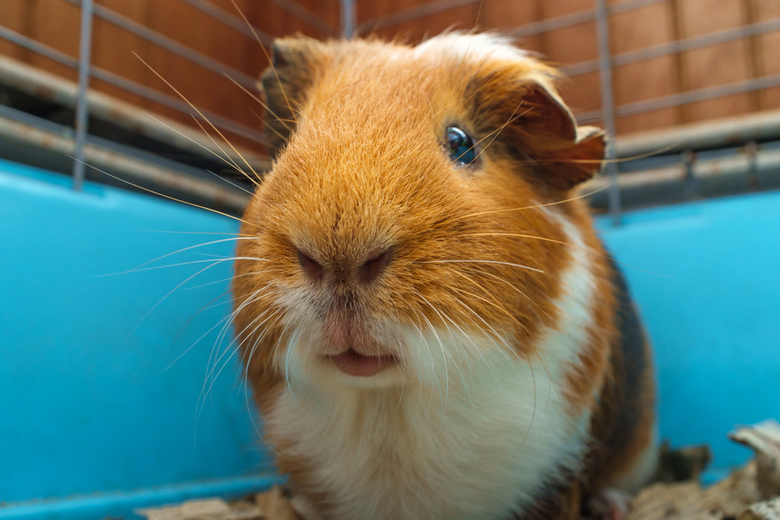 Guinea pigs rely on floor space for exercise and playtime. They are not excellent climbers, so high cages with many platforms are not necessary. If the cage has an elevated area, be sure its ramp is not too steep for your pigs to climb on.
3. Comfort levels
Cavies don't demand a memory foam bed but they still need to be as comfortable as possible as they hit the sack. So, before you select the best bedding for your cavy, be sure to get a cage with a solid bottom. A guinea pig's feet are too delicate to handle the constant pressure caused by uneven bumps of mesh flooring. Otherwise, their feet could get swollen and infected.
4. Accessibility and ease of cleaning
A cage that is highly accessible is a cage that is easy to clean since you can reach all the nooks and crannies of the cage. Although a wire cage seems like the easiest to clean, a large cage with a solid base is also an easy one to clean because it prevents the build-up of waste by allowing your pets to separate their dirty business away from their other activities.
Choose a cage with generously-sized openings. The better if you can access the cage in multiple ways to make interaction and feeding a breeze.
5. Balcony and hiding nook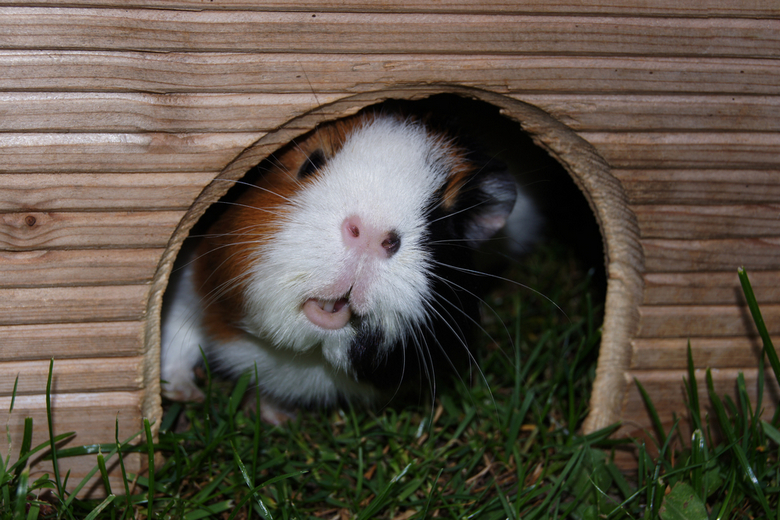 A cage with a balcony adds dimension and a better view for your pet. Likewise, it creates a hiding nook underneath that lends privacy and rest.
10 Best Guinea Pig Cages
1. Guinea Habitat Plus
The Guinea Habitat Plus is a proud MidWest Homes product that was thoughtfully designed to keep your guinea pigs comfortable and healthy. It provides eight square feet of space that you can easily expand up to a whopping 16 feet or more, provided that you get another Guinea Habitat. You could also get a dividing panel and a lock-in-place ramp should you choose to make separate quarters such as a care area and a dining area. With ample room, your guinea pig can have a life of ease as he chums around with his roommates.
Additionally, this cage exhibits a multi-access folding top that lends safety and security as you interact with your pets. The spacious area and multiple access points make cleaning a breeze. Also, this cage has a PVC-lined canvas bottom that provides protection and comfort for your pet's delicate feet. The bottom is sturdy and leak-proof to boot. The sides measure 14 inches and have a one-inch bar spacing. Hence, no guinea pig can escape from its enclosure.
Overall, the Guinea Habitat Plus gives you more bang out of your buck whether you are a breeder or just a pet owner who wants to keep many guinea pigs together. The best thing about this cage is its design that affords a variety of configurations.
Assembled production dimensions are 47" x 24" x 14".
pros
Provides 8 sq. feet of living space as recommended by vets
Can accommodate up to 3 guinea pigs
Measures 14 inches by height with 1-inch bar spacing to prevent escape
Sturdy and leak-proof bottom lined with PVC canvas to provide comfort and protection
Quick no-tool assembly
Innovative top with multiple access points
Suitable for outdoor use
Folds flat for travel or storage
Modular design grants several configurations and expandability
cons
"Plus" option refers to the dividing panel and ramps that are sold separately
2. Living World Deluxe Pet Habitat
Best Guinea Pig Cage for Cleaning
The Living World Deluxe Pet Habitat is our second best cage for your pet guinea pig. This cage is capable of being an indoor enclosure for larger pets such as chinchillas and rabbits, but your guinea pig will definitely love the extra space, too. The dimensions of the Living World Deluxe Pet Habitat are 46" x 22" x 24". Thus, two or three guinea pigs will still have a lot of room to frolic and run around.
Additionally, the cage comes with a hiding compartment, so your little piggy has somewhere to go for peace. If you choose the XL version, which is highly recommended, the hiding nook would be big enough to accommodate a pair of guinea pigs. Likewise, this cage is complete with a tip-proof food dish. Plus, the dish can be clipped into the balcony floor, so your pet's food remains in place.
Moreover, this cage is among the easiest to clean despite its large size! In fact, the Living World Deluxe Pet Habitat is the best guinea pig cage when it comes to ease of cleaning. Simply pop the latches to let the lid come off quickly in order for the base to slip off. Also, don't forget to detach the balcony, so you can clean all nooks and crannies without any trouble.
pros
The easiest cage to clean
No tools needed for its assembly
The kit comes with a food dish and a water bottle
Consists of a sturdy upper wire frame for maximum ventilation and visibility
Plastic bottom base
Complete with a hiding nook and balcony
cons
The free water bottle is flimsy and doesn't share the same quality as the rest of the cage
3. AmazonBasics Small Animal Habitat
Our third pick is a good-quality cage created by AmazonBasics. Among its most important features include its iron wire upper frame that lends maximum ventilation and visibility. Likewise, it has a PP plastic base that offers durability and strength. With two access points, your pets can either enter their home through the top openings or the large front door.
Another major highlight is its balcony with an access ramp and a unique hideaway spot underneath it. Even if you choose to install this cage outdoors, your little pet will have the space he needs for privacy. Besides that, this cage is a cinch to install. You can set it up in seconds without tools. We highly recommend that you choose the jumbo size, which measures 47" x 23" x 20" - just in case you want to house another guinea pig in the future.
What's more, the AmazonBasics Small Animal Habitat comes fully-equipped with an accommodation kit, so you won't have to buy other stuff to complete your pet's abode.
pros
Iron wire upper frame and PP plastic base
Multiple access points
Complete with accessories
Has a hiding nook underneath the balcony
Quick and easy assembly
AmazonBasics 1-year warranty
cons
Low-quality wiring could bend and tarnish
4. LANGXUN DIY Small Animal Cage
With 16 wire panels made with high-quality coated steel, you can mix and match to create a little world for your guinea pigs. The corner brackets are secure without being a huge pain to snap together and the panels themselves are sturdy. With the ABS connector, even a 4th grader can put the pieces together.
Additionally, you can make roof coverings and drape towels over them for privacy. Rest assured the roof remains steady in place even when your pigs channel their destroyer instincts. Any cube you design can hold up to 44 pounds and as you realize, its design is indeed reliable. Taking the pieces apart is also a cinch if you want to change the disposition of this wire grid modular bookcase.
Overall, this cage by LANGXUN is the ultimate love child of versatility and functionality. It can fit perfectly into surrounding pieces of furniture and can blend seamlessly in any environment. Most importantly, it is an incredible and inexpensive way to start a pet enclosure for your small pets. We suggest you buy two sets or more for optimum customization.
pros
16 Sturdy wire panels and 26 ABS multi-angle connectors
Fast and easy DIY assembly reminiscent of Legos
High-quality coated steel makes construction more durable
Modular and multifunctional - provides endless possibilities
cons
No cleanable floor to go with it
5. Critter Nation Single Unit, Model 161
The Critter Nation 161 by MidWest Homes is a great choice to contain your guinea pigs in a secure environment while remaining highly accessible and a breeze to clean. This cage features full-width double doors and a full-width pan floor made of heavy-duty plastic. Likewise, it is equipped with a wide expanse shelf and a swing-up locking ramp that is nicely covered to protect your pig's delicate feet. You can also find bars underneath the shelf where you can hang some toys and treats for your pigs.
However, this cage is a bit on the expensive side but expect a high-quality product that won't vex you with wobbly rusty wiring. While this cage is easy to open, it remains critter-proof thanks to its dual-locking latches and ½" horizontal wire spacing. To top it off, Critter Nation 161 is easy to transport and lock in place, as it features locking casters.
Product dimensions are 36" x 24" x 39".
pros
Full-width plastic pan maximizes play area
Plastic components are heavy-duty and leak-proof
The stand has 4 locking casters, making it easy to push around and lock in place
Provides maximum pet security with ½" horizontal wire spacing and dual-locking latches
Plastic bottom purple ramp cover provides traction
Full-width double doors provide maximum accessibility and ease of cleaning
Gray quartz hammertone finish
cons
Heavy and fairly expensive
Assembly may take a while
6. Ware Manufacturing Home Sweet Home
Best Large Cage for 2 Guinea Pigs
The Home Sweet Home cage measures 40" x 20" x 20" and other reviewers say it is small. It is, depending on what critter you're putting in there but this is a great home for two guinea pigs. It features a deep base made of high-quality plastic. The base is deep enough that even if the door gets left open, your guinea pigs can't get out! This would be best filled with bedding or a big pile of hay, which they love, and use the cage in a more traditional way. Your pigs will surely enjoy being cozied in there with all their fluffy bedding. Without the litter pan, there's room to run around.
Additionally, the Home Sweet Home has a single opening on the side, but it is easy to remove and replace the entire top portion for cleaning and feeding. This cage is also super easy to put together.
pros
Can host two guinea pigs
Deep base simplifies cleaning
Easy snap-on top made of powder-coated wire
Plastic components are heavy-duty
Aasy assembly - no tools required, no parts to lose
Assorted colors
cons
No extra room for toys and accessories
The wire is bendable
7. Wabbitat Deluxe Rabbit Home
Although technically marketed for rabbits, the Wabbitat Deluxe Rabbit Home is an amazing cage for guinea pigs to boot. It features a 5.5-inch plastic pan that you can fill up with bedding. The deep pan effectively contains all mess and is a cinch to clean. You just dump all the contents, wash, and wipe to dry. Likewise, it features a powder-coated wire top with a 1-inch bar spacing for increased ventilation and visibility. This cage also has multiple access points that you can effortlessly open for feeding and cuddle sessions.
The best thing we like about the Wabbitat Deluxe is its elevated feeder that lends a sanitary environment for your pet. It also creates a cozy nook for your pet underneath. This cage is also complete with a feeding dish, a water bottle, and a hay feeder. However, you need some muscle to set this cage up. You have to use a hammer or a lot of pushing to attach the side panels to the base. Some reviewers also complain that the top part needs improvement but you are not putting heavy things on it, anyway.
Product dimensions are 47" x 23" x 19".
pros
Elevated feeding area with a stationary bowl
Privacy nook underneath
Includes a feeding dish, a water bottle, and a hay feeder
One large front door and two side doors that lift and rest overhead for easy access
Can be expanded using Wabbit Deluxe extensions
cons
Assembly needs a lot of force to prevent misalignment
Wire top is a little frail
8. Ferplast Cavie 80 Guinea Pig Cage
The Cavie 80 Guinea Pig Cage by Ferplast is designed to provide your guinea pig with a comfy place to relax. Its traditional design showcases a varnished wire mesh and a sturdy plastic base that is deep enough to contain dirt, debris, and bedding. This cage is equipped with a food bowl, a hay feeder, and a water bottle that you can fix onto the wire mesh using a hook. There is also a large shelf that serves as a second floor for your pet. Underneath the shelf is a cubbyhole where your pet can retreat.
Moreover, this traditional cage features a wide front door that you can totally open for you to reach the most difficult corners of the cage. There is also a small opening on top, which is useful for quick touch-ups. The Cavie 80 is a modest cage but it has everything your pet needs to ensure he stays perfectly at ease.
Product dimensions are 30" x 18" x 16".
pros
Strong wire construction and sturdy plastic bottom
Complete with accommodation kit
Water bottle has an indicator level
Comes with a shelf and a hiding nook underneath
cons
Can host one full-sized guinea pig only
The plastic bottom can get stained
9. Petsfit Wooden Rabbit Hutch
Best Hutch for Guinea Pigs
The Petsfit Wooden Rabbit Hutch is a comfy and secure habitat not only for bunnies but also for guinea pigs. This hutch is ruggedly built using solid wood and wire. Although it is technically marketed for indoor use, many pet owners have stated that it also works well for outdoor use.
As you can see, this cage exhibits a classic design with a grey and white trim. You can also opt for the red and white trim. Either way, the hutch is treated using a water-based paint and hence, it is safe for your pet. It looks great and feels just like a piece of furniture.
Moreover, this cage has a cozy room where your pet can rest away from prying eyes. Likewise, it has a spacious enclosure if he wants to play. This hutch features a front door, a top access, a pull-out tray, and a removable floor. You can also add casters to the legs so you can move the hutch around the house throughout the day.
pros
Solid wood and robust wire construction suitable for indoor
Suitable for outdoor use if a customized roof is built
Treated using pet-friendly water-based paint
Front door entrance and top access make it easy to interact with your pet, change bedding, supply food, and water, etc.
Hutch roof can be left open using a pneumatic stay bar
The removable floor comes with pre-drilled holes for fast assembly
cons
Leaves an empty bottom when you pull out the tray
10. PawHut 62" Large Outdoor Log Cabin
Best Outdoor Guinea Pig Cage
You could never go wrong with the Pawhut Log Cabin if you want your guinea pigs to live a life of luxury! This guinea pig mansion boasts of an amazing quality since it is constructed using fir wood. Plus, it is treated to lend great ventilation during humid weathers while also providing insulation for long cold nights.
This wooden hutch measures 62.2" x 24" x 29.5" and can hosts two or three guinea pigs. There is a comfy sleeping quarter and a wide fenced enclosure where your pets can run and play without the fear of your cat!
As for accessibility, there is a front and top opening. You can easily access your pets' sleeping quarter via the roof. Also, there is a ramp that connects directly to the house to give your pigs easy access to the indoors section. If you wish, you can add some fake grass material to the ramp for traction.
pros
Wide open space
Enclosed with a heavy-duty galvanized wire to keep predators out
The ramp allows easy access
Water-resistant and specially designed shingle roof
Multiple side doors and top section
cons
Needs additional weather-proofing
Frequently Asked Questions
What is the best cage for 2 guinea pigs?
The best cage for 2 guinea pigs is the Home Sweet Home. It can host two guinea pigs comfortably and its deep base ensures that the cleaning is simplified. You can assemble it on your own without any tools. The base of the cage is pretty deep, so even if you accidentally keep the door of the cage open the guinea pigs won't be able to go out. You can put bedding for your pets or you can stuff it with hays.
What bedding is best for guinea pigs?
Paper bedding is the best kind of bedding for your cavies, but it can be expensive so you can try using kiln-dried pine and on top of that put a paper bedding.
What is the best hutch for guinea pigs?
The Petsfit Wooden Rabbit Hutch is the best hutch for your guinea pig. Although it is said to be the best fit for internal use, it is well suited for outdoor use as well. It has a cozy room for your pet to rest whenever it feels like. Even the playing area is big enough for the guinea pig to run around. It is built out of solid wood and the wire construction is robust.
What should guinea pigs have in their cage?
Their cage should have water and food bowls, deep bedding, plenty of fresh hay, pellets, fresh foods, and toys like wooden blocks and cardboard boxes. To make things interesting, you can add a hammock for your cavy.
Do guinea pigs need a wheel?
No, they don't need a wheel. It is extremely dangerous for them as they might break a foot in that wheel.
Do guinea pigs need exercise?
Yes, guinea pigs need to exercise to remain healthy and prevent other medical conditions like diabetes and cardiovascular disease. This is the reason why you should buy a big cage for your guinea pig so that it has enough space to run around. Occasionally, you can also take them out of the cage and let them enjoy their time in the garden, if you have one.
Do guinea pigs need a bath?
Only when their fur coat is dirty or oily. Use warm water and kitten shampoo while giving your cavy a bath. Don't put water on your guinea pig's head, nose, and ears. You can use a blow dryer to dry your guinea pig after the bath, but remember to set the temperature at warm. Wrap them around with a warm towel until their coat is completely dry, else, there are chances of them catching cold and falling sick. Make sure you treat your cavies with vegetables after the bath.
Do guinea pigs make good starter pets for children?
Yes, they are good pet options for older children and also for adults.
Why is it important to quarantine a new guinea pig?
It is important to quarantine the new guinea pig (especially when you already have an existing one) to ensure that it is free of any kind of illness. Generally, the quarantine period takes up to two weeks and during that period, you can also keep a smock in that room for you to wear so that you don't end up spreading any virus yourself.
What should I use to clean my guinea pig cage?
You must clean the cage daily by using either a small fresh rag or sponge dipped in a disinfectant solution that can be prepared at home only.
How should you clean the cage?
Mix equal amounts of white vinegar and warm water and use that for cleaning the cage. Always remember to put newspapers at the bottom, as it will help soak up all the moisture that is there. To remove the vinegar smell from the toys and other things, you can spray the rubbing alcohol on them and let it dry before putting them back in the cage.
How to reduce odor in guinea pig cages?
It is obvious that if you have pets at home, then there will be a certain odor indoors; therefore, it's imperative that you do everything possible to keep that at bay. Clean the cage daily if you are using fleece bedding as it tends to absorb the liquids; however, if it is not possible for you, then you can spot clean at least once daily. If you can potty train your cavies, then your life will be easier and cleaning that very spot will reduce the odor largely.
When you are using sawdust, you should scoop out the soiled area to get rid of the odor. An air purifier helps in cleansing the air and removing the odor and dust particles at home, so if you are trying to get rid of the odor, then an air purifier will be a great help for you. You can also use some essential oils in your purifier in order to make your room fragrant, but it is always better to keep the purifier at a safe distance from your cavies. The air purifiers are a good option to keep the odors at bay, but before buying them, it is best to do your research properly to know which one will be best suited for you and your cavies.
Can guinea pigs jump out of cages?
Generally, the guinea pigs are not climbers. They love to stay in their cozy homes; however, if you have two guinea pigs in the cage and you see both of them fighting, then there are chances that one might look for ways to go out of the cage. There are times when one of the cavies might give a hard time to the other by bullying it, so it is better to keep an eye on them. If it happens continuously, then the other one might sneak out of the cage in search of a safer place. The best thing to do is to add height to the cage in case you find that one is trying to climb.
References and further readings
MSPCA-Angell, The Perfect Home for a Guinea Pig