Skijoring is a super fun winter sport that includes various elements from other winter sports like skiing, dog walking, trail running, etc. "Skijoring" is a word that comes from the Norwegian language, which literally means "ski driving". Popular skijoring can be dog skijoring sport, horse skijoring sport, equestrian skijoring or motorized skijoring sport. In all of the above cases, the person skiing is pulled by a dog, horse or a driver of a motor vehicle, although most of the time she also puts in effort.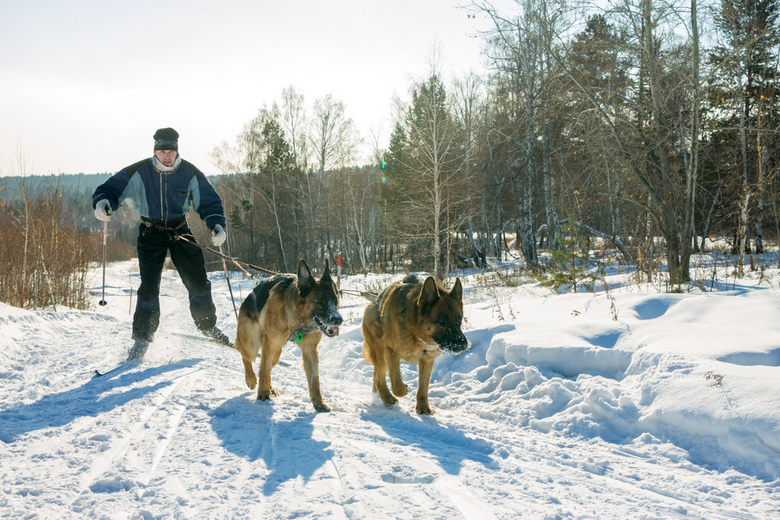 Dog Skijoring
When the person skiing is being pulled by a dog, it is called dog skijoring. He may be pulled by one dog or a team of three dogs. The human also puts in some effort through using the cross-country skis or poles that he holds. The dogs supplement it. The human and the dog wear an appropriate harness. The most important equipment is the harness. While a skiing harness is used by the skier, the dog is made to wear a dog sled harness. The crucial aspect here is that the dog must be enthusiastic enough to run. The dog cannot be forced. He must be willing to do this by himself and must listen to the voice and commands of the human behind him.
Dog skijoring sport is not just recreational but can also be competitive. During winter, in many countries, dog skijoring races are held. Some countries that hold dog skijoring races are Russia, the United States of America, Canada, etc. The dogs that are usually involved in the dog skijoring sport are heavily built and athletic. But dog skijoring sport is not restricted only to the big and heavy dogs. Any dog of any breed, heavy-built or not, can take part depending on the dog's enthusiasm and willingness to run.
Equipment
As already mentioned, the most important aspect of dog skijoring sport is a willing and enthusiastic dog. But, in order to render the activities easy, safe and enjoyable, there is certain equipment needed. To start with, it is the harness worn by the skier and the sledge dog harness worn by the dog. Both these harnesses are connected by a rope. To supplement the pull by the dog, the skier also puts in effort with his cross-country skis and poles.
Further, the skier wears a skijoring belt. This is a waistband around the skier's waist. This contains loops to keep the legs in position. The skiing line is usually 2.5 meters long. If there are three dogs involved, then it is longer. This line contains a section of bungee cord that can absorb the tension caused by sudden movements of the dog and of the skier. In case the skier needs to unhook the dog quickly, quick-release hooks are also available.
Dog skijoring sport is a winter sport and chances are that it is conducted in the snow. Hence, you may want to keep yourself warm by using winter wear. Invest in a good set of winter wear, since staying warm is very much needed during the extended stay among the snow. Make sure your dog is provided with what it needs. Initially, you can rent equipment like harnesses and cross-country skis to see if it actually interests you, and you will be taking this ahead. You do not have to invest right away. Make sure you would like to do it before investing.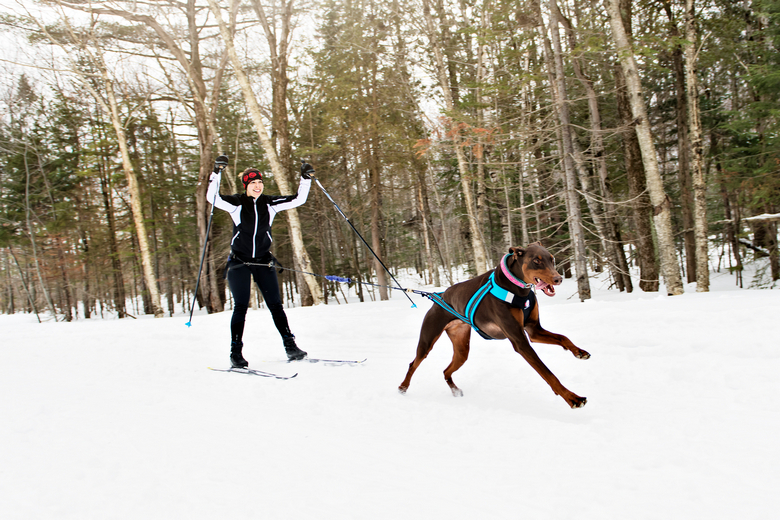 Best Breeds
Some dogs are physically best-suited for dog skijoring sport because of its build, its ability to sustain in the cold, etc. Here are some of the breeds best-suited for dog skijoring sport: Alaskan Huskies, German short-haired pointers, German Shepherds, and Siberian Huskies are the popular breeds for dog skijoring sport. These medium to large built athletic dogs are considered to be best-suited for the dog skijoring sport. But more than the build, more than its level of tolerance towards cold; what matters is the enthusiasm. Enthusiastic dogs are best-suited for the dog skijoring sport irrespective of their build. Some breeds like huskies, malamutes and some other cold weather breeds are considered professional and have a slight advantage.
The most important thing is the dog's safety. Also, make sure that your dog is comfortable doing this. Your dog may love running, but with all the harnesses and loops, it may not be comfortable doing this. The best dog breeds for dog skijoring sport have strong paws. This helps them in traversing the snow easily in the freezing temperature.
Commands and Practice
Before the winter approaches, during the summer, have fun with your dog while also preparing him and yourself for the dog skijoring sport during winter. The breeds of dogs used for dog skijoring are most often the northern breeds, and they can get dehydrated easily in summers. Pay special attention to keeping them hydrated. Keep practicing the same commands throughout the season until it is registered in your dog's mind. This will help you in controlling the dog during the dog skijoring sport in winter. This is very important because unlike sledge, you don't have whips to control your dog's movements. Hence, practicing commands is the best way. Do not overdo it while practicing. Keep it slow and let the dog like what it is doing. Keep repeating the commands until your dog gets it registered and starts obeying.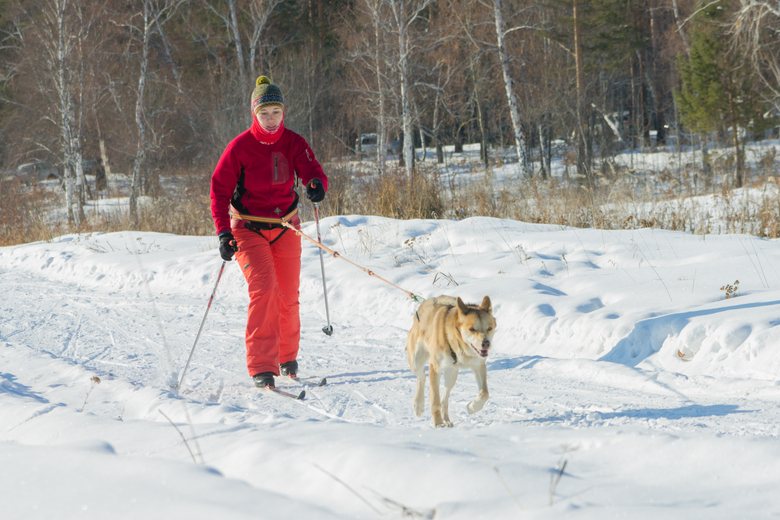 Common Commands
In order to make your dog obey the command, it is very important that you reward them. For every well-obeyed command, pat them or give them a treat. Some of the common and basic commands can be as follows.
To start: To get your dog started, use a command like "Let's go" and keep repeating it until they start listening.
To stop: This is very important to practice because if the dog starts to move around in a haphazard manner, this command will help it stop. Conventionally, the command used is "Whoa."
To turn right or left: To manoeuvre your way around, it is important to turn left or right. The commands used are "Gee" to turn right and "Haw" to turn left.
To slow down: "Easy" is used to let the dog know that it needs to slow down.
One of the other commands include "On-by." This is also one of the difficult commands to teach. This is used to keep the dog carrying on in its path even when there is another dog or another animal in the path. This is important because when a dog meets another dog, they like to check it out. Hence, when another dog crosses your path, command "On-by" and if your dog listens, complement with a "Good boy." If your dog has not followed your "On-by" command, be stern and command "Rover-no." But always remember to compliment him when he obeys the command. When you don't want your dog to move, for your safety or the safety of the dog, you say "Line out" which means your dog has to stand still. These commands have been used conventionally and could be replaced with your own version of the commands, too. Whether you follow the already laid down commands or come up with your own commands, make sure to repeat them all along the summer for practice until your dog gets accustomed to the commands.
These are some of the guidelines to dog skijoring sport. Follow these guidelines well for an unforgettable dog skijoring experience during winter.
References:
Wikipedia, Skijoring
Mari Høe-Raitto, Skijor with Your Dog: Second Edition, 2012(Find This Book)
Matt Haakenstad, Ski Spot Run: The Enchanting World of Skijoring and Related Dog-Powered Sports, 2004 (Find This Book)