Just like us, our pets would love to get away from the routinary hustle and bustle of daily life! So, let your beastfriend tag along if you wish to unwind in your favorite cafe or do some shopping in bazaars. Your furry pal will surely ask for some never-been-tried treats, so prepare some extra money, too! Then you can wrap the day up by watching purple and orange streaks smudge the majestic sapphire sky.
There are simply so many things you can do with your canine buddy, especially now that a growing number of public areas are becoming pet-friendly. You can even find exclusive dog parks wherein dogs and fellow dog lovers can socialize time and time again. Your dog can also be your trail buddy if you are a hiker. There are several state parks that allow dogs, too, provided that you pack a poop scooper and a couple of poop bags!
So, how you can turn this into a reality? Getting one (or even two) of the best dog carrier backpacks for your canine companion allows you to take your plans a step further to reality! This is especially true if your furry sidekick isn't fit for long minutes of walking or strenuous hiking. You can't imagine yourself painting the town red with a regular carrier or a dog crate, can you?
There are many occasions when a dog carrier backpack is a much more convenient choice than other types of carriers. For one, a backpack type of carrier allows even distribution of your dog's weight to your shoulders. Most importantly, it keeps your hands free to do what you need. Your dog can also view a bigger landscape since he is about the same height as your back.
If you are buying a dog carrier backpack for the first time, we highly suggest that you read our buying guide first. But if you are too excited to browse our top 10 picks, then go ahead and check out these amazing choices!
Top 10 Best Dog Carrier Backpacks
Factors to Consider When Choosing a Dog Carrier Backpack
Size
Size is always a primary factor to consider when choosing a pet carrier regardless of type. A majority of dog carrier backpacks are designed for toy breeds but you can find one that can comfortably accommodate medium-sized dogs weighing up to 30 lbs. However, different brands often have variations when it comes to their sizing options.
A good rule of thumb is to measure your pet's height and weight. Then delve into the product details so you can get a dog carrier backpack that matches the exact size of your canine buddy. While it is not wrong to have a few inches of wriggle room, understand that anything too big may cause your dog discomfort. Likewise, a carrier that is too small may induce claustrophobia to your dog.
Durability
You should always check the structure of the carrier backpack and the type or quality of the materials used to make it. The one you should choose must be able to withstand the brunt of your dog for many missions to come. The fabric should not tear, the zippers should not rust, the sewing should not loosen up, and so on.
In the end, durability is the determining factor whether a particular product is worth every penny. If you compromise on durability just to save a few extra bucks, you also end up compromising your pet's safety.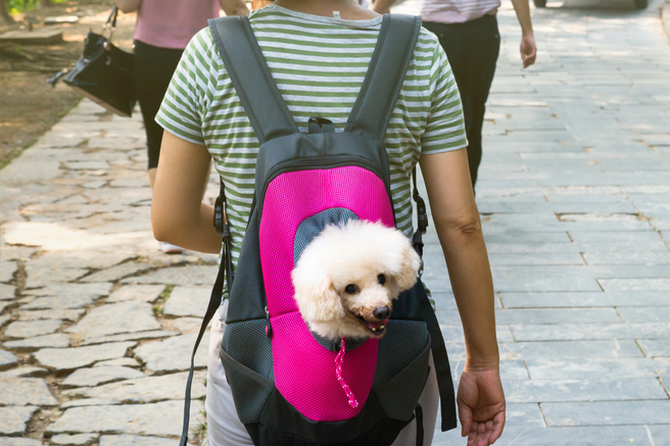 Security
The reason why you shouldn't settle on a regular baby carrier is that it lacks the security features found in a dog carrier backpack. Unlike babies, dogs can be escape artists sometimes. Without security features, you could end up chasing your dog up and down a hill! Therefore, the product you choose should have connectors that you can use to attach your pooch's harness. The better if the backpack is equipped with zippers that have a locking device.
Ventilation
Lack of airflow can have deadly consequences to your dog, especially when you are out trekking underneath the scorching sun. So, select a dog carrier backpack that is made with breathable materials. It must have enough ventilation holes or wide mesh panels that will provide a good and continuous amount of fresh air. Take note that the mesh panels should be scratch-resistant. Otherwise, your pet might break free and swim like a mad duck in a lake just to cool himself.
Comfort
The purpose of a dog carrier backpack is to keep your furry sidekick comfortably contained while he rests his tired stubby feet. So, don't forget to check whether the backpack comes with a sturdy base that offers soft cushioning for your pet's tooshie.
You also have to take into account the comfort level it offers for you, too. It is not easy to carry the brunt of your pet for hours. It will strain your back and shoulders, causing you to exhaust your energy easily. So, it is important that you select a dog carrier backpack with wide and well-padded straps in order to balance out your dog's weight. It should be strong to boot, particularly if you have a chubby dog.
Storage pockets
You might want to consider a dog carrier backpack that has storage pockets so you can tuck in important items such as permits, a smartphone, a water bottle, etc. Rather than carrying a separate bag, it would be nice to stroll or hike with your hands free.
Ease of cleaning
Cleaning a dog carrier backpack is vital to keep sickness at bay. So, choose one that will be a breeze for you to wash.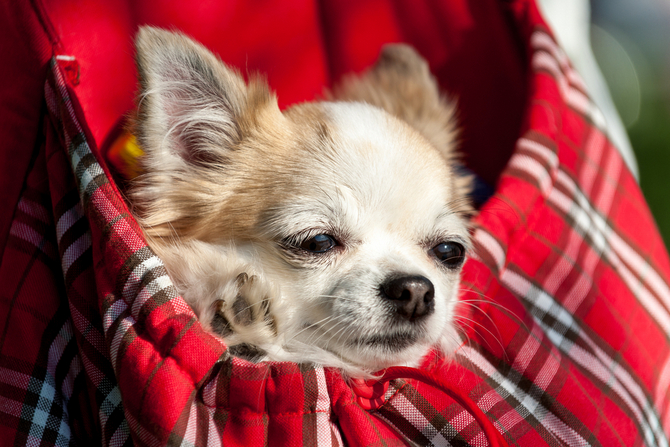 Frequently Asked Questions
What to bring when camping with dogs?
In order to determine what seems reasonable, you first have to consider the environment you are going to camp in and what other activities you are planning to do with your dog.
For instance, if you are planning to swim in the lake or play water sports with your furry sidekick, then you should bring a bottle of ear cleaner, shampoo, and a towel. If you need to ride in public transportation before you reach your destination, you have to bring along your dog's proof of vaccinations or permit.
Nevertheless, never miss any of the following:
canteens of water
a portable water bowl and food dish
sealed bags of meals, including treats
wet wipes and poop bags
a basic first-aid kit with bandaging materials, scissors, tweezers, disinfectant, etc.
What size of a carrier should I buy?
There is no one-size-fits-all. You just have to pick a carrier that matches your dog's current height and weight based on the options available. Please note that your pooch should have ample room to lie down, stand up without crouching, and move around should he wish to change positions. If you have a puppy, then choose a dog carrier backpack suitable for a puppy. Otherwise, choosing one based on your pup's full-grown size may cause discomfort.
How do I measure my dog correctly?
You have to measure your dog's length from the tip of the nape to the base of the tail. Likewise, your dog's height should be measured from the floor to its shoulder when standing.
Are dog carrier backpacks suitable for long trips?
Dog carrier backpacks are suitable for long trips, just as long as you choose a product with an ergonomic design to reduce some of the pressure off your shoulders and back. A good rule of thumb is to choose a dog carrier backpack with strong, wide, and thick-padded shoulder traps. The better if it has chest and waist straps to further stabilize the backpack.
References and Further Readings:
Wedderburn, Peter. My Dog Thinks He's Human: 50 Ways to a Happy Healthy Pet. London: Octopus Publishing Group Ltd, 2009. Print. (Find This Book)
petMD, Hiking With Your Dog
Healthy Pets, How to Prevent Overheating in Cats and Dogs