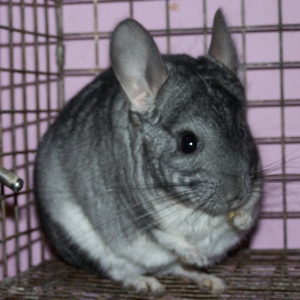 It's difficult not to love a chinchilla! These quirky little animals hailing from the Andes Mountains of South America possess amazing qualities that make them adorable pets, that you can't resist bringing one home. If have you haven't had the luck to meet one, they have a size similar to a Guinea pig. They can grow up to 14 inches with an additional five to six inches worth of tail. Chinchillas are rodents characterized by their huge, round eyes paired with jumbo ears. However, these critters' most prominent features are their ever gorgeous, thick, and luxurious fur. According to the Chinchilla Club, chinchillas are nocturnal animals: hence, you'll find their tiny, nimble selves running up down at dusk and around dawn.
Taming the shy chinchilla requires earning the critter's trust, which may some time and effort on your part. Once they are domesticated, chinchillas can be fairly doting and congenial, making them good pets for adults and children, provided that they understand that these animals are fragile and must be handled gently. Chinchillas have specific needs and thus, it is imperative that you do your homework to keep them safe and sound. This includes getting yourself well-acquainted with the type of habitat they need.
In the wild, a chinchilla's thick fur serves as a safeguard from the elements but inside your home, it exposes your pet to overheat. This factor must be considered when choosing where to place your chinchilla. Therefore, a cooler area of your house would be ideal. As long as you have no predators looming over your chinchilla, then you can allow your pet to run freely in the house. These critters, however, have vicious chewers and chomp your house down. Therefore, it is best to find them a suitable cage.
Top 10 Best Chinchilla Cages
Important Tip
Take note that chinchillas are social creatures and hence, you must adopt at least two. If your poor little guy has no friend, chances are, he will suffer a lethargic behavior that could lead to his demise.
It is worth adopting a pair. Aside from the fact that these critters are low-maintenance and don't stink as much as their rodent cousins, What is more, you get double the cuteness and fun watching two little chinchillas cuddling and playing together.
What Kind of Cage Does a Chinchilla Need?
When choosing a cage for a chinchilla, the following are important factors to consider.
1. Size
The chinchilla cage should provide ample space for two pets to skitter to and fro. The cage should have at least 12 feet of cubic space, provided that you have two chinchillas. However, the larger the cage, the better to accommodate more toys. Having sufficient space for toys allows your pets to acquire their daily dose of fun exercise, which is an effective method to prevent obesity and other health issues. Take note that the acrobatic critters should still have enough wriggle room to simply bounce around, stretch their strong hind legs, and interact with each other.
Moreover, the cage should be as tall as possible, as these critters are mountain natives and would love to jump and climb just as much as they love to snuggle. A multi-level cage complete with perches, platforms, and ramps is ideal for chinchillas.
2. Safety
Due to their acrobatic nature, it is of paramount importance that you choose a chinchilla cage made with heavy-duty materials to withstand the countless stunts your energetic pets will surely perform inside. Therefore, a wire cage is clearly a winning choice. While it is solid, it also provides optimized air flow in all its four walls. This feature is crucial in the prevention of heat stroke among your pets especially if you live in a humid place. Remember that chinchillas have dense coats that easily retain moisture and thus, expose them to fungal infections.
Moving on, the base of your cage should be solid, not wired. Wire grates are convenient for cleaning but are hard on your pets' feet. A solid surface, on the other hand, guarantees your pets' safety as there is no gap where their feet could slip through. Choose a cage with a base tray that you can line with fleece, wood shavings, etc.
In addition, there should be no plastic parts or accessories inside the cage including food bowls, wheels, etc. These cute, innocent-looking critters are vicious chewers and the tiniest scrap of plastic is detrimental to your pets' health. If the base tray is plastic, make sure it is heavy-duty, chew-proof ABS plastic covered with fabric or adequate loose bedding.
Furthermore, the cage should be free of galvanized coating and lead paint, which is hazardous to your pet when ingested. Opt for a powder-coated metal cage, instead. Albeit its cost, it guarantees your pets' health.
3. Escape-proof
Don't forget that these mini creatures are covered entirely with a thick majestic fluff and hence, don't be fooled by your pets' seemingly chubby body. If the space between the bars allow your pets to squeeze their head out, then they can escape without a doubt. A good rule of thumb is picking out a chinchilla cage with no more than 0.5" of bar spacing.
4. Accessibility
The cage should provide maximum visibility and accessibility to better interact with your pets. So, choose a cage with large doors. This feature also makes cleaning, tweaking, and decorating your chinchilla coop as easy as ABC.
5. Ease of Cleaning
Another benefit of choosing a large cage is ease of cleaning. A properly-sized cage reduces the frequency of cleaning since your pets won't be rolling in their muck too often between weekly maintenance. If you plan on cleaning the cage on a daily basis, a deep tray or pan may be unnecessary.
Moreover, the cage tray or pan should fit according to the type of bedding you choose. For example, a shallow pan or tray is more appropriate should you choose fleece or fabric as bedding as this allows you to wrap the material around the tray and clip it in place. On the other hand, choose a deep pan with at least 2" depth If you intend to use loose bedding; otherwise, poop and bedding will fling out into your floor when they play.
Best Chinchilla Cages Reviews
1. Living World Deluxe Habitat
Best Easy Clean Chinchilla Cage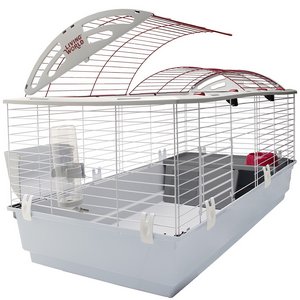 The Living World Deluxe Habitat is the perfect coop for your tiny critters as it provides plenty of space befitting of two or more company-loving chinchillas. Know that this cage is actually much bigger than it appears in the picture. It weighs about 19 lbs. and measures 46.9" x 22.8" x 24". There is no way your pets will ever feel crammed with its generous space, not to mention its unique two-level design. Included in the Living World Deluxe Habitat is a raised balcony where your chinchilla can sit back and survey his little domain, or munch some goodies from the tip-proof food bowl attached into the balcony floor. Your little pet can also enjoy some peace and quiet as he has his own cubbyhole underneath the balcony. Surely, this chinchilla condo has everything your pets need. What is more, this cage comes with a free water bottle and a hay guard, both of which you can attach outside the cage to maximize space.
It is such a relief that this cage has a deep plastic bottom and hence, you won't be greeted with sheddings and poop scattered all over your floor. Most importantly, the solid surface of the bin prevents your pets' tiny feet from becoming sore that wire grates usually cause. The plastic is quite sturdy, too. Rest assured you won't get a warped bottom after a few years of usage. When it comes to emptying the litter, simply detach the plastic bin. As for accessibility, you can find dual lid openings at the top and another one at the front. This amazing feature makes cleaning a breeze as you can reach out any part of the cage. Plus, you can interact with your pet much better.
Assembling the Living World Deluxe Habitat is child's play. The parts of the cage, which you fasten together by reliable clips, can be assembled as easy as playing Lego. As you can see, the cage offers plenty of airflows to keep your pets cool and smelling fresh. Furthermore, what makes this cage our no.1 choice is the high-quality wiring that guarantees your little vicious nibblers won't be able to chew their way out.
Pros:
easy configuration
spacious enough for 2-4 chinchillas
well-ventilated and highly accessible
heavy-duty metal wiring
removable and easy-to-clean plastic bottom
includes tip-proof water bowl, drip-proof water bottle, and hay guard
offered at a reasonable price
Cons:
the frailty of the free water bottle
2. Prevue Hendryx Black Feisty Ferret Cage
Best Chinchilla Cage for 2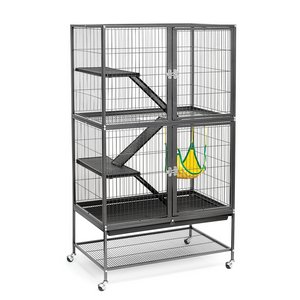 The Prevue Hendryx Black Feisty Ferret Cage is also an excellent choice for chinchillas, especially if you are planning on adopting a bunch of these adorable creatures! This four-level wrought iron cage offers constant airflow and plenty of room to accommodate at least a dozen chinchillas. Remember that these animals love to scramble their way up — an affinity that harks back to their mountainous instincts. Rest assured the plastic ramps are durable and wide enough for your little critters to walk through.
Assembling this cage, however, is a tad tricky and needs some screwing. But once you're done, you'll have one structurally sound cage that is entirely made of stainless steel with an elegant Black Hammertone finish. As a bonus feature, you can make two cages out of this unit; thus, you can easily separate the females from the males if the need arises. It features a pair of full-width, dual-doors so you can have 100% access to your pets. Imagine how easy cleaning would be! This feature also allows for better interaction with your pet.
If you think removing the parts is such a time-consuming chore during maintenance, know that this cage has casters so you can just push the entire cage outside for cleaning. You can also find a storage area at the very bottom where you can stock all your pet essentials. Albeit the fact that this enclosure is originally designed for bigger critters, chinchillas can also benefit from this cage's delightful features provided that you surround the cage with mesh wiring.
Pros:
4 levels to explore
tall and very commodious
two full-width double doors
well-ventilated and highly accessible
can be separated into two compartments
has casters for easy transport
comes with a free hammock
Cons:
the mid-level platform is a wire grate (needs to be covered for protection)
needs an extra pair of hands for assembly
⅞" bar space (needs mesh wiring to prevent escaping chinchillas)
3. Homey Pet 3-Tier Chinchilla Crate
Best Medium Chinchilla Cage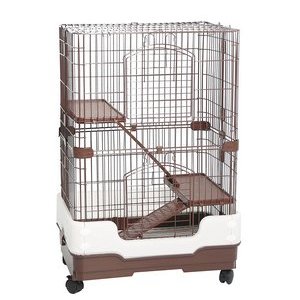 The Homey Pet 3-Tier Chinchilla Crate is one of the easiest cages to assemble. In fact, you don't have to whomp a rubber mallet or frustrate yourself with an intricate manual. Plus, this cage comes in three delightful colors: chocolate brown, baby blue, and pastel pink. This crate measures 26" x 17" x 38" and hence, it is rather small compared to its counterparts. However, it can still accommodate two chinchillas, provided that toys are chosen wisely to maximize space.
Moving on, this cage's best feature is the urine guard. It effectively collects your pet's waste so they won't be exposed to certain diseases. Unfortunately, a majority of the components of this cage are made of plastic such as the base. The wires, on the other hand, are metal with a non-toxic powder coating to preserve its quality.
There are two doors on the front of the cage and the wires are spaced 4/5" apart. In addition, the cage is finished with a non-toxic powder coating. This prevents rust and corrosion while keeping the enclosure safe for your animals.
Pros:
urine guard with wire overlay
non-toxic wire construction
removable, easy-to-clean trays
three levels to explore
Cons:
plastic parts aren't chew-proof
not so roomy
⅘" wire spacing
affordable but low-quality
4. MidWest Homes Critter Nation
Best Multi-Level Chinchilla Cage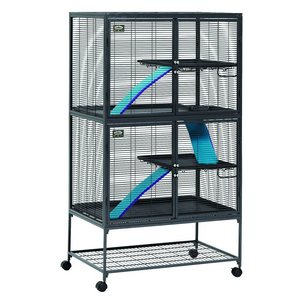 The Critter Nation Double Unit by MidWest Homes is among the most coveted cage for chinchillas. Although this cage is available in a single unit, it is highly advised that you go with the double unit so you can provide more toys and still have ample room left for your acrobatic pets to express themselves. Know that all Critter Nation cages are compatible with a wide range of toys and accessories. You can find attachment points underneath the shelves where you can hang lightweight items such as hammocks and hideouts.
Moreover, this cage has four levels for your chinchillas to hang out: the bottom level is the full-width pan, which helps hold excrement better and makes cleaning a breeze; two height-adjustable shelves that make up the second and fourth levels; and the wide expanse shelf that makes up the third level. Exploring each level is a piece of cake for your pets as there are three non-skid ramps. The textured surface makes it a lot easier and safer for your pets to ascend and descend between levels. Each level features a solid floor, which you can either line with fleece or puts on beddings; thus, your pets' feet will always stay comfy and healthy.
Every inch of the MidWest Homes Critter Nation is heavy-duty stainless steel finished with a sleek grey quartz powder-coat. Rest assured your pets have access to fresh air at all times since there are barely plastic parts that could block the airflow, save from the removable ramps and shelves. The wires are only half an inch apart and hence, your fluffy pets won't be able to squeeze their way out of the cage. Furthermore, this chinchilla coop is exemplary when it comes to accessibility and ease of cleaning, thanks to its full-width double doors. It even has a thoughtful expandable feature so you can upgrade it into a three-unit cage anytime to accommodate a growing number of chinchillas.
Pros:
heavy-duty, rust-resistant metal construction
with non-toxic grey quartz, powder-coat finish to preserve the quality
solid floor surface keeps bumblefoot at bay
height-adjustable and removable shelves
non-skid ramps for added stability
highly accessible and well-ventilated
includes lockable casters
has spacious storage shelf underneath
expandable feature
Cons:
heavy and expensive
slightly difficult to install
5. MidWest Homes Ferret Nation Deluxe
Best Large Chinchilla Cage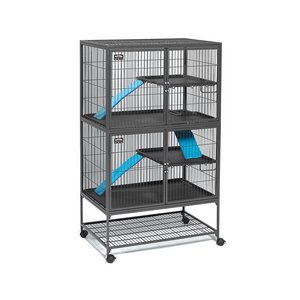 Although this deluxe cage by MidWest Homes is technically marketed for ferrets, this coop is ideal for chinchillas as well. The Ferret Nation Deluxe is thickset with solid, stain-resistant, and chew-proof bars, leaving only half an inch of wire spacing. So, even if you have a dedicated escape artist, he won't be able to nibble his way out. Likewise, this cage features a set latches unique to MidWest Homes that you can open in a jiffy or lock without a hitch.
The cage's dimensions are 36" x 24" x 62.5". As you can see, it is quite capacious for chinchillas even if you intend on adopting a bunch. Thus, you can freely add accessories and toys to keep your pets physically active and happily entertained. However, if the cage is too high for you, know that you have the option to tailor the cage to your preferred height. In addition, this cage includes two full-width shelves and two open platforms, giving your pets four levels to explore. Its three sturdy plastic ramps are covered with a cute blue material for added stability and feet protection.
Moreover, the MidWest Homes Ferret Nation Deluxe features two full-width double doors. Therefore, doing some upkeep or a few tweaks inside the cage is a piece of cake. It is also great to know that the floors are heavy-duty plastic instead of wire grates. Rest assured this cage also offers constant airflow to keep your furry pets cool and their surroundings fresh. This cage is among the easiest cages to install and maintain as well. You can also find a storage area underneath the cage where you can stock your pet essentials.
Pros:
easy configuration
plenty of base and height space
solid floor surface
sturdy non-skid ramps
rust-resistant
2 full-width doors
highly accessible and easy to clean
½" wire spacing
powder-coated finish
casters
6. Prevue Hendryx Earthtone Dusted Rose Cage
Best 3-Story Chinchilla Cage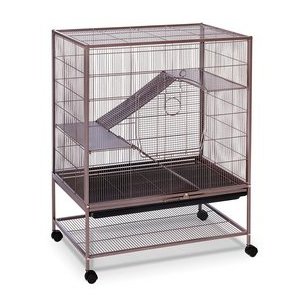 The Earthtone Dusted Rose Cage is another excellent choice from Prevue Hendryx. This cage has all the features you need to make your beloved chinchillas happy and comfortable without breaking the bank. This unit is smaller than the Black Feisty Ferret cage, although is designed pretty much alike.
The Prevue Hendryx Earthtone Dusted Rose Cage is an all-metal cage with just one plastic component, which is the bottom tray located underneath the grate. Everything else is metal but unlike its metal counterparts, this cage remains fairly light and refreshingly a cinch to assemble. Its stand also has casters so it is quite easy to transfer the cage for cleaning, maintenance, etc. On the other hand, its quality isn't up to par with more expensive cages such as the MidWest Homes Critter Nation, which is expected considering its price. Nonetheless, you still get a decent value for your dollar.
Moreover, the cage's dimensions are 31" x 20.5" x 40". Thus, you get a chinchilla habitat with adequate ground space plus three levels to explore. Its ramps are broad and sturdy enough for chinchillas to parade up to the top. Likewise, the ramps have ridges across to make sure even the clumsiest chin gains sure footing. You may. however, cover the metal ramps with fabric to make it more pet-friendly. What is more, it has ¼" bar spacing so your pets can't wriggle their way out of the openings. Also, it makes keeping baby chinchillas feasible.
The doors are rather small, which is a disappointment when it comes to reaching out for your pets or when you need to clean the cage and tweak a few things inside. It's quite a relief that the removable plastic tray that collects waste is at least a breeze to clean. Plus, there is a wire insert over the tray and a wind-bell lock to keep it in place. In addition, the Earthtone Dusted Rose Cage by Prevue Hendryx comes with a storage shelf at the lowermost part of the cage.
Pros:
solid ground base/wire grate to keep feet clean
multiple levels with metal platforms
metal ramps with ridges
pull-out waste tray
¼" bar spacing
well-ventilated, portable, and escape-free
Cons:
elegant color but will eventually rust
small doors make it hard to reach out inside the cage
7. Quality Cage Crafters Chinchilla Mansion
Best Metal Chinchilla Cage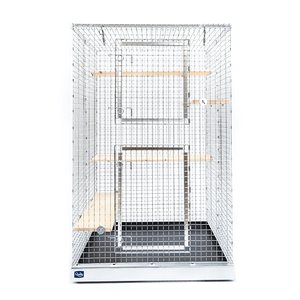 Chinchillas can live up to 20 years, provided that they are given exceptional tender loving care. So, if you want a cage that could outlast your pets, opt for the Chinchilla Mansion by Quality Cage Crafters. This cage is the Ritz-Carlton of all chinchilla cages. Each Chinchilla Mansion is handcrafted to perfection by the artisans of the US company, Quality Cage Crafters. For your peace of mind, know that the Chinchilla Mansion is calibrated for the needs of the chinchilla alone. Unlike multi-purpose cages, you won't find any feature that will put your tiny critter into a disadvantage.
Moreover, the Chinchilla Mansion exhibits an all-metal construction to provide your pets with a secure, chew-proof coop as well as wood components for a more homey environment. The cage measures 30" x 24" x 48" and exhibits a 1" x 1" wiring. It is complete with four hardy pine shelves: one pair that measures 24" long and another pair that measures 30" long, all of which are easy to clean and remove. In addition, the cage features two large openings, both of which are secured with trimmed metal door guards. Likewise, you can find a 1 ½ pull-out tray and a floor panel at the lowermost part of the cage. A sheet metal flaps instantly once the tray is removed to prevent your pets from playing hooky.
The Chinchilla Mansion by Quality Cage Crafters may cost you an arm and a leg, but rest assured this will be the last cage you'll ever have to buy. The cage also comes with a one-year warranty.
Pros:
heavy-duty metal cage with powder-coat finish
built to last a lifetime
designed for chinchillas only
two large entries
easy to maintain
Cons:
Stand and other accessories must be bought separately
8. Mcage Large 3-Level Cage
Best Cheap Chinchilla Cage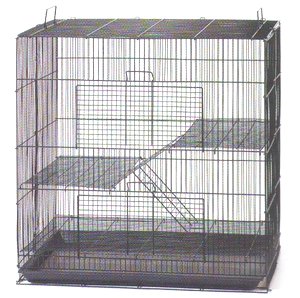 The Mcage Large 3-Level Cage is a budget-friendly option well-suited for starters. This humble cage highlights some features that you can find in its high-end counterparts. This includes a chew-proof wire construction with 1/2 " bar spacing to ensure your chinchillas won't be able to escape. It measures 24" x 16" x 24," which is adequate enough to make a livable environment for two chinchillas. Likewise, this cage features three levels for your little critters to explore. The cage is finished with a pet-friendly epoxy to give it a nice shine.
Moreover, this cage has a removable wire grate floor and a pull-out bottom tray, both of which makes cleaning as easy as possible. The best part of this cage is its foldable feature, which is perfect for travels. What is more, this cage is fairly lightweight and has easy-carry handles. Thus, you can carry the cage during trips to the vet. Though it doesn't have a stand, you can rest the cage on an even surface such as a desk or a table. Since the cage's doors are rather small, it is better not to put large accessories inside.
Pros:
affordable wire cage
can be folded for storage
can be hand-carried
½" bar spacing
includes a pull-out bottom tray for cleaning
Cons:
poor quality
prone to corrosion
wire grate floor
no stand
small doors
creates a rattling sound
9. Mcage Large Double Wrought Iron Cage w/ 3 Levels
Best Chinchilla Double Cage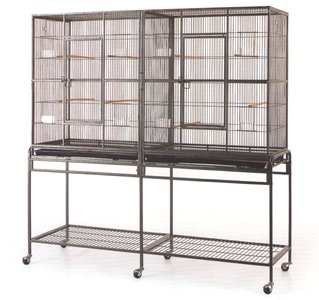 The Large Double Wrought Iron Cage from Mcage is also a good choice for starters. This cage has a slide-out divider, perfect for creating two separate compartments for housing female and male chinchillas. Each compartment measures 30 ⅜" x 18 ⅝" x 36 ¾" with 1 door on each side. The cage is finished with a non-toxic textured powder-coating, giving it a nice look.
Moreover, this cage includes removable platforms and ladders. It also has a pull-out bottom grille and tray, which makes cleaning a breeze. Likewise, it has a very large storage area underneath. The stand has casters for easy maneuverability. However, if the storage area is consuming too much space, you may remove the stand and simply rest the cage on a solid surface if it is more convenient.
Pros:
slide out divider
wrought iron frame
casters for transport
non-toxic powder-coating
removable and easy to clean trays
removable stand
Cons:
rattles
difficult configuration
low-quality
prone to rusting
storage area wastes a lot of space
10. Petmate 2-Door Top Load Kennel
Best Chinchilla Travel Cage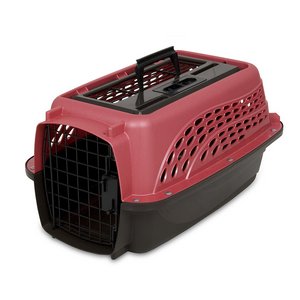 You don't have to leave your little pets miserably behind when you travel, now that you can get your hands on the Petmate 2-Door Top Load Kennel, an all-purpose kennel that meets all airline travel standards. It features a steel and plastic construction and is available in three cute colors: honey rose, pearl white, and ash blue.
Assembling the cage is a cinch. Plus, it comes with a durable handle for easy carrying. Moreover, the kennel measures 24.05" x 16.75" x 14.5". You can tuck in a few toys to keep your pets entertained while you're on the road. There are two easy ways you can place your chinchilla into the unit: the side door made of stainless steel or the top door made of heavy-duty plastic. Rest assured both doors close quite securely. Although the kennel is quite hardy, you don't have to worry about ventilation since the case has plenty of tiny holes.
Pros:
heavy-duty steel and plastic construction
2-door design for easy access
durable easy-carry handles
spacious and well-ventilated
dual purpose (can be used as a temporary shelter)