As a dog owner, we want to give our dogs the best and most nutritious food to ensure that they enjoy their food just as we do. Dogs are considered omnivores which means that they can usually eat everything that humans do. But do not be deceived by this omnivore label as some foods like chocolates are still harmful to your dogs when given in certain amounts.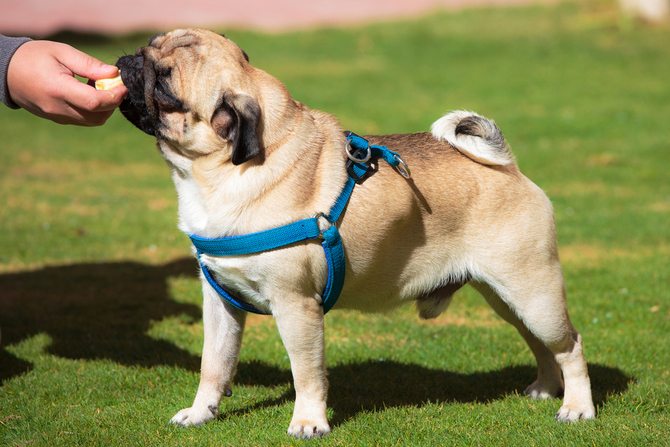 One of the fruits that many people enjoy eating is the banana. But can you give it to your dogs? If so, what are its potential benefits, side effects, dosage level and so on? If these many questions queued up in your mind, continue to read this post.
Can Dogs Eat Bananas?
The answer is a definite YES!
Dogs and bananas are a great pair so to speak. Bananas are healthy and give proper nutrients to your canines. If your dog likes bananas, you can give him some without any worries. This yellow food will keep your dog super healthy.
Can Puppies Eat Bananas?
Now we know that bananas are safe for dogs. But are they safe for young puppies? Yes, they are! In fact, it is best when you start to feed your puppies with the bananas right at a young age. By doing so, they will be trained to eat a healthy food without any problem from the beginning. If not, they might not develop a habit of eating the fruit when they grow older.
Nutritional Breakdown of Bananas
Many people wonder about the actual nutritional benefits that we can get from bananas.
1 medium size banana that usually weighs around 118 grams can offer 105 calories to dogs and humans.
It contains 0.4 g of fat which is further categorized to saturated fat (0.1 g), polyunsaturated fat (0.1 g), and monounsaturated fat (0.0 g).
Sodium is at 1.2 mg, while Potassium is leveled 422.4 mg. 27 g constitutes for the total carbohydrates of the banana, dietary fiber is at 3.1 g, and sugar at 14 g.
A medium-size banana also contains 1.3 g of protein.
Meanwhile, other nutrients included in a medium banana are vitamin B6 (25%), manganese (16%), vitamin C (14%), copper (10%), biotin (10%), magnesium (7%), vitamin A (1%), and iron (1%).
With all of these nutritional values, it only proves that banana for dogs is indeed a very healthy treat.
Health Benefits of Banana for Dogs
If you are still doubtful about the positive outcome of bananas for dogs, reading these health benefits should erase all the traces of doubts that still linger in your mind.
Bananas Help Your Dog Get Stronger Bones
Bananas are a great source of potassium. Potassium helps in the prevention of bone weakening as it neutralizes high levels of salt in your dog's body. It will also save yours from developing the cardiovascular diseases like a stroke. It will also help to keep their blood pressure under control.
Assist In Regular Bowel Movements
Bananas are rich in fiber which helps greatly in the passage of stool. It also helps to treat diarrhea or constipation. Also, they contain pectin (a form of carbohydrate) that solidifies liquid into gel and helps in treating constipation. When diarrhea occurs, the high potassium level of bananas helps to replenish the lost electrolytes in your dog.
Increases The Immunity
Prevents cardiovascular diseases, diabetes, and maintains the lymphoid glands. The vitamin B6 found in bananas is a good anti-inflammatory which fights off these diseases and ensures the lymphoid glands perform their intended job correctly.
Keeps the Nervous System Healthy
Bananas help in the formation of cells and it also ensures the health of the total nervous system.
Enzymes that are found in bananas helps treat irritated colons and slows down colon spasms.
Easy to Digest
It is easy to digest. If your dog has a problem with digestion, then you can give him a piece of banana as it is easily digested in their stomach.
How to Feed Bananas to Your Dog
After reading about the benefits, the voice you heard in your mind, "Can dogs have bananas?" should be faded now. But the question is, how are you going to feed this nutritious fruit to your best companion? Here is the answer. Many people tend to give banana directly to their dogs in slices. Some people, however, would mix the banana in their dog's usual diet with other food.
When feeding the banana to your dog, ensure that what you are giving is not spoiled. You can give them a ripe banana if you want to.
Though bananas are healthy, you can give this treat only in slices. You can eat the remaining banana yourself or freeze it in your refrigerator for later use.
Homemade

Banana Dog Treats

Making a dog treat using the bananas is fairly simple. To help you get started, we have provided a couple of the best banana recipes here. Check it out.
Banana and Pumpkin Dog Treat
Required Ingredients:
1 ripe banana,
½ cup pumpkin puree,
1 tbsp of honey,
1 ½ cups of whole wheat flour and
½ tsp of baking powder.
Preparation
Pre-heat your oven to 350 F.
Take a large bowl and mix the ingredients banana, pumpkin puree, and honey.
Add flour and baking powder to this mixture.
Make sure that the dough is dry. If it is bit wet, you can add more flour.
Roll out the mixture and cut out your desired shape for the dog treat.
Place them on a baking sheet and bake for 10-12 minutes. (Until it turns a light brown).
Take the bowl off the stove and let it cool for some time and store it in a tightly-closed lid jar.
Banana Oats Drops with Peanut Butter
Required Ingredients
4 cups of rolled oats,
2 tbsp of ground flax seed,
2 medium-size ripe bananas,
½ cup of natural peanut butter, and
½ cup of water.
Preparation
First, preheat your oven to 375 F.
Take a large bowl and mix oats, flax seeds, peanut butter.
Add some water into the mixture add mashed banana slices into the mixture.
Roll out the dough and cut your desired shape. Bake it for 25 minutes.
Let it cool and you can now feed your dog with a cookie treat.
Moderation is the Key
So, if you ask can dogs eat bananas? Our answer would be "Yes, they can". But remember moderation is the key. Anything beyond the level will upset your canine's stomach. You can feed the medium to large breeds with nearly half a banana thrice a week. Small puppies should be given only a few small slices a week.