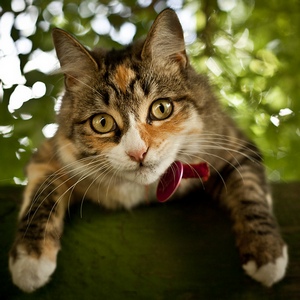 Fleas are the bane of every cat owner especially when the warm season is fast approaching. Not to mention there are also ticks, mosquitoes, and mites, all of which are waiting in queue to take up residence on your cat. You need to deal with this problem immediately as these freeloaders carry harmful pathogens and thus, capable of transmitting diseases to you and your pets. Fortunately, scientific advancement has paved the way for effective solutions.
The most convenient and cost-efficient solution to such dilemma is using a dependable flea collar that is specially calibrated to the needs of your feline companion. Flea collars nowadays exhibit incredible design improvements. Absorption-based collars, which are often considered as the best flea collars, boast an efficacy that can par with spot-on treatments. Opt for these collars since their formulation doesn't target a single area; instead, their chemical components are slowly released and then absorbed into the fat layer of your cat's skin; hence, killing any parasite that feeds off your cat. Furthermore, the active ingredients spread across your cat's whole body through its natural oils, killing all external parasites on contact.
If you are having a hard time figuring out which flea collar to choose among a plethora of options, know that we have put up together five of the best flea and tick collars for your beloved furry family member in this article review. We carefully researched each collar to save you from further guesswork and disappointment because the last thing you want is spending time and hard-earned money on an ineffective flea collar.
Choosing a Best Cat Flea Collar: What to Look for
Safety
The ingredients used in a flea collar should be the first thing to consider if you don't want to waste your cat's nine lives. It is general knowledge that you need conventional pesticides to effectively kill fleas and other parasites. Hence, it is wise to opt for a flea collar with approved chemicals to efficiently eliminate such parasitic freeloaders without triggering unpleasant reactions in your cat. It is also crucial that you only choose a flea collar that is recommended for your cat's age. An eight-month-old kitten, for instance, may find a flea collar designed for a one-year-old cat too potent and may fall ill.
If you want to be 100% sure that your pet's health is unaffected by chemicals, you may opt for a flea collar using natural compounds. Organic collars use essential oils in the treatment and prevention of ticks and fleas without posing health risks towards your cat as well as your family.
Adjustability and Safety Mechanism
Adjustability is a feature pet owner should never overlook in a collar. The best flea collars for cats should be highly adjustable. Although many manufacturers produce collars with varying sizes, a one-size-fits-all collar is preferable: even cats under the same breed and has the same age may still vary in size.
Moreover, it would be best to choose one with a 'breakaway strap' to ensure your cat won't get choked. The concern involving strangulation has led manufacturers to create flea collars with automatic release mechanism, which allows your pet to free himself.
Dual-Purpose
While a majority of flea collars are aimed at merely repelling fleas, you want a flea collar that can treat as well as prevent a wide range of external parasites. Ticks and mosquitoes carry a host of pathogens that are harmful to both human and animals.
Flexibility
Apart from a flea collar's efficacy in eliminating external parasites, it should still be able to withstand your cat's daily activities especially when you have an outdoorsy cat. The best flea collar should withstand constant exposure to the elements and would remain just as effective after constant exposure to water.
Duration
The longer duration a flea collar has, the better. You don't want to replace your cat's collar every two months. Make sure the active ingredients of the collar you choose don't wear off before it's expected time since there are plenty of flea collars that only works well during its first month.
Top 5 Recommended Flea Collars for Cats in 2018
1. Bayer Seresto Flea & Tick Collar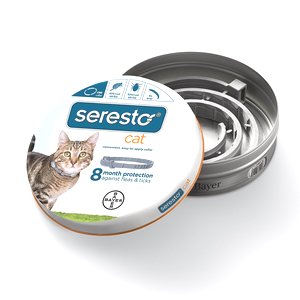 We searched high and low through Amazon for the best flea collars for our pet cats based on sales, ratings, and most importantly, based on the factors that help determine which collar is most ideal. Out of the five products mentioned in this article review, we have chosen Bayer Seresto as the #1 collar for cats, as we believe it is way ahead of its competitors.
Bayer Seresto is so far the most effective and fast-acting flea and tick collar that you can get for your feline companion. It takes swift action as soon as you put it around your cat's neck due to the chemical compounds Bayer Seresto contains: flumethrin and imidacloprid. Each tick or flea that have already taken residence on your cat will be eradicated by these two broad insecticides in a span of 24 hours. Likewise, new fleas or ticks that may hop on your cat will expire in just two hours. Bayer Seresto promises you won't be spending dollars on a flea collar that diminishes after the first month of use; its potency against fighting off fleas and ticks goes unmarred for eight months straight.
Moreover, you won't be expecting any pungent smell from Bayer Seresto. Unlike a majority of low-priced flea collars for sale, Bayer Seresto won't bother your cat's sensitive nose. This collar is completely odorless and also, one of the safest. In case your cat's collar gets tangled against something, it automatically releases your frisky pet so he won't choke. What is more, this is a one-size-fits-all collar with its easy adjustability feature. Regardless of your cat's size or weight, it will work just as good. Hence, it can easily cater to your cat's needs without flaw, be it a Munchkin or a Ragdoll.
Bayer Seresto is also one of the lightest flea collars for cats and yet it doesn't compromise quality. Therefore, this collar makes sure that Tomcat feels comfortable as he continues with his usual shenanigans. Bayer Seresto surely costs a pretty penny for a cat collar but that is to be expected if you are looking for the best.
Pros:
Lightweight (weighs 3.2 oz.)
Uses a dependable and cat-friendly formulation
Provides protection against parasites for 8 months straight
Eliminates residing fleas and ticks within 24 hrs.
Kills new parasites within 1-2 hrs.
Has an auto-release feature to prevent choking
Odorless
Cons:
Unsuitable for 10-week old kittens
May fit tighter for large breeds
2. PETinice Flea & Tick Prevention Collar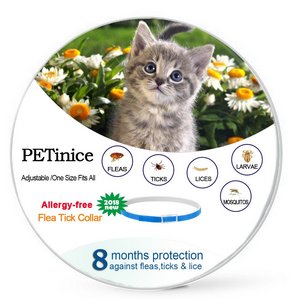 If you are on a hunt for a flea collar with qualities akin to Bayer Seresto but has a more budget-friendly price, the flea and tick prevention collar from PETinice would be an excellent choice. What we like the most about this collar is its exemplary extended defense. Our first runner-up effectively kills a wide range of pathogen-carrying ticks, fleas, lice, and mites while re-infestation is further eliminated as PETinice flea and tick prevention collar also eradicates eggs and larva. It even wards off mosquitoes that could transmit heartworm in cats.
Moreover, PETinice's reliable formula is suitable for both adult cats and kittens; hence, it is the perfect choice if you have a bunch of multi-age furry housemates at home. You can rest assured that your pets are free from insect bites, irritation, and diseases brought by ticks, fleas, or mosquitoes for as long as eight months without the need for other types of treatment. In addition, this cat collar can cater a range of breeds. No matter the size or weight of your cat, this convenient little collar will give your pet an optimal fit with its adjustability feature. Tomcat will hardly notice his collar as soon as you buckle it in place. If the collar has any excess, you may cut it off and place it on the cat bed for extra protection.
Furthermore, the flea and tick prevention collar from PETinice exhibits water resistance. The collar uses a sturdy waterproof material to make sure it remains effective even after countless baths, exposure to rain or salt water, etc. during its eight-month duration.
Pros:
Kills a variety of adult ticks, fleas, mites
Further eliminates eggs and larva
Repels mosquitoes
Prevents re-infestation for 8 months
Suitable for all cat ages
One-size-fits-all
Water-resistant
Cons:
May produce a slight irritation to hyper-sensitive cats
Best Budget-Friendly Flea Collar for Cats
3. Hartz UltraGuard Plus Flea Collar for Cats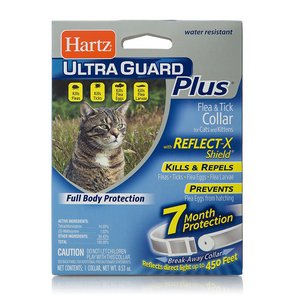 It's good to know that there are affordable options that don't compromise quality such as the Hartz UltraGuard Plus, which we believe is the best flea and tick cat collar for the dollar. The Hartz brand is notable for their commitment to producing quality pet products and surely Hartz UltraGuard Plus is no exception.
Most cheaper flea collars defeat the purpose of preventing re-infestation since they are only efficient at dealing with adult ticks and fleas. But unlike those collars, Hartz UltraGuard Plus targets ticks and fleas at every life stage so no parasite can have the chance to grow and breed. The primary ingredient, Tetrachlorvinphos, eradicates all traces of fully grown ticks and fleas all the while prohibiting eggs and larva from hatching so you won't' have to repeat the entire process again.
In addition, the Hartz UltraGuard Plus flea collar features 3M™ Scotchlite™ Reflective Material that provides visibility up to 450 ft. whether at day or at night. This is such a significant feature especially for cats who often wander in murky places or roam the streets. Likewise, this collar exhibits water-resistance so you won't have to take it off during bath time. For seven months, you can be confident that your outdoorsy cat is safeguarded from pests even if he tags along with strays. This collar also features an automatic-release mechanism to prevent your cat from choking in case its collar gets tangled.
However, this collar should not be used by cats under 12 months as kittens may find its medication overpowering. Sensitive cats may also develop an allergic reaction at the site of the collar due to its active ingredient. Regardless, EPA states that this product is safe.
Pros:
Kills residing parasites and repels new ones
Disrupts metamorphosis of eggs and larva
Efficacy lasts for 7 months
Water-resistant
Has automatic-release mechanism
Visible by reflective light up to 450 ft.
Cons:
Some felines may experience allergic reactions
Direct contact of this product should be avoided by young children
Best Natural Flea Collars
4. Dr. Mercola Herbal Repellent Collar for Cats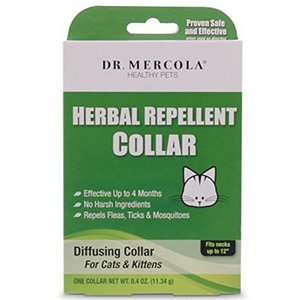 If your cat is sensitive, you need to minimize his exposure to conventional medication and opt for something organic such as the Dr. Mercola Herbal Repellent Collar. Instead of standard insecticides, this collar utilizes a special blend of natural oils in fighting off ticks, fleas, mosquitoes, and other insects. Thus, the hypoallergenic formula of Dr. Mercola Herbal Repellent Collar is well-suited for kittens and sensitive cats, providing your pets 16 weeks of continuous protection without any adverse side effect.
The Dr. Mercola Herbal Repellent Collar is 100% toxin-free. Its formula includes geraniol, which is an essential oil derived from Geranium flowers that exhibit mosquito-repellent properties. Likewise, it contains methyl salicylate from the distilled leaves of the evergreen plant. Also known as wintergreen oil, it serves as a counterirritant, deodorizer, and insect repellant. Plus, almond oil is added to the mix to help soothe your cat's skin.
What is more, this herbal repellent collar is water-resistant and hence protects the active compounds within the collar so it continues to diffuse until it's time to replace it. You can rest assured that countless baths and exposure to the elements won't diminish its effect. For optimum protection, you may use Dr. Mercola's Spot On Herbal Repellent for Dogs and Cats. This collar can provide a snug fit for small to medium-sized cats. Simply cut the part that goes beyond the buckle.
Pros:
All-natural formula – 100% toxin-free
A gentle yet efficient flea and tick preventative
Perfect for kittens and sensitive cats
Has a pleasant fragrance
Water-resistant
Cons:
Does not kill fleas or ticks
Requires a spot on treatment to kill parasites
Fragile – unsuitable for outdoorsy cats
5. REGIROCK Flea & Tick Collar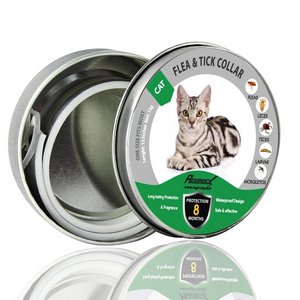 There is a plethora of products and methods available, which are proven effective in the eradication and prevention of ticks and fleas on cats but if your pet can't tolerate conventional insecticides from such, the REGIROCK Flea and Tick Collar would be a great alternative. This organic flea collar is a great option for long-term prevention of ticks and fleas. The REGIROCK Flea and Tick Collar's primary ingredient is citronella essential oil, which is notable for its incredible repellent effects. Its special formula also includes a growth inhibitor that prevents eggs and larva from developing into a new horde of fully grown ticks and fleas. Likewise, this collar also wards off mosquitoes and other insects.
The REGIROCK Flea and Tick Collar clearly have no bells and whistles but it promises to protect your feline companion for against bloodsucking fleas and ticks eight months. In addition, the manufacturer offers a lifetime warranty and a full refund, which shows how confident they are with their product. This collar also comes with three tick removers and one flea comb. The use of an effective flea collar plus regular brushing can greatly lower the chances of fleas and ticks getting a footing in your cat's fur.
Pros:
Recommended by veterinarians
Adjustable and water-resistant
Lasts up to 8 months
Lifetime warranty and full refund available
Comes with a flea remover set
Has a warm lemon scent
Cons:
Not as effective in killing fleas and ticks
Has no automatic release mechanism
Conclusion
Flea collars have earned their place amongst the best flea preventative and treatment solutions. They are still a popular choice and a more affordable one to boot. What is more, flea collars are long-lasting, easy to use, and hygienic. Hence, we highly encourage you to get a flea collar for your cat right away.
If you have a cat who often tag along with strays or wander around in random places, Bayer Seresto Flea and Tick Collar is definitely your best tool in fighting off ticks and fleas. It kills all traces of external parasites within 24 hours. Most importantly, Bayer Seresto's effectiveness remains solid for up to eight months. Also, Bayer Seresto uses a safe and reliable formula that will ensure your pet won't experience negative side effects.
However, we also encourage you to take a look at the other flea collars. If you have a sensitive pet, for instance, you may opt for a flea collar using natural compounds such as the herbal repellent collar from Dr. Mercola.