There is one nutrient that is often neglected by dog owners – water. Clean drinking water is as important as a balanced diet. It is a vital component in digestion and nutrient absorption. Adding to that, it regulates your dog's body temperature, promotes movement by lubricating joints, and cushions the spinal cord. Without it, macro- and micronutrients won't be transported into and out of the living cells of your dog's body. As a result, their body functions are impaired. Organs will eventually deteriorate and would even shut down if the water deficiency lasts long enough.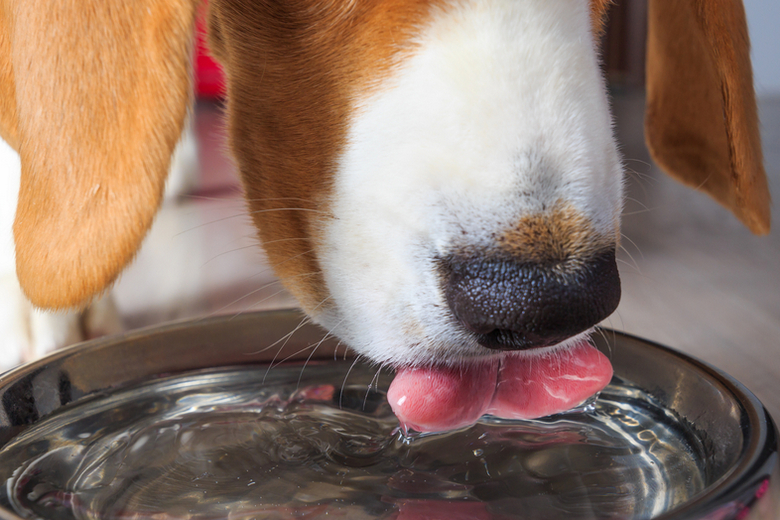 Unfortunately for some owners, leaving a bowl of water beside their dog's food is not enough. Apparently, this isn't good practice, especially if you have a growing puppy or a pooch with chronic kidney disease. What if he topples the bowl accidentally? That would leave him thirsty until you return. Meanwhile, there are fur-parents who aren't keen on stagnant water due to the risk of contamination. This is where a dog water dispenser comes handy.
A dog water dispenser is a reliable and economical way to provide your pet with a clean supply of great-tasting water. But unlike water fountains, dog water dispensers rely solely on gravity. So even when you're caught in a low-voltage situation, fresh drinking water remains accessible for your dog. Ideally, maintenance costs are at a minimum.
So, which among hundreds of products is the best dog water dispenser? In this article, we reviewed 10 of the bestselling reservoir type units.
Factors to Consider
Choosing the best gravity-based dog water dispenser is not as difficult compared to picking the best drinking fountain for your pooch. Nonetheless, there are certain points to consider and they are listed below.
Capacity
How many furry housemates do you have? According to Dr. Karen Becker, a healthy dog's daily water requirement is 0.5 to 1 oz. for each pound of body weight. For instance, a Belgian Malinois weighing 65 pounds should be drinking ¼ to ½ gallon of water every day.
So if you have two or more dogs, consider getting a large-capacity water dispenser such as the Flexzion Automatic Dog Water Station or the Aspen Pet Lebistro Self-Dispensing Gravity Dog Water Dispenser. A large-capacity water dispenser is also advantageous if you are always away for work.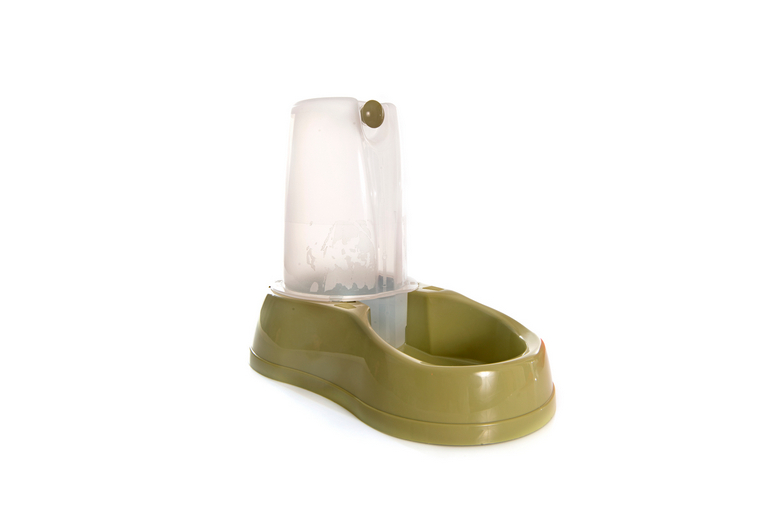 Ease of Cleaning
Ease of use often implies how easy it is to maintain the unit. Your dog's water dispenser should be a breeze to clean, especially because you need to do it regularly to prevent mold and mildew. A dishwasher may speed up the cleaning process, but a majority of dog water dispensers are made of plastic that isn't dishwasher-safe. So, choose a product that is easy to assemble and disassemble for cleaning.
Moreover, a gravity-based water station requires you to invert the reservoir to fit into the dispenser. If it feels like lifting kettlebells, consider a product such as the Petmate Pet Café Waterer and the PortablePET WaterBoy. Refilling these models are a cinch and they are portable to boot.
Filtration
If mineral deposits and earthy smells are a major concern, you will need a water dispenser that has an activated carbon filter. The Petmate Replendish Dog Water Dispenser and the Heyrex Torus Self-Filling Dog Water Bowl are great examples of modern gravity-based water stations with carbon filtration. A unit equipped with an activated carbon filter further enhances the quality of your dog's drinking water. It eliminates odor- and disease-causing bacteria, chlorine, and other contaminants. Take note that you have to buy these filters separately and replace them periodically.
Materials Used
You need a robust water dispenser if you aren't keen on buying one at frequent intervals. However, the high-quality ones don't come cheap, but we suggest you overlook the price. Choose a sturdy unit made with food-grade, BPA-free plastic. Not only will it last for a couple of years, but it also prevents the leaching of chemicals that increase the risk of plastic toxicity. Plastic components are not advised to be used in the dishwasher as this increases the leaching of chemicals. However, there are a few models that are dishwasher-safe such as the PetSafe Healthy Pet Water Station. Bear in mind that durability also entails the company's attention to detail.
10 Best Dog Water Dispensers