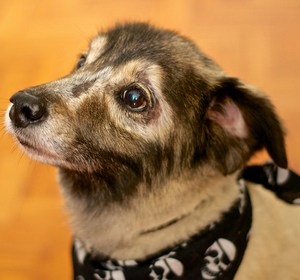 Among the vitally necessary aspects of canine grooming is ear cleaning. Unfortunately, a majority of dog owners tend to overlook this necessity. It isn't imperative that you keep on digging out wax buildup from Doggo's ears day in or day out, but ear cleaning should be performed frequently, especially if your dog is prone to getting otitis externa or inflammation of the external ear.
The warm, dark, and complex structure of our dogs' ear is a good collecting mechanism for grime, dirt, debris as well as an ideal breeding ground for parasites and microorganisms that are simply imperceptible to our sight. Although it's true that some breeds have drooping auditory panels by nature, this, however, does not guarantee as a line of defense against a host of ear irritants. Surely, a drooping ear may cover the inner structure but the fact remains that dogs have a knack for getting themselves downright dirty, especially when they are outdoors. They love to infest your yard with tunnels, chase anything that moves, and roll in the muck for no sensible reason. Fortunately, cleaning your dog's ear is no longer a tedious task especially with a dog cleaner at hand.
What are Dog Ear Cleaners?
While we need earwax candles or cotton buds to clean our ears, our canine companions need a specially formulated solution to clean theirs. A dog ear cleaner is basically a solution infused with certain ingredients containing antiseptic or disinfectant properties, or a combination of both. There are currently two types of dog ear cleaners: otic wipes and otic drops.
Otic wipes, on one hand, is very similar to wet wipes. The solution is imbued with the super soft cotton and hence used to wipe against the inner walls of your dog's external ear. However, otic wipes can only address the outermost parts of your dog's ear. If you want a more deep-seated cleaning, these are not the cleaners of choice.
Otic drops, on the other hand, resemble eye drops. The concept is to instill a few drops of the dog cleanser into your dog's ear canal, gently massage your dog's ear base to distribute the liquid, and leave it on for a few seconds so it reaches the inner ear structures to loosen grime, debris, wax buildup, and other minute substances that may have cleaved against the walls of the ear canal. Thus, optic drops are highly recommended for their deep-cleaning abilities. Such is especially beneficial for dogs who already have ear infections since it eliminates any debris that may worsen the infection.
Factors to Consider in Choosing the Right Dog Ear Cleaner
Ingredients
Don't buy a dog ear cleaner without doing any meticulous research beforehand. The product your friend recommends may not be ideal for your dog. Know that the wrong choice of dog cleaner can cause more harm than good for your furry buddy. So, always check the label and know the nitty gritty of the product so you'll know what it is made of. Take note that a plethora of ear cleaners aren't made with dogs in mind. Instead of the primary purpose of providing your furry buddy relief, such products are only up on for sale for the sole purpose of money-making.
An ideal dog ear cleaner should not contain the following:
Preservatives – Preservatives lengthen the shelf-life of ear cleaners, but such can cause allergic reactions, especially for dogs with pre-existing skin irritations.
Drying agents – Drying agents are usually alcohol, chlorothymol, or menthol that are added to the formula to help minimize moisture in dogs' ears. However, some dogs exhibit negative reactions to these drying agents, and hence they are best avoided.
Artificial fragrance – "Fragrance" is merely a moniker for "chemicals". Since companies do not disclose the ingredients they use to create fragrances, there is no way to determine its safety.
Specialization
Many ear cleaners have a multi-purpose formula, which can be used in the prevention or treatment of several infections. Meanwhile, some are specially formulated to address one type of infection only. These cleaners vary in costs according to how their formula is mainly used for.
Top 5 Dog Ear Cleaners In 2018
1. ZYMOX Otic Enzymatic Solution (with Hydrocortisone)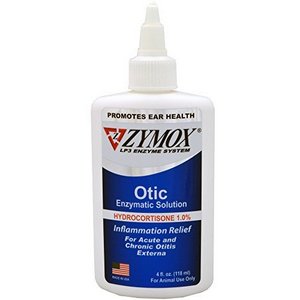 The Zymox Otic Pet Ear Treatment from Pet King Brands is among the best-selling non-prescription pet products to date. It is highly recommended by veterinarians and has also garnered thousands of positive reviews from happy dog owners.
The Pet King Brands Zymox otic pet ear treatment is based on an antimicrobial enzyme system that includes lactoferrin, lactoperoxidase, and lysozyme. This enzymatic approach, which consists of the three natural active compounds, allows microbes in ear deposits to emit particles of hydrogen peroxide to effectively eliminate harmful microorganisms within. Such feature is very effective in the prevention as well the treatment of chronic otitis externa, especially when it is caused by antibiotic-resistant bacteria such as the Methicillin-resistant Staphylococcus aureus.
In addition, the remarkable enzyme system also addresses yeast and fungal activities such as those prompted by Candida albicans. Likewise, the Pet King Brands Zymox otic pet ear treatment is also potent against a collection of organisms including E. coli, Pseudomonas, Proteus, and the list goes on. The Zymox otic pet ear treatment from Pet King Brands is definitely an all-in-one solution: it is a cleanser, an antibacterial and antifungal prevention, as well as treatment.
This vet-approved ear cleaner is easily accessible, so you can always act fast as soon as your dog shows signs of ear infection. As for management of ear infection, you only need one application each day. Take note that the Pet King Brands Zymox otic pet ear treatment is also added with 1% hydrocortisone to reduce inflammation and to provide relief from itchiness caused by dry skin.
Pros:
treats acute and chronic otitis externa
anti-bacterial and anti-fungal
uses enzymatic approach to kill even antibiotic-resistant bacteria
contains 1% Hydrocortisone to provide relief from itch and inflammation
multi-purpose ear cleaner
vet-approved and ranks no.1 product in the online market
Cons:
not sufficient for severe cases of infections
2. Vet Organics EcoEars Dog Ear Cleaner Infection Formula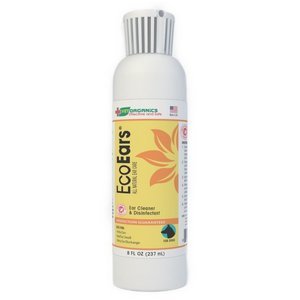 The Vet Organics EcoEars Dog Ear Cleaner Infection Formula is specially designed for dog owners who prefer all-natural products for their beloved furry family members. Inarguably, going organic is also the easiest way to ensure your pet's safety. If you choose this product, you can rest assured that your dog's ear cleaner is free of synthetic chemicals, additives, solvents, etc. This should also be your choice if your dog has a negative reaction towards hydrocortisone or steroids.
The EcoEars dog ear cleaner by Vet Organics uses five naturally derived ingredients such as tea tree oil, witch hazel extract, rosemary extract, mullein leaf extract, and pure vegetable glycerin. Witch hazel extract is a powerful anti-inflammatory agent; tea tree oil is notable for its antibacterial and antifungal properties; rosemary and mullein leaf extracts are potent antioxidants; while pure vegetable glycerin is an excellent moisturizing agent. This remarkable blend constitutes EcoEars' efficacy in eliminating pathogens, dirt, wax buildup, and gunk. Likewise, the Vet Organics EcoEars is the best way to deodorize and freshen up smelly dog ears.
Instilling a few drops of Vet Organics EcoEars every week and after every water activity is a sure-fire way to make your dog's ears uninhabitable for germs and parasites. As for treatment for infection, use it twice daily. With regular use, your dog's ears will always stay healthy, clean, and fresh.
Pros:
multi-purpose ear cleaner
anti-inflammatory, anti-bacterial, and anti-fungal
contains five botanical ingredients
all-natural; no man-made chemicals
restores healthy dog ears within 10 days
leaves dog ears smelling great
Cons:
more expensive than most brands
one bottle does not suffice for a 10-day treatment
3. Zymox Ear Cleanser (with BIo-Active Enzymes)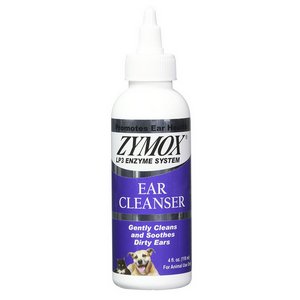 The Pet King Brands Zymox Ear Cleanser is not intended for treating dog ear infections; however, it does prevent your dog from getting one. Its formula contains lactoferrin, lactoperoxidase, and lysozyme. These three enzymes have bio-active properties that inhibit bacterial growth. Likewise, It does not contain harsh chemicals that may irritate your dog's sensitive ears; it does, however, contain mild cleaning surfactants to wash away dirt and debris. This variant of Zymox does not come with hydrocortisone. Moreover, the Pet Pet King Brands Zymox Ear Cleanser with Bio-Active Enzymes leaves Doggo's ears feeling cool and fresh. Overall, this product is an excellent choice for cleaning and disinfecting Doggo's ears, as well as an adjunct to a specific treatment.
Pros:
Non-toxic; doesn't contain strong chemicals
Contains bio-active enzymes for mild microbe control
Leaves ears feeling cool and fresh
Cons:
Does not manage ear infections
4. Virbac Epi-Otic Advanced Ear Cleaner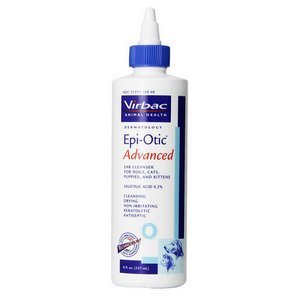 The Virbac Epi-Otic Advanced Ear Cleaner is specially formulated to address otitis externa. With its principal ingredient, which is salicylic acid at 2% concentration, the Virbac Epi-Otic Advanced ear cleaner effectively kills harmful microorganisms that cause the infection. Likewise, its acidic formulation is also effective at eliminating gunk, dirt, and wax buildup that could either cause or aggravate any current infection. It also neutralizes bad odors, leaving your dog's ears also smelling clean.
As opposed to other Virbac Optic solutions, the Virbac Epi-Optic Advanced features a unique anti-adhesive property that combats germs, bacteria, and other harmful microorganisms from adhering to your dog's skin. Using the Virbac Epi-Otic Advanced ear cleaner is also a great way to flush dead skin cells that could later become dander. Although it contains 2% salicylic acid, the Virbac Epi-Otic Advanced is a gentle solution; even mild enough to use for puppies and kittens. Its formulation does not contain drying agents, artificial fragrances, and other chemicals that might be harmful to dogs. You can rest assured it is alcohol-free and chlorhexidine-free. It is also non-irritating and safe for daily use.
The Virbac Epi-Otic Advanced is one of the few non-prescription dog ear cleaners that are highly recommended by veterinarians. It is also one of the best-selling pet products based on sales and positive reviews among various online platforms. You can use the Virbac Epi-Otic Advanced ear cleaner every day particularly as a part of your dog's daily hygiene regimen to ensure that your dog's ears are fresh, clean, and free from parasites.
Pros:
advanced version; features an anti-adhesive property
antiseptic formulation
contains 2% salicylic acid
safe for daily use
alcohol-free and chlorhexidine-free
leaves dog's ears smelling fresh
mild enough for puppies
Cons:
unsuitable for severe cases of infections
5. Petpost Ear Cleaner – Natural Coconut Oil Solution
The Petpost Dog & Cat Ear Cleaner – Natural Coconut Oil Solution is one of the best ways to clear your dog's ear infections, eliminate gunk and wax buildup, and stop your dog from scratching his ears due to mites. Yes, it is very effective at getting rid of ear mites that other solutions cannot.
The Petpost Dog & Cat Ear Cleaner uses a plant-based formula which is also alcohol-free. Know that drying agents can only irritate sensitive ears. That being said, this product blasts away debris, dirt, germs, yeast, and bacteria from Doggo's ears, all of which are the main causes of infection. This formula was created by earth-conscious veterinarians that wanted a safe and effective product that is also eco-friendly. Take note that it's the main ingredient is coconut oil, which is notable for its anti-viral and anti-fungal properties. It also kills a long list of bacteria, parasites, and protozoa due to its high levels fatty acids.
Likewise, such ear cleaner is packaged using recyclable goods, which are also safe for the environment. With the Petpost Dog & Cat Ear Cleaner – Natural Coconut Oil Solution, cleaning Doggo's ears in a healthy way also benefits the environment. The product is very easy to use with its easy-application nozzle, so you can rest assured that there won't be measuring cups or spilling any more.
The best thing about Petpost Dog & Cat Ear Cleaner – Natural Coconut Oil Solution is the fact that it cleanses your dog's ears, treats current infections, and prevents future infections; thus, making it a three-in-one product!
Pros:
Three-in-one dog ear cleaner; very effective
Vet-proven and eco-friendly
Alcohol-free formula
Soothes itchy ears
Promote faster wound healing
Deodorizes and leaves ears smelling nice
Conclusion
Making your own dog ear cleaner using the recipes you find on the Internet is certainly a lot cheaper, but are you sure it has no side effects? It may not be safe, so don't go down this route. Instead, invest in the right dog ear cleaner. Your dog should be given the proper care and hygiene he deserves, and that means the best products to use.
We highly recommend the Zymox Otic Pet Ear Treatment from Pet King Brands, especially because it is approved by veterinarians and satisfied dog owners. But if you prefer an all-natural product, then we recommend the Vet Organics EcoEars Dog Ear Cleaner Infection Formula, which ranks second on our list. Both products are all-in-one solutions, and each has showcased their effective properties at cleaning and deodorizing dog ears; treating bacterial and fungal infections, and preventing the reoccurrence of such.