Pets, particularly dogs, are a valuable asset when it comes to providing entertainment, security and day-to-day companionship. And for senior citizens, owning a dog has far-reaching benefits in terms of lifestyle and general well-being. Numerous studies have proven that in the company of dogs, seniors can enjoy more physical exercise, improved socialization, reduced stress and lowered blood pressure. That's just enough to help them age gracefully. If you happen to have a loved one in or going into assisted living and they want a dog, there are many breeds that can be suitable for their needs. The options are so many that you might be spoilt for choice.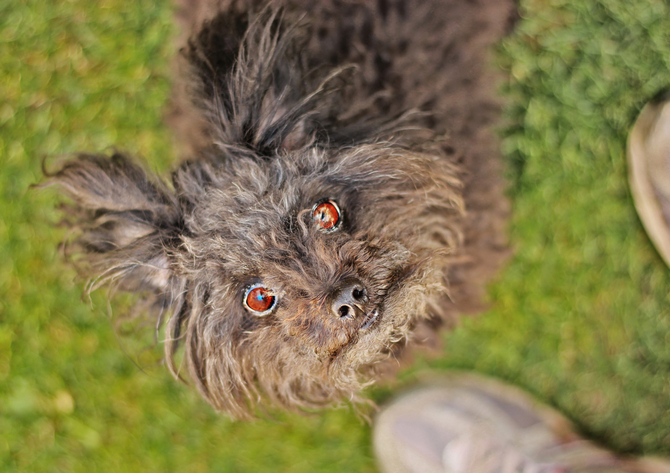 Guide: What to Look for When Choosing a Dog for Seniors
Getting a dog for the elderly is almost like choosing a mate as the main goal is companionship. So, your individual needs or those of your loved one are imperative. There are basically many factors that come into play when deciding which dog is best suited for persons in assisted living. The breed of the dog and the specific individual needs matter big time. And so are the regulations set by the assisted living community.
Just to give you a headstart in your search for the best dog breeds for retirees, here are the main factors you need to keep in mind:
Breed
For most of us, the idea of settling for the cutest dog in the animal shelter or kennel is quite tempting. But considering the physical limitations and health concerns that come with old age, it might be important to rethink the dog breed you go for. Different dog breeds come with different grooming and trainability requirements as well as noise levels. Not forgetting, there are breeds that are more susceptible to health issues compared to others.
Age of the Dog
Older dogs always make a better companion for senior citizens as they have undergone full training and are already mellowed out. Puppies, on the other hand, are high-energy, tend to chew a lot and are prone to accidents. That means they demand more attention, something that might not augur well with the lifestyle of older individuals. So, to avoid all the trouble and added responsibilities that come with puppies, it is prudent to go for adult or senior dogs.
Dog Size
The size of the dog is as important to the elderly as its breed and age. Bigger breeds are often harder to manage or deal with, especially for older citizens with diminishing strength or energy. There are cases where larger dogs have reportedly knocked over their senior companions in their retirement homes. And that's just as dangerous as it gets. So, in your search for the best dog breeds for seniors, it can be great to consider smaller dogs as they are easier to control and pick up as well.
Temperament
As you would expect, different dog breeds come with different temperaments. While some are high-energy and love to play a lot, others are easy-going and can be great for cuddles. That then means, you need to deeply consider your energy levels or those of your loved one living within an assisted living community.
Top 10 Best Dogs for Seniors
1. Bolognese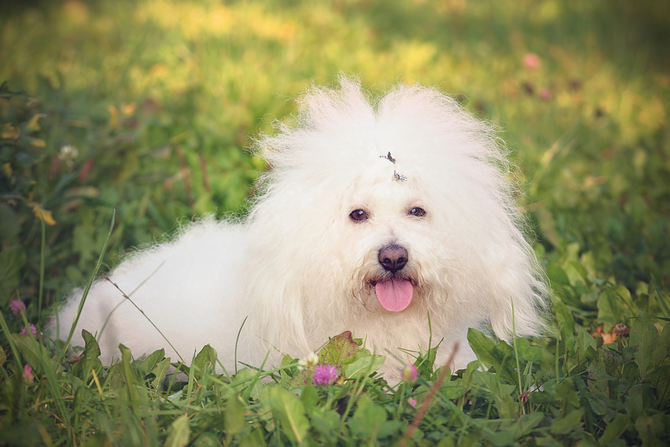 Everything about a Bolognese, from its dark eyes to the black button nose all through to the plush soft white coat, is irresistible. And their personality is charming too. A typical Bolognese is small and stocky in size, calm in demeanor, and a little playful as well as loyal to its owner. With such friendly characteristics, senior citizens are guaranteed of ultimate companionship and unconditional love during their stay at the assisted living facility. Bolognese is a rare breed and as such you would expect it to be pretty expensive. But if their company is all worth it, there's no price tag that can be too high.
2. Cocker Spaniel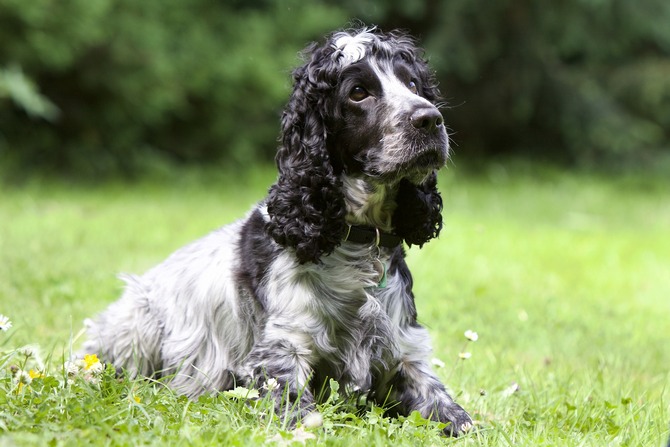 Who can't really fall for Cocker Spaniel's frolicsome nature, big dreamy eyes and its long, lush ears? Cocker Spaniels are usually medium-sized, with the males weighing between 25 to 30 pounds while the females hit the scale at between 20 to 25 pounds. That's fair enough for any retiree to handle. Their even temperament-gentle, affectionate, happy and loyal-particularly makes them one of the most coveted breeds among people in the AL (assisted living) communities. But they tend to be impish, energetic and require more attention when it comes to grooming. So, you should keep that in mind when getting one.
3. Shih Tzu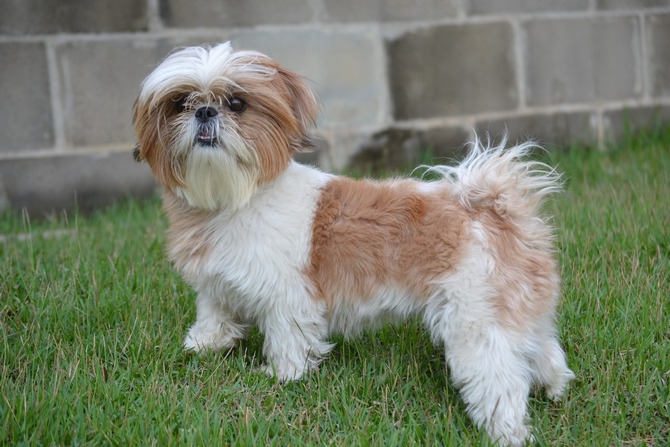 The Shih Tzus are just charming in every sense. They are gentle, affectionate and playful as well as alert in nature. The fact that they are small in size also makes them ideal for apartment living as well as perfect companions for outdoor strolls and/or play. They might have a tendency to bark though and with their long, luxurious coat, you may need to do some daily brushing and occasional professional trims to help them maintain their cute look. But that little noise and a bit of grooming time cannot be worth comparing the love and the much needed company this breed can offer you or your loved one who's in a retiree home.
4. Japanese Chin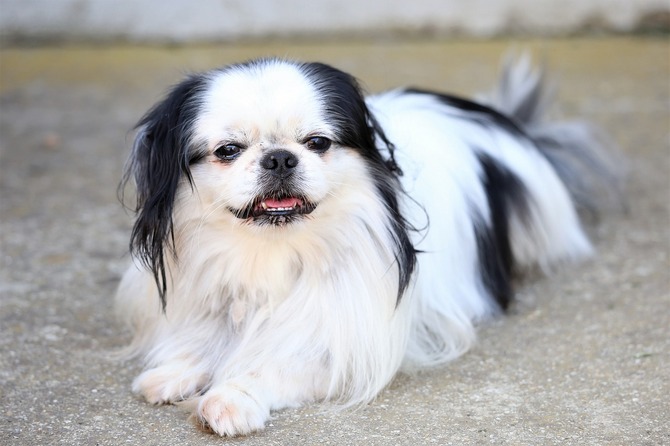 The Japanese Chin, with its distinctive feline-like demeanor, is a dog that truly defines nobility. It comes with a silky, lush coat that combines with its strabismus of the eyes to give it an overall elegant look. In terms of temperament, the Japanese Chin is generally mild-mannered, playful, loving and alert. It is also delicately small (weighing between 4 and 9 lbs) and pretty, making it an unmistakably great companion dog for senior citizens.
5. Scottish Terrier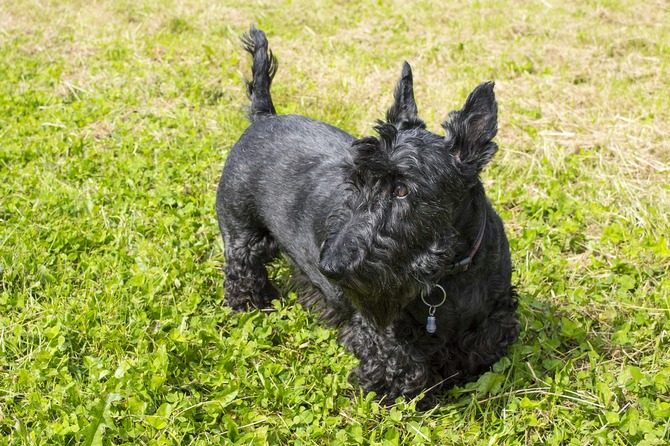 Scottish Terriers tend to be intelligent, independent, bold and dignified. Despite wearing a serious demeanor most of the time, they still have that admirable friendly and playful side. So, as a retiree, you can expect to enjoy lots of love and genuine companionship with this little dog by your side. With a height of about 10 inches and weight of between 18 to 22 pounds, the dog comes in a size that's quite manageable both in the indoors and outdoors. Thanks to their incredibly short legs, Scottish Terriers can only manage short strolls and don't naturally fancy those long-distance jogs. That means they can make a perfect walking companion for seniors or retirees.
6. Chihuahua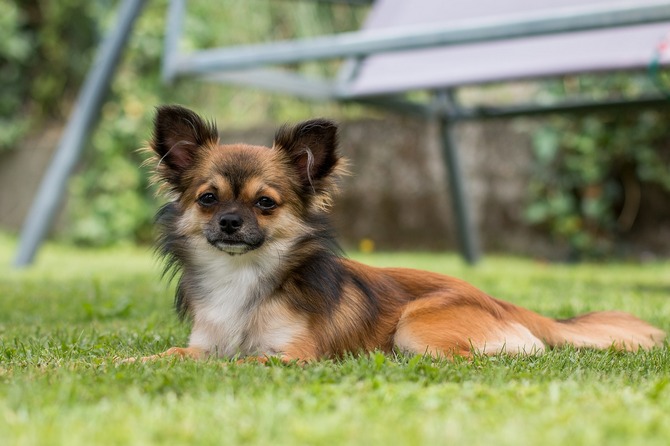 Chihuahuas are one of the smallest dog breeds that there is in the world. But even with their tiny size, they exude tons of love, loyalty and liveliness. They are sensitive and alert too. Most Chihuahuas don't really mind staying indoors and enjoying some cuddles, hitting the trails or playing in the park. Hence, they can sync or play along well with just about any personality. Their only downside is that they are not good with children and some tend to bark a lot. So, you might need to consider that when going for a Chihuahua.
7. Poodle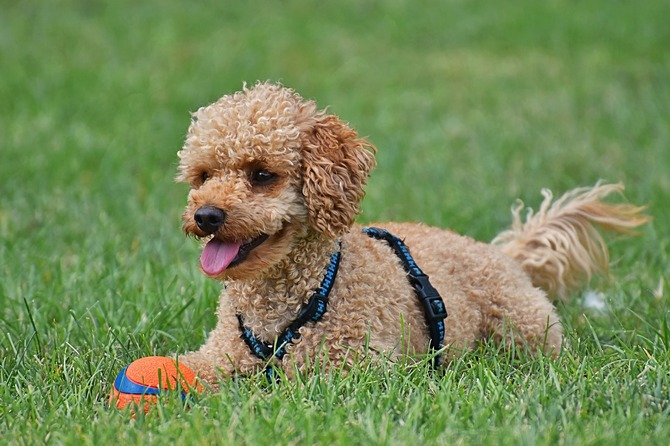 There is no single breed on this list that comes in a range of convenient sizes as the Poodle. From miniature to standard all through to large, there's something for everyone when it comes to choosing affair poodle size for people in assisted living. Poodles are naturally smart, affectionate, proud and highly trainable. They also enjoy a variety of activities including playing, strolling and cuddling; something that makes them easily adaptable to different living situations in retiree homes. One thing that might pose a challenge though, is the fact that they are hypoallergenic. And you may need to brace yourself for some regular grooming, considering their somewhat profuse coats.
8. Bichon Frise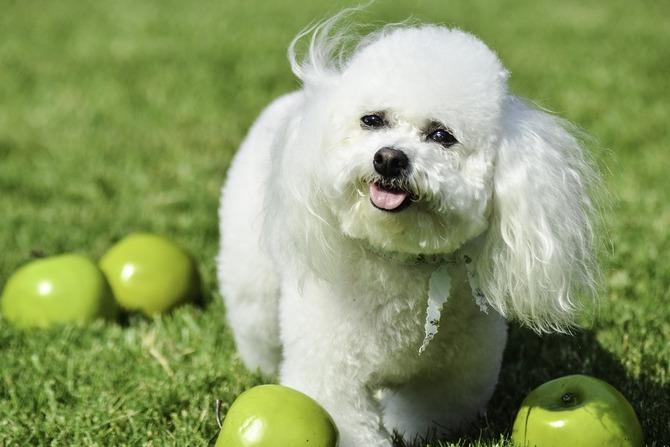 Weighing in between 7 and 12 pounds, Bichon Frise is a tiny cute dog that features black eyes and a distinctive white fluffy coat. From a distance, one could actually mistake it for a child's toy. But its personality is quite the opposite-cheerful, affectionate, playful, feisty and gentle. The fact that it adapts well to apartment living and is good to novice owners, makes it one of the ideal choices for those going into or already in assisted living communities. However, the biggest challenge of owning a Bichon Frise is grooming and that's largely because their coat is silky and comes with corkscrew curls. Otherwise, this dog breed is friendly and can make a good companion, both inside and outside assisted living apartments.
9. Maltese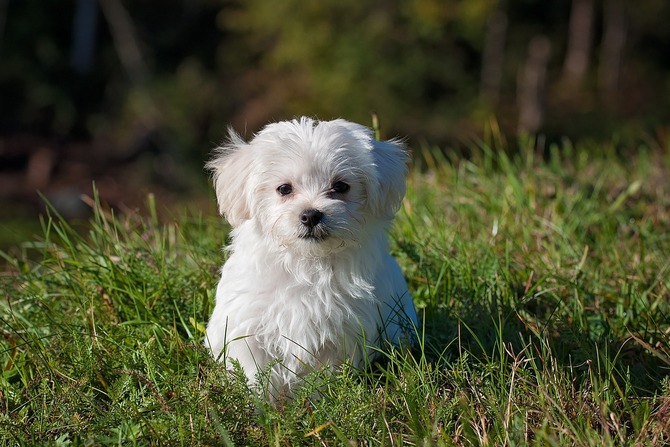 Maltese is a small breed of dog that loves to keep the company of people. It is gentle, affectionate, lively and sweet-tempered; yet fearless at the same time. What particularly stands out about the dog is its glamorous white coat, which gives it a somewhat haughty sense of nobility. Maltese is fun to spend time with, either sitting around or playing (indoors or outside) and is friendly to new owners too. The dog does not shed too much either, making it an ideal choice for retirees who are allergic. The only challenge is that its silky white coat requires daily grooming and occasional professional trimming, something that might be a little demanding.
10. Pomeranian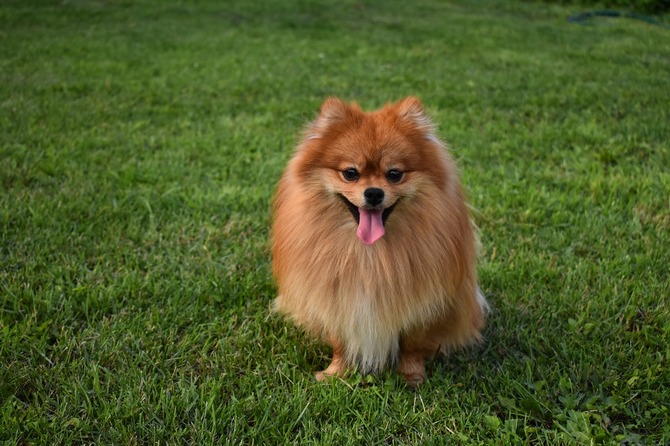 This small toy breed of the German Spitz descent is as cute looking as it is super friendly to humans. Aside from being extroverted, sociable, intelligent and playful, it is easy to handle and doesn't demand a lot of exercise time. So long as you give them all the attention they need, they'll shower you with unimaginable love and companionship. Pomeranian's grooming needs are pretty straightforward as the only thing you need to do is brush their thick coat regularly, which is quite fun. Perhaps their only downside is that they can be a bit noisy; but if you don't mind that, you'll be all good with this breed of dog by your side.
Final Thoughts
It's our hope that you loved this quick round-up of the best dog breeds for seniors/retirees. Most of these breeds are friendly, sociable, active and affectionate, so their company would definitely be worth it. All that truly matters when looking for the best breed is getting one that syncs with your needs or those of your loved ones, in terms of personality, assisted living space and requirements as well as budget.