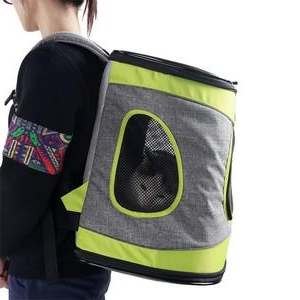 Did you know cats love to tag along with their owners for an adventure? Sadly, many cat owners fail to realize this truth. True, cats seem to be perfectly content with spending most of their time lounging on a carton box or surveying their self-claimed kingdom. But if given the chance, our feline companions would also love to promenade in the park!
Taking your little Tomcat out for a stroll has its benefits, too. Cats are curious and ever ready for adventure! Strolling your cat also keeps him from getting bored so he won't scratch your sofa or duel your dog.
However, cats are too proud to be fettered and hence, a leash alone is often impractical. Think of your cat as a mini modern day sabre-toothed tiger. Fortunately, there is an innovative way to bring your cat with you. Introducing, the cat bubble backpack.
Cat Backpack Reviews
1. Anzone Space Capsule Backpack – Best Cat Bubble Backpacks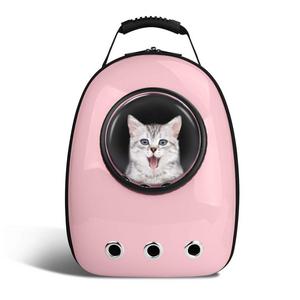 The Anzone Space Capsule Backpack is our number one choice for many reasons. There is more to this backpack than simply making your cat appear like an astronaut!
This kitty space capsule will turn heads with its vibrant color and sleek design but don't be fooled by its dainty appearance. This bubble backpack packs a punch with its eco-friendly polycarbonate construction. Know that polycarbonate has outstanding resistance against impact and temperature. Therefore, this backpack is incredibly strong and won't easily heat up during hot temperatures.
On top of its exemplary durability, this bubble backpack is engineered to provide a high level of comfort for you and your pet. You can wear the bag on the front or on the back whatever side is convenient. Its shoulder straps are comfy and reliable. Likewise, the base pad of this backpack is velvety soft to keep your pet snug at all times.
What is more, this bubble backpack offers good ventilation since the rest of the bag is made of sturdy and breathable Oxford fabric. It also has a significant number of ventilation holes to help increase airflow. Keeping this bubble backpack clean and fresh is also a breeze. Its base pad is removable and machine-washable.
Furthermore, this kitty space capsule is suitable for cats weighing 10 pounds or less. It measures 13" x 5.7" x 16" and is available in six vibrant colors. You can use this carrier for camping, cycling, hiking, and whatnot. Where else can you find a fashionable and heavy-duty backpack?
Pros
polycarbonate plastic and Oxford fabric construction
high performance against impact and temperature
includes mesh cover to replace the bubble dome
comfy and reliable shoulder straps
sleek waterproof hard case
removable and machine-washable base pad
Cons
quality of the bubble dome needs improvement
no wriggle room to turn around
2. Texsens Innovative Traveller Bubble Backpack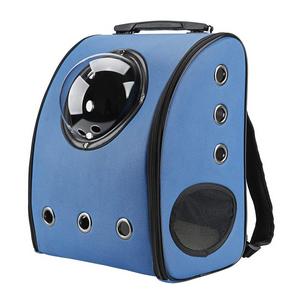 When it comes to pet supplies, Texsens is among the brands you can trust. This company has been supplying premium quality pet carriers for so many years. In fact, Texsens is the pioneer creator of the bubble backpack. Therefore, it is no surprise that they possess the upper hand when it comes to crafting this unique type of carrier.
The Innovative Traveller Bubble Backpack is among Texsens' best work. This backpack highlights its solid PU leather construction with up to eight delightful colors to choose from. This product measures 12.99" x 9.05" x 15.74" and is perfect for a 7-lbs. cat. Nonetheless, it is still roomy enough for a cat weighing 10 – 12 pounds.
In the center of the backpack is a cute transparent dome that allows your cat to feast his eyes on his beautiful surroundings. Whether your cat is standing or sitting, he will have a good view either way. This backpack also has numerous ventilation holes plus two circular mesh windows to keep your pet cool throughout the entire trip. Both mesh windows are made with PVC net.
Moreover, your pet can easily wriggle his way into the backpack as it features several entry points. While entering his carrier is effortless, his chances of escape, on the other hand, are slim. There are security measures integrated into the backpack to provide extra protection against runaway cats. However, you need to put your cat on a leash first and attach the leash to the carrier to make this feature work.
Furthermore, this backpack is absolutely comfy on the shoulders even you go out for hour-long hikes. It features wide, softly padded straps that you can easily tailor according to your height. What is more, the backpack has a top handle that you can use to fasten a seatbelt through. Being able to do so will protect your pet from injuries while you drive.
With all these features, the Texsens Innovative Traveller Backpack is indeed a revolutionary product. Perhaps the only thing that keeps it from becoming number one is the product's lack of user-friendly instructions.
Pros
bubble dome can be interchanged with a mesh window
provides sufficient room for a cat weighing 12 lbs. or less
solid PU leather construction
scratch-resistant rubber mesh windows
highly accessible, escape-proof, and well-ventilated
sturdy and adjustable shoulder straps with reliable reinforcement
the comfy base pad that won't collapse (washable and reversible)
Cons
there is hardly anything negative to say about this backpack
3. Petsfit Comfort Dog Carrier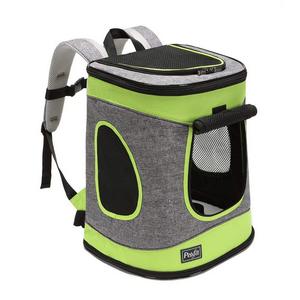 The Petsfit Comfort Dog Carrier is definitely not a bubble backpack; however, this particular carrier has an amazing list of features that are worth mentioning.
First of all, the Petsfit Comfort Dog Carrier may lack the astronaut vibe that bubble backpacks have but you can allow your furry sidekick can fly with you on an airplane. This backpack is also perfect for hiking on the hills or just running errands downtown.
And although this product is technically marketed for dogs, the Petsfit Comfort Dog Carrier is also ideal for little feline explorers weighing up to 15 pounds. The backpack is fairly large as it measures 15" x 17" x 13". However, it may be best to stow a cat that weighs 10 pounds or less to make the product last even much longer.
Moving on, this backpack is built with three large rubberized mesh windows for increased visibility and optimum ventilation. Despite the lack of extra pockets, this product makes up with the comfort level it gives. It features super comfortable shoulder straps and an additional chest and waist straps to ensure a snug fit.
Likewise, this backpack features double openings for easy loading and unloading. You can also find a hook inside the bag. Use it to attach your cat's collar into the carrier to keep your pet from accidentally escaping.
Furthermore, the Petsfit Comfort Dog Carrier has a foldable design, which makes storage quick and easy. Not to mention it uses removable liner and padding for easy cleaning.
Pros
airline approved carrier
accommodates cats weighing 15 lbs. or less
includes a secure clip and self-locking zippers
ultra-comfortable shoulder straps
includes chest and waist straps for better support
foldable design for easy storage
scratch-resistant mesh windows for maximum ventilation
Cons
no bubble dome
no top handle and extra pockets
straps, zippers and back padding need improvement
4. PetAmi Premium Pet Backpack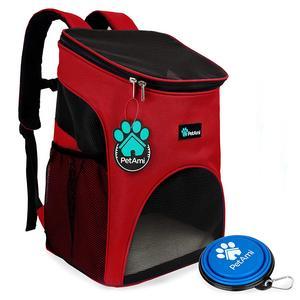 The PetAmi Premium Pet Backpack is far from being a futuristic kitty spaceship but this product is among the best backpacks you can get for your cat.
For one, the PetAmi Premium Backpack boasts of a 600D high-grade polyester construction, which makes it perfect cat carrier for frequent outdoor trips. the PetAmi Premium Pet Backpack is airline-approved and hence, you can bring your whiskery friend along with you across the country. Plus, there are seven colors to choose from so you can travel in style. The bag 's dimensions are 11.5" x 9" x 16", which is big enough for cats weighing up to eight pounds.
You can rest assured that your cat will stay cool throughout your entire trip as the backpack features four large mesh windows for maximum ventilation. You can find one from each side, one at the center, and a full-width mesh window at the top, which also serves as its entry point. Likewise, your cat will travel in superior comfort, thanks to the base pad's soft sherpa lining. Take note that the removable base itself is very sturdy.
In addition, this product comes with a cute water dish to quench your cat's thirst when need be. The backpack also has two large mesh pockets so you can tuck in other pet essentials. For a better fit and extra support, use the chest and waist buckles that come with this backpack.
This bag is also collapsible so you can easily fold it down for storage.
Pros
airline-approved
heavy-duty polyester construction
sturdy base pad with soft sherpa lining
4 mesh windows for maximum airflow
includes a free water dish
adjustable chest and waist buckles for support
collapsible design for easy storage
Cons
no bubble dome
single entry
won't hold its shape
a dedicated escapee may tear out the mesh
5. Giantex Space Capsule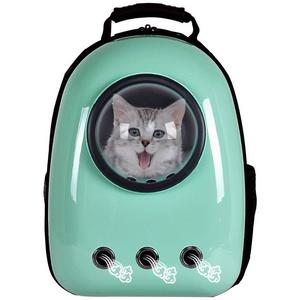 Giantex is a reputable company that has been creating pet supplies for quite a while now. Due to the rising demand for kitty spaceships, it comes as no surprise that Giantex has also jumped onto the bandwagon.
The Giantex' version of the kitty space capsule surely won't run short of space. This particular backpack is well-suited for larger cats weighing up to 15 pounds. The product measures 15.7" x 11.8" x 11".
Moreover, this carrier has a hard shell made of abrasion-resistant plastic. Likewise, the rest of the bag is made of durable and breathable Oxford cloth to ensure your pet stays cool for an extended period of time. You can also find ventilation holes and mesh windows to provide continuous airflow.
The Giantex Space Capsule functions similar to a regular backpack with its single entry point. Regardless, you can rest assured that it features the same internal environment that most bubble backpacks do. Not to mention the clear bubble dome so your cat can safely view his surroundings inside the backpack. There is also a hook where you can attach your cat's leash just in case he tries to escape during unloading.
This backpack has no whistles and bells aside from those already mentioned. On the bright, it is much more affordable compared to its counterparts. So if you are on a hunt for a cute-looking bubble backpack in a budget-friendly, the Giantex Space Capsule is the way to go!
Pros
budget-friendly
well-ventilated
the plastic shell is resistant to water and abrasion
provides ample room for a cat weighing 15 lbs. or less
comes with a safety hook
Cons
cats can tear off the mesh
single entry point
loading and unloading is difficult due to the 2 zippers that run from each end
6. PetAmi Deluxe Pet Backpack – Best Cat Hiking Backpack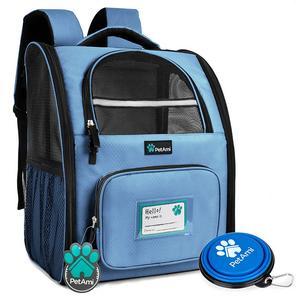 The PetAmi Deluxe Pet Backpack is our number one choice for hiking backpacks. This product is specially calibrated to cater to your cat's needs while both of you are out for an adventure.
With safety in mind, this model features a resilient non-collapsible structure. It won't crinkle or lose its shape to ensure your cat's safety at all times. Likewise, it comes with chest and waist buckles to provide extra support. You can also find a front pocket and a pouch for each side where you can tuck in a few pet essentials.
Since it is firmly constructed, your cat also has the luxury to wriggle around inside the backpack. Its sturdy base has a fuzzy sherpa lining to keep your cat's paws comfortable. Also, it is fairly obvious how well-ventilated this backpack is. You even have the option to open the mesh window to give your cat more visibility and headroom. So whether you are trying to escape the bustling city or driving to the vet, this backpack ensures your furry sidekick stays comfy throughout the entire trip. Both its back and shoulder straps feature extra thick padding to give the wearer comfort.
Just like other PetAmi products, this backpack boasts of its 600D high-grade polyester construction with up to nine dazzling colors to choose from. This backpack measures 12.5″ x 10.2″ x 16.3″ and has a weight limit of 13 pounds. A free cute water dish is also included in this product.
Pros
airline-approved
heavy-duty polyester construction
sturdy base pad with soft sherpa lining
double entry
includes a free water dish
adjustable chest and waist buckles for support
extra thick padding
will hold its shape
includes extra pockets
Cons
anxious cats may tear up the mesh
7. Texsens Innovative Traveler Bubble Backpack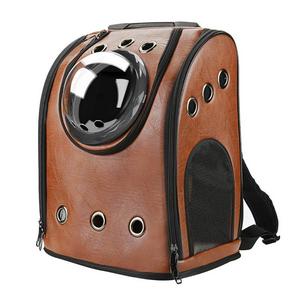 The Innovative Traveler Bubble Backpack by Texsens is definitely one multi-functional backpack. This kitty spaceship is heavy-duty as it is fancy. It boasts of its non-collapsible PU leather construction that measures 12.99" x 9.05" x 15.74" with a 12-pound weight limit.
Your cat can easily enter its backpack through its several entry points. Regardless how easy it is to load and unload your pet, you can rest assured that he won't freely escape. You have the option to attach your cat's leash into the bag as a preventative measure against runaway cats.
Moreover, this backpack's distinctive feature is no other than its clear bubble window, which allows your cat to view his surroundings. The bubble is situated perfectly in the middle of the backpack so your cat can enjoy a vivid view of his surroundings whether he is standing or standing.
In addition, this backpack is well-ventilated, thanks to its several ventilation holes and circular PVC net windows. Know that these are no ordinary mesh windows that an angry or anxious cat could rip apart. You may also interchange the bubble dome with a PVC mesh window, which you can buy separately.
To provide you with comfort, this backpack features wide and highly adjustable softly padded straps. There is also a top handle that allows you to carry you to the bag or fasten a seatbelt through.
Pros
bubble dome can be interchanged with a mesh window
weight limit of 12 lbs.
solid PU leather construction
scratch-resistant PVC mesh windows
sturdy and adjustable shoulder straps with reliable reinforcement
the comfy, washable, and reversible base pad
will hold its shape
plenty of ventilation holes
large mesh areas for maximum ventilation
Cons
mesh window is sold separately
8. Petsfit Comfort Dog Backpack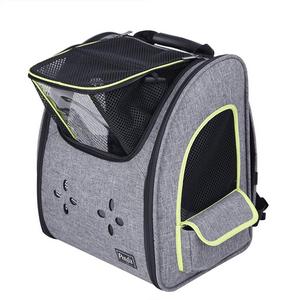 Although the Petsfit Comfort Dog Backpack is marketed for dogs, this backpack is also the perfect carrier for adventurous cats. This product is airline-approved and measures 16" x 10" x 13". Hence, you can easily tuck your backpack underneath a plane seat. Likewise, it has a weight limit of up to 15 pounds.
This particular Petsfit model is made with a combination of high-quality PU leather and eco-friendly EVA material, both of which keeps the backpack sturdy and resilient. You can expect this product to really hold its shape well no matter how squirmy your cat gets. It also features a sturdy bottom that will hold the brunt of your cat. The liner is removable for easy cleaning.
What is more, you can rest assured that your cat can sniff fresh air at all times. This bag features several rubberized mesh windows for maximum airflow and visibility. The entry point itself is all mesh. It is such a bonus that the windows can be rolled up, too.
Moreover, this backpack has a pair of well-padded shoulder straps and an additional chest and waist straps to give you a snug fit whether you wear it on the bag on the front or the back.
Pros
airline approved backpack
accommodates cats weighing 15 lbs. or less
heavy-duty zippers
ultra-comfortable shoulder straps
includes chest and waist straps for better support
rubberized mesh windows
includes side pockets
has reflective strip for better visibility at night
Cons
only has 2 color options
harness attachment needs improvement
9. Portable Outdoor Travel Backpack – Best Front Cat Carrier (Cat Front Backpack)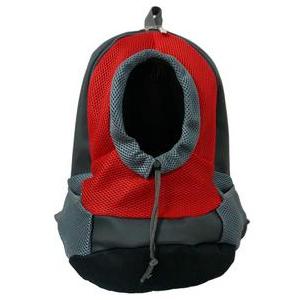 You don't have to pay a premium price to get a cute and functional pet carrier. This non-branded backpack allows you to carry your tiny kitty just like a fur-baby. It offers a front-facing position to give you more access to your pet.
This pet carrier measures 16.53" x 11.41" x 6.69" and has a weight capacity of roughly 7.7 pounds. Hence, this bag is more suitable for a kitten or an adult cat of a small breed. Its entry point, which is located at the very center, can be adjusted using a drawstring for easy loading and unloading of your pet. You can also find a hook inside this backpack, which you can use to attach your pet's collar to ensure he won't accidentally get out of the bag.
Moreover, this cute carrier is designed with wide, comfortable shoulder straps to give you comfort and help reduce the strain you get from carrying your pet. There are also side pockets where you can tuck in your phone and a pack of treats.
Furthermore, this portable outdoor travel backpack is made of high-resilient Oxford fabric that you can wash.
Pros
made with light and breathable Oxford fabric
drawstring and hook combination prevents jumping out
soft, wide, padded shoulder straps
Cons
mesh fabric is fragile
only for small cats
has no sturdy bottom
10. HBuir Innovative Diamond Traveler Pet Carrier – Best Cat Backpack for a Large Cat

You'll know this backpack is cool and eccentric with just a quick glance. Although this backpack lies under the kitty spaceship category, the HBuir Innovative Diamond Traveler Pet Carrier can also serve as the perfect all-around cat backpack. You can use it for cycling, hiking, traveling, and whatnot.
This backpack showcases several distinctive features. As its name suggests, it features a 3D diamond cut, giving it an intergalactic vibe. While its unique hard diamond shell is crafted to maintain its intergalactic theme, it also provides more room for your pet inside. This bag measures approximately 13.8" x 10.6" x 18.1" and has no problem carrying the brunt of a large cat. It has a weight capacity of 14 – 18 pounds, which means a Chartreux, Savannah, or even a Maine Coon cat can finally tag along.
Know that the interior of this backpack provides a cool and comfortable environment for your cat. The two sides of the backpack are made of breathable mesh cloth. Not to mention the four ventilation holes.
As with its counterparts, this backpack's bubble dome can be also interchanged with a mesh cover just in case the temperature really gets hot. This backpack also has a safety hook that you can use to attach your cat's leash. Lastly, it includes a removable base pad that you can easily load in the washing machine for cleaning.
Pros
perfect for a cat weighing 14 – 18 lbs.
unique 3D diamond cut
multi-functional
interchangeable bubble dome
well-ventilated and comfortable
airline-approved
Cons
plastic shell has less impact resistance compared to more expensive options
Factors to Consider When Choosing a Bubble Backpack
1. Size
The importance of choosing the right size for your cat's bubble backpack can't be stressed enough. Choose one that is too small and your cat will be cramped inside. Choose another that is too large and your cat won't be able to sneak into the transparent window, which defeats the purpose of buying a bubble backpack in the first place.
To find the right size, you need to measure how big and heavy your cat is. Cats vary in size as they vary in the breed. Second, you need to consider your cat's personality. If your cat is too squirmy, his bubble backpack should have extra wriggle room.
A majority of cat backpacks are designed for regular-sized cats up to 12 pounds. So if you own a large breed, delve into the product details and ask if there are bigger sizes available.
2. Comfort for Your Cat
Lack of airflow causes your cat discomfort. Opt for a bubble backpack that exhibits enough ventilation holes so your cat can constantly sniff fresh air. With proper ventilation, your cat won't fall victim to overheating during hot temperatures.
Also, don't forget to check the backpack's base pad. While it provides soft cushioning, it should also be solid. Otherwise, it will eventually bend or curve due to your cat's weight.
3. Comfort for You
Carrying the brunt of your cat will eventually strain your shoulders and hence, causing you to wear out easily. To enjoy that long trek near the lake or a quick leisure walk in the park, choose a bubble backpack that features a pair of wide and well-padded shoulder straps.
4. Functionality
You simply can't go out empty-handed. Choose a bubble backpack that offers additional storage space to tuck in pet essentials and personal belongings during your trip.
In addition, consider the type of activities you need the backpack for. Is it for traveling, hiking, cycling, or overnight camping? There are backpacks with styles that won't suit some activities.
You also need to decide how you wish to carry your dog. You can choose between rear-facing, forward-facing, or both.
5. Durability and Safety
A bag that could be clawed open by your cat increases the likelihood of him escaping. You don't want this to happen especially if you are out on a forest. Therefore, choose a backpack made only with high-quality materials. A solid backpack may also carry a heavier price tag but rest assured it will retain its shape even after years of abuse.
If you have a dedicated escape artist for a cat, opt for a backpack that exhibits safety connectors where you can attach his harness. This feature ensures an extra level of safety when opening the backpack.
6. Ease of Use and Cleaning
Putting your cat inside and outside the backpack should be a cinch unless you want him to hate his backpack with passion. The bubble backpack should have an entry point that is wide enough for your cat. Likewise, the backpack should be easy to maintain.
Benefits of a Bubble Backpack
Convenient and Easy to Use
Unlike strollers or leashes, a bubble backpack is much more convenient for you. Instead of straining one part of your body, which regular carriers do, a backpack evenly distributes the weight of your pet on both shoulders. Plus, it provides freedom of movement as your hands are free.
Provides Your Cat with a Better View
Your cat will surely look forward to the bubble dome! Not because he will look like an astronaut in a space capsule (which is no doubt amusing for you) but because it provides him with a crisp view of his surroundings that regular mesh bags don't. Since your cat is about the same height as your back, he can also enjoy a much bigger picture of the world around him.
Safe and Secure
Unlike regular handheld carriers and strollers, a backpack won't move a lot. It won't swing or jerk around each time you take a step. So even if you are walking on a rocky road or a steep hill, your cat will enjoy a safe and easy trip.
Unique
If you think putting your cat in a backpack is cool, wait till your friends see your cat bobbing along inside his space capsule! The bubble backpack will surely make you the talk of the town after people see how adorable your cat is inside such a quirky-looking carrier.
Tips to Make Your Cat Love the New Backpack
Some cats can be really stubborn. The following are tips to help you pique his interest!
Cats are extremely cautious and hence, you need to acclimate your cat to this new strange object. Put treats inside the backpack so he can further speculate.
Don't keep the backpack closed for long during your first attempt. Take your cat for short walks and from then on, gradually increase the duration.
Always put the backpack on display and tuck in familiar items such as your cat's favorite toys and treats.