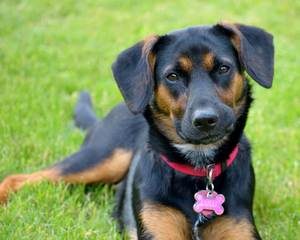 Certain dogs' behavior cannot simply be altered by using trial and error training or operant conditioning. A good owner will always want to make his dog behave in a good manner when around other people or other dogs. This is also the reason his owner must spend a lot of time training him to respond to basic commands and to stand still when he absolutely needs to. There are many techniques to make this happen but none of them seem to work as well as a bark collar.
Opinions are divided when it comes to this collar because people are uncertain whether it's the proper way to make your dog behave. It's up to the owner to weight out its pros and cons and to decide whether using one is a good idea. A bark collar usually creates a sensation that feels like a static electrical shock. A dog can induce this shock by passing an invisible boundary like an electric fence which can usually be purchased along with the collar, or it can sense a vibration from the dog's throat. It usually warns the dog before the shock is administered and it is a common tool for all dog trainers.
Bark Collar Buyer's Guide
Common Uses
One would think that a "bark collar" would only be used to prevent dogs from barking too much. However, that was its original function and manufacturers have found ways to use this collar as a method for various other functions. Let's mention them!
Controlling Barking and Behavior – The collar's original function was to prevent dogs' barking using various methods. First, the collar registers and recognizes the barking by using sound or vibration sensors implemented in its design. Usually, after that, a warning beeping sounds precedes the punishment which comes in various forms. If the dog collar is high-quality, it will use dual sensors to prevent the accidental activation of the collar, which can confuse the dog and fail to make him realize what causes the sensation. Some collars come with a remote control which can be used in order to train the dog for other activities by using trial and error learning.
Limiting the Dog's Movement – There are various underground fencing systems which can be installed in order to deter the dog from leaving your yard. It's great because you can avoid using real fences which look ugly and sometimes even decrease the value of your property. When the dog crosses the perimeter, an electric signal is sent which activates the color and delivers a punishment.
Four Main Types of Bark Collars
There are generally four types of bark collars. They are separated by the type of punishment they inflict upon the dog. They are listed as follows: vibration, electrical pulse, citronella smell and ultrasonic sound. Some collars from specific manufacturers combine many sensations and leave it for the owner to choose whichever he likes best.
Vibration – When the dog barks, this type of anti-bark collar emits a vibration whose intensity can be easily adjusted. It's not so different from the regular vibration that can be observed in mobile phones or tablets. The conventional wisdom is that this bark collar is not so efficient because its performance can differ from dog to dog. For instance, dogs whose skin is too thick or whose hair is too long won't feel the vibration as good as dogs with short hair and thin skin.
Electrical Pulse – Bark collars which use electrical pulse as the sensation they emit are probably the most common and popular ones among dog owner. After the bark has been detected, a mild and harmless static shock is applied. The shock is sometimes even simulated so no real threat is posed for the dog. This method has also proven to be the most effective because the shock quickly deters the dog from barking at all. There are various modes of operation and some collars even provide a shock that keeps getting stronger progressively until the dog seizes its barking. Most animal activists and critics look down on this type of bark collar since they claim it's not humane. Some countries even accepted this protests and banned the collar completely.
Citronella Smell – This anti-bark collar seizes from any type of physical punishment by utilizing strong citronella odor which is activated every time the dog barks. There is both mist and a spray which are used as a deterrent. Its efficiency can be debated since different dogs handle the smell in a different manner. Experts claim that this collar works best for small dogs who don't bark excessively in the first place. Continuous and excessive barking can lead to the citronella container emptying very quickly. It can also be expensive and time-consuming to fill the container every once in a while. However, animal activists prefer this collar and it's considered quite humane.
Ultrasonic – Ultrasonic anti-bark collars produce a sound of a high pitch after they deduce that the dog has started barking. This type of sound is not so loud and disturbing for humans, but dogs have a different hearing system than humans and this sound tends to bother them a lot. This method is not as harsh as others and it can be used effectively on dogs who don't handle any other type of punishment.
Sensors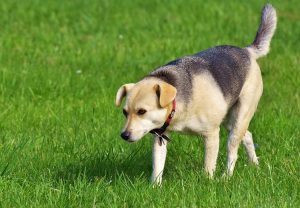 There are actually two sensor types available on the market today. One of them only registers the sound of barking and the other one registers the vibration. Only once the sensors register one of these elements is when the dog receives a negative response. Choosing the right sensation can be difficult and hard to get right, but we will recommend the vibration since sounds get mixed up in a crowded place. Another option is to purchase a collar with a dual sensor, a sensor which can detect both sound and vibration, and decrease the number of false alarms which used to trigger the collar. These collars are usually more expensive but it works better and more secure.
The reason it's important to decrease the number of false alarms is the fact they actually make the collar seem worthless if they occur too often. This will definitely confuse the dog and he won't be able to realize which behavior causes the unpleasant sensation in the form of shocks, sound, vibrations or smell. Specialists in this area recommend that dog owners use a dual sensor bark collar which always needs to register both the sound and sensation before emitting anything.
Dog and Collar Size
Dogs vary in height and weight more than humans do so keep that in mind when making your purchase. Always measure the exact width of his neck before looking for a bark collar online or take the dog with you if you are going to make the purchase in person. Weight can also be an issue since small dogs cannot handle the same weight of the collar when compared to big dogs. It can fit perfectly but it can be heavy and limit his movement and make him more aggressive.
Another thing to keep in mind is that the fit is very important. Most collars can be adjusted when it comes to width and that is a good thing. You will want to strike the balance between a loose and a tight fit. A fit that is too tight will bother the dog and he won't be able to relax and breathe properly. A too loose fit will diminish the effect of an electrical shock or a vibration. Additionally, the dog will be able to move it around and even break it if he has a chance.
Controls
Bark collars usually provide an automatic response and they don't usually require a human intervention. They automatically adjust the level of the punishment the dog receives and it cannot be changed. In a similar manner, they also cannot change their sensitivity towards a certain behavior. For example, a bark collar that detects the vibration of a bark will sometimes be triggered by the dog's silent growling which is a behavior that should not be punished. However, even bark collars which use the automatic system to punish the dog have certain adjustments which occur if the dog does not stop barking.
Anti-bark collars that can be controlled are usually more expensive since they can control the intensity of the sensation. You can trigger them manually if the dog is chasing a kid or if he is getting too far away from you while you're on a walk. They can be used to train the dog in other types of behavior very successfully. He will quickly learn about everything and you can adjust its settings manually. Some dog experts even claim that dog owners should test their collars on themselves to check whether the shock is too strong for the dog. This can generally be an issue if someone has been touching the controls without your knowledge.
Different Brands
There are many different brands to choose from in this industry. However, you should stick with well-known reputable brands because this product is affecting somebody else besides you. It's affecting your dog and you wouldn't want to see your dog get hurt because you wanted a cheap collar from an unknown manufacturer.
Always try to find the best collar suitable for your dog. Not all dogs are going to love the same type of collar. Try to find out more online after reading this buying guide. We have also provided a list of best dog bark collars for you to check out!
Top Dog Anti Bark Collar Reviews 2018
Best Electronic Bark Collar
SportDOG Rechargeable Bark Control Collar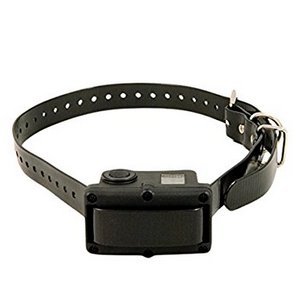 This is probably one of the most popular anti-bark collars on the market. It used both sound and vibration sensors to accurately pick up the barking and react accordingly. One of the features that made it so popular is its three training modes: temperament mode, progressive mode, and user-selected correction mode. Temperament mode increases the stimulation until the dog stops barking and continues from that level the next time he barks whereas the progressive mode resets when the dog stops barking. The user-selected mode can be adjusted in 10 different ways. The battery can last up to a couple of years with proper charging. It's important to state that the collar is waterproof and it can be worn by dogs weighing more than 8 pounds.
Pros:
Dual sensors make sure there are no false alarms, which improve the dog's learning process greatly.

The battery lasts very long and it needs to be charged around once a month.

There are many different modes to choose from.
Cons:
Not suitable for dogs that weigh under 8 pounds, but it can also be heavy for other dogs.

It's not exactly on the cheap side.
Dogtek Electronic Bark Control Dog Collar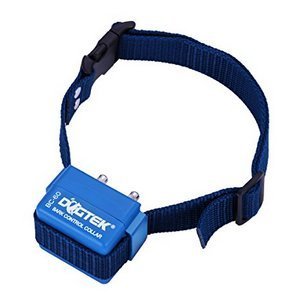 This dog collar utilizes warning sounds along with a static shock to try to get your dog to stop barking. The user can even choose between these two mods. The sensor this bark collar uses is vibration to correctly detect the barking. The warning sounds beep for around 30 seconds and only then will the dog receive the shock if the owner has set the collar to do it. The battery can last for as long as a half year and you won't need to worry about that. However, this collar is not waterproof and you should pay attention to where your dog is going.
Pros:
The vibration sensor is very good and it only detects the dog's barking, without many false alarms.

The dog learns to recognize the beeping sounds and he often stops barking after a couple of seconds.

The battery can last for a very long time

If you don't like the shock option, you can always stick with the beeping sounds since you can adjust it.
Cons:
This bark collar is only for larger dogs (above 15 pounds)

It's not waterproof and it's not recommended for dogs who like to swim or to play in the mud.
PetSafe Basic Bark Control Collar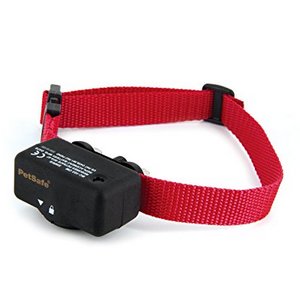 PetSafe Basic Bar Control Collar utilizes a vibration sensor to detect the dog's barking and it automatically delivers safe static shocks which increase in strength automatically over time. There are six levels of shock strength and there is a safety feature that shuts it down in some instances. A beeping sound precedes the shock which is a great warning for both the dog and its owner. When the dog starts to bark, it increases the level of corrections until it stops. When the dog starts barking again, it continues from the lowest level. However, the battery doesn't last very long and many customers claim that this makes the use of this bark collar very expensive.
Pros:
The vibration sensor correctly differs between the dog's barking and other sounds in the environment.

Six levels of static shock ensure that the dog stops barking quickly and later ceased to bark at all.

It's waterproof and great for active, playful dogs.
Cons:
The battery life is very short and replacement batteries can be expensive and the cost can add up.

Some users claim that the collar states that the shock was delivered but it actually doesn't happen.
Dogtra YS500 Water Proof No Bark Collar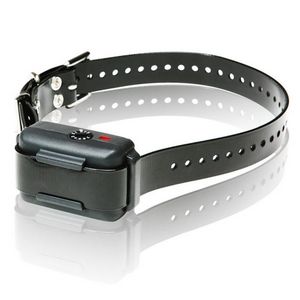 This anti-bark collar can also be called "yapper-stopper" and that is exactly what "YS" in its name stands for. It is advertised as a bulky bark collar for medium to large sized dogs and it's very bulky indeed, with customers comparing it to a brick. Its sizing is a bit off so check the customer reviews before purchasing. It uses a vibration sensor to detect barking after which it gives the dog 15 seconds before administering a shock. There are seven levels of intensity which can be adjusted directly on the collar. You should actually test the collar on yourself to see just how strong it is. The battery can last up to 15 days but it needs to be charged around 10 hours to reach its full capacity.
Pros:
There are seven levels of shock intensity which is great if your dog does not quit barking after using a low level.

The battery is great and rechargeable, making this a high-quality, long-term purchase.

It is very strong and bulky, and it's resistant to water.
Cons:
It can actually feel very bulky for medium sized dogs and it can make them feel uncomfortable, as customers say.

There is no warning sounds or vibration before the shock.
Garmin BarkLimiter Deluxe Dog Training Device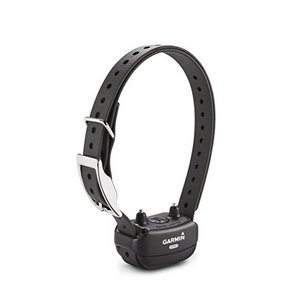 This high-tech collar distinguishes barking among other sounds by using an accelerometer-based bark identification technology. It's basically a vibration sensor that utilizes this technology in order to differ between barking and other sounds a dog can make, such as growling. There are two options for you to choose from: you can either punish the dog with a static shock or a vibration sensation, so feel free to use whichever method you find useful. You can either use to automatic stimulation which increases and decrease based on the preprogrammed functionality, or you can use the manual setting. There is also the Bark Odometer which will count the number of barks the collar detected.
Pros:
The dog owner can choose between a rechargeable and a replaceable battery and both of which are offering great power.

This product is waterproof.

It's good to have an option to choose between vibration and static shock. The same goes for the choice between replaceable and rechargeable batteries.

Being able to know just how many times your dog barked is a great function, and also a unique one.
Cons:
The product did its magic for the majority of customers, but some of them claim it didn't prevent barking of their dogs.

It's very expensive and you should think before making your purchase.
DT Systems Bark Collar Trainer – Ultra Min-e 2090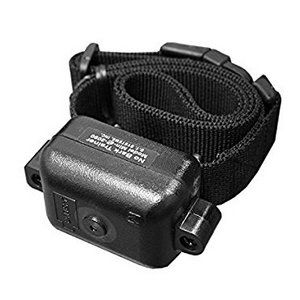 A great thing about this anti-bark collar is that it can fit both very small and very large dogs with its adjustable strap. There are eight levels of intensity and the collar will remember the last level the dog activated. The collar itself is very lightweight and suitable for small dogs. It is also waterproof, making it great for active, playful dogs. The vibration sensor is pretty reliable and it will recognize the barking effectively. However, there is no way of knowing the current intensity level and there is no warning sound before the sensation is delivered.
Pros:
This adjustable bark collar can be bought for any dog of any size and you don't have to select different sizing. It's also lightweight to suit small dogs.

The sensor itself is pretty reliable and it won't punish your dog for sounds he's not responsible for.

The collar is able to remember the last state of its intensity level.
Cons:
There is no way of knowing what is the current intensity level of the shock.

There is no warning sound before the shock is delivered.
Best Citronella Bark Collar
PetSafe Gentle Spray Bark Collar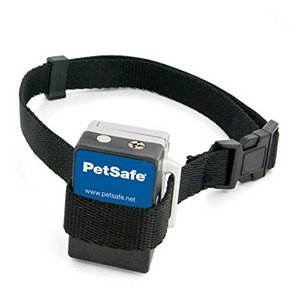 Gentle Spray Bark Collar from PetSafe uses the citronella spray to spray the dog when it begins barking. It is best to use this product for dogs that are at least six months old and if they weigh more than six pounds. The spray goes straight to the dog's nose after he barks. The bark is detected by a microphone sensor. One would think that this sensor is not reliable, but customers have reported that it does its job and there are no false alarms caused by other dogs or by the specific dog's growling or similar.
Pros:
Even though the sensor is a microphone, the collar still detects the dog's barks correctly and the dog is not punished for other sounds.

It's rather harmless and you can rest assured knowing that your dog will definitely not end up hurt or similar.
Cons:
There is no indicator showing the current state of the battery and you never know when you need to replace it.

It needs to be replaced often and it's not a good choice for slow-learning dogs.
DOGTEK No Bark Citronella Spray for Dogs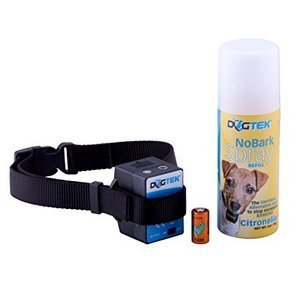 This bark collar uses citronella spray to deter dogs from barking. It automatically sprays the dog when it begins barking. A good advantage of this collar is the fact that it can fit any dog well as long as it weighs over six pounds. Its neck sizing goes up to 24 inches. However, its downside comes in the form of the sensor it uses to detect barking. It uses a microphone which can sometimes pick up sounds other than barking and trigger the spray. It sometimes goes off when the dog is not even wearing it. Additionally, customers have reported that the collar sprays them each time they try to fill the container or remove the battery. This is a waste since the container is not big at all.
Pros:
The product can be worn by dogs of all sizes because it features an adjustable strap.

Customers are generally satisfied with its performance and it's great that there is not a lot action on the human side, except filling the container or replacing a battery.

It's rather easy to put on or remove the collar and the only problem is filling the container.
Cons:
The collar is rather sensitive and there are a lot of false alarms, even when the dog is not wearing it.

It sprays the cinderella spray every time it's being refilled and it can bother the customers.
Best Vibration Bark Control Collar for Dog
PetSafe Vibration Bark Control Collar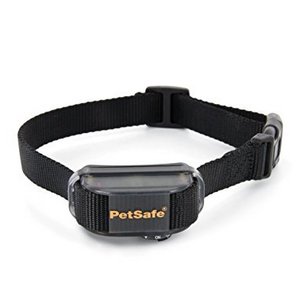 This is a vibration bark collar and it actually uses vibrations to deter the dog from excessive barking. Fortunately, it features two sensors that really make sure that only the barking gets recognized and only then is action taken. There is almost no way that another dog's barking or any other sound would trigger the collar. There are two points in the collar that distribute vibrations. Those vibrations are similar to those that a mobile phone can produce. The duration of the vibration is randomized since it will deter the dog from barking better because he won't be able to form a pattern in his brain. There are 10 different combinations for the vibration to occur. A colored LED light is implemented to inform the dog owner whether the battery needs replacing and also indicating whether the device is on or off. The battery can last up to three months and it can easily be replaced. The collar fits almost all dog sizes.
Pros:
10 vibration combinations with a random length each time ensures that the dog is deterred from barking without ever getting used to the sensation.

The LED indicator is a nice touch and it displays basic information using different colors.

Two sensors are there to make sure that only the dog that is wearing the collar is able to activate it with his barking.
Cons:
This product has received mixed ratings online. Some people claimed it really helped whereas others state that it only worked for a couple of weeks before the vibration stopped bothering the dog.

The intensity of the vibration cannot be altered.
Best Ultrasonic Bark Collar
Dogtek NoBark Sonic Bark Control Dog Collar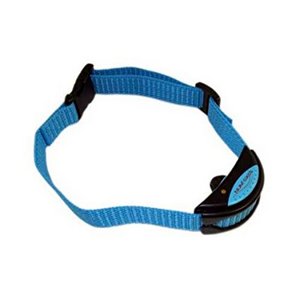 There are three modes in which this bark collar operates. The dog owner is able to choose between ultrasonic sounds and vibration in order to stop the dog from barking. What makes this collar different from others is the fact that it weighs only 2 ounces, making if perfect for any dog. There are two vibration sensors in the collar, one for long-haired and one for short-haired dogs. It can be a hassle to replace them and customers have reported that they can be too sensitive and activate the collar when the dog is merely walking around. The correction mode can be set to ultrasonic sounds, vibration or both. Even though the collar is lightweight, it mustn't get in touch with water, making it more of an indoor collar.
Pros:
It's very lightweight and it can be easily adjusted to fit any dog's size.

One of the few collars that feature multiple deterrents (ultrasound and vibration).
Cons:
Even though it uses a vibration sensor, it can be easily activated while the dog is not even barking.

There is no display to showcase what is going on.

Some customers have reported that the product is not even effective.
Best Outdoor Bark Control
PetSafe Outdoor Ultrasonic Bark Deterrent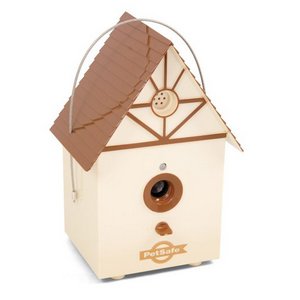 The first ultrasonic anti-bark collar to make our list is also the first one to feature a microphone sensor which detects the sounds that come from the dog's barking. However, bark collars that use a microphone as their sensor can often register other sounds as punish your dog for something he hasn't done at all. Customers have also reported that simple sounds such as traffic or a baby crying sometimes trigger the collar. When the dog barks, the collar delivers a high-pitched sound which bothers the dog and it can also be heard by its owner so he knows what happened. However, some dogs simply don't care and continue barking even after the sound is emitted. The battery is good and replaceable.
Pros:
This bark collar is water resistant and easy to use for most dog breeds.

It is also very lightweight and it can be adjusted to fit even the small dogs.
Cons:
The microphone is very sensitive and the collar often goes off for no reason and confuses the dog.

Even after the sound is emitted correctly, some dogs simply ignore it.

It's not very suitable for larger dogs because it simply won't fit.