If you want a reptile for a pet, you could never go wrong with the Pogona! This cold-blooded reptile hailing from Australia is among the friendliest animals in the world. In fact, Pogonas acknowledge their owners and respond to their touch. Now, that's quite rare for a reptile. Even dressing up a Pogona is very likely!
Pogonas are also called Bearded Dragons or Beardies. Their moniker is derived from the guttural pouch, which is found under their necks that is covered in spiny projections that bears a resemblance to a man's beard. When threatened, Beardies puff out their beards to make themselves appear stouter than they really are. Likewise, they display their affection by waving their hands and bobbing their heads. When upset or stressed, their beards turn ebony.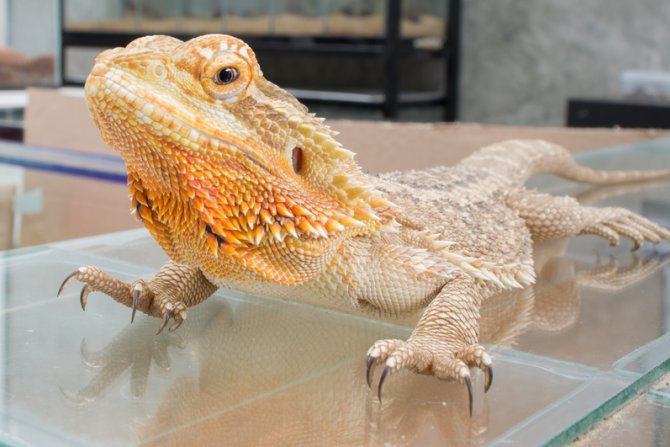 Unlike their night-loving relatives, Beardies don't keep you up at night. Rather, they are active during the day. They love to loll on logs and bask in the sunshine. Hence, Beardies make good pets for families who prefer to interact with their pets during the daytime.
So, have you decided to keep a Beardie as a pet? Just like any other pet, there are certain requirements you need to account for in order to keep your Beardie hale and hearty. One of those requirements is an appropriate enclosure. Bearded dragons are among the most popular reptile pets, so the market is bombarded with terrariums and cages galore!
If you're a newbie, you may want to check our buying guide first. But if you're already well-versed with what kind of habitat Bearded Dragons dwell, then go ahead and head straight to our top 5! Whether you are on a hunt for a multi-purpose functionality, a sleek design or whatnot, we are confident that we have what you need for your bad-ass pet!
Top 10 Best Bearded Dragon Terrariums
1. Carolina Custom Large Terrarium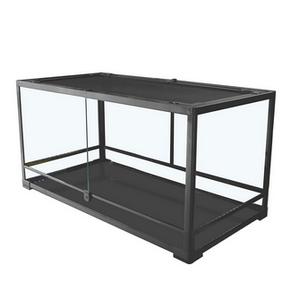 Carolina Custom Cages produce a wide range of solidly built confines. This particular model measures 36" x 18" x 18". As expected of Carolina, reptile owners who ordered this cage were wowed to receive such a neatly packaged product.
The cage is a breeze to assemble, making it a lot quicker to get your Beardie lounging in his abode. It comes with a reliable lock to make it impossible for intruders to open the cage. This cage is also designed with a waterproof base. Its top screen is a metal mesh that is not too fine, so it retains heat flawlessly. You can find holes for electric cables that are small enough, so you won't have to plug in crumpled tissues to prevent your pet's dinner from getting away.
Technically, this cage shares almost exactly the same features with the previous Carolina product. The only difference is that it does not have sliding doors. It is still a great cage and is without a doubt an absolute bargain.
Pros:
Super easy assembly
Very spacious
Large doors for increased accessibility
Metal mesh and door lock provide added security
Removable metal mesh won't restrict heat
Easy-to-clean crystal clear glass
Holes for electrical wiring are small enough
Has waterproof base
Cons:
A foot smaller than the previous product
Does not have sliding doors
2. Reptizoo Reptile Glass Terrarium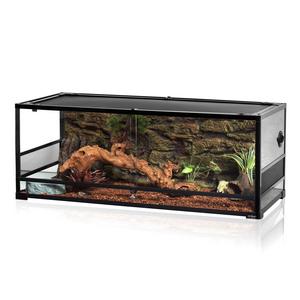 The REPTIZOO Reptile Glass Terrarium is also a good choice. It provides a comfortable environment for your Bearded Dragon to live in. You can find closable tube inlets so you can install various types of equipment that will help you mimic the natural habitat of your pet.
This cage is built with front opening doors, allowing easy access. The doors are designed to close separately to minimize chances of escape while you feed or make adjustments inside the cage. This cage also features a raised waterproof bottom so you can tuck a substrate heater underneath.
Moreover, this cage comes with a user-friendly manual. It only takes five minutes to install this cage. This product measures 36" x 18" x 18", which is roomy enough for one Bearded Dragon. If you want to place more equipment and some decorations to boot, it would be wise to choose a bigger cage.
Pros:
Large front opening doors open individually
The full-width metal top screen allows UVB penetration
Complete with closable tube inlets for electrical equipment
Window ventilation on the left and right sides
Easy to assemble
Cons:
Only comes with one key to control the door lock
Limits your freedom to place more supplies
3. Exo Terra Large Tall Glass Terrarium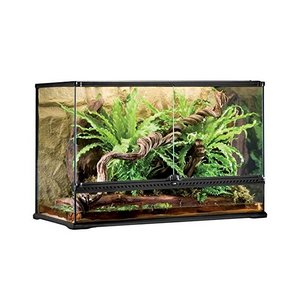 The Exo Terra All Glass Terrarium gives you the opportunity to simulate any type of environment suitable for your reptile - be it a dry desert, a tropical environment, or whatnot. It is complete with a waterproof base, which is helpful when you create a miniature lake for your pet. This makes the terrarium seemingly realistic!
Additionally, it exhibits a generously sized ground base that you can fill with sand, dirt or any substrate that your Beardie likes to scoop up. Its base is much deeper compared to a majority of glass tanks, affording your Beardie all the space he needs.
One of the best selling points of the Exo Terra All Glass Terrarium includes its ventilation system. It retains and regulates humidity absolutely well. It provides continuous airflow regardless of how you want to customize the cage. Likewise, the top of the tank is a stainless steel cover that does not inhibit infrared and UVB penetration. You can remove the cover anytime for cleaning.
Moreover, this cage is highly accessible. It has dual front-facing doors similar to Carolina models. It makes it a lot easier to feed and interact with your pet. It also makes cleaning a breeze. The pivoting doors open and close one at a time, so an escape is unlikely. Also, the doors have a safety lock to keep naughty hands away from your pets.
This glass terrarium arrives at your doorstep fully assembled. Meaning, you don't have to spend precious time trying to figure out how to tinker it with bolts and nuts. Unfortunately, the glass doors are not as sturdy and thick compared to the rest of the tank. And if you are on a tight budget, this cage is definitely not for you.
Product dimensions are 18" x 36" x 24".
Pros:
Patented ventilation system
Includes an elevated bottom frame for substrate heater
Waterproof base
Has a realistic, decorative background
Dual front-facing doors for accessibility
Doors open and close separately
Comes with a reliable safety lock
Fully assembled right out of the box
Stainless steel cover allows UVB penetration
Top grate is easy to remove for maintenance
Cons:
Glass doors aren't as thick as the rest
Tank can't contain live insects efficiently due to bigger grommets
Pretty heavy on the pocket
4. Carolina Custom Cage Extra-Tall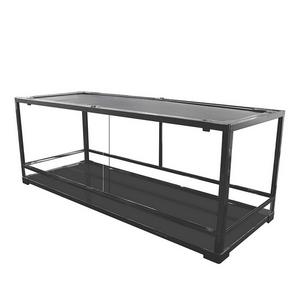 This easy-to-assemble cage comes in a whooping 18 different models ranging across medium, tall, giant deep, bio deep, etc. The bio deep models come with a waterproof base that is 12 inches deep, while other models have a waterproof base of 4 inches, 6.3 inches or 7.5 inches deep. They come with hinged doors for certain models (24 and 36 inches long), and the others have sliding doors (48 and 72 inches long).
Irrespective of the model, they are all equipped with a key-lock feature. Manufactured by Carolina Custom Cages, which is a division of Carolina Designer Dragons, this cage comes in the following dimensions: 49.5x20.2x11.5 inches and weighs around 73 pounds. This cage now comes with packing with tougher cardboard and Styrofoam in excess for better protection of the cage. Any habitat of reptiles must be cleaned regularly, and this cage is very convenient for cleaning purposes.
Pros:
These custom cages contain a lock-key feature
These cages are available in 18 different models for you to choose from
Assembling these cages is extremely easy
Depending on the size of the cage, two types of doors are available
Cons:
Certain features are available in certain specific models only
5. Exo Terra Short All Glass Terrarium
We have another entry from Exo Terra, which is a tad shorter than the previous model. This cage measures 24" x 18" x 12". Bearded Dragons are not adept climbers and they spend most of their time lolling on the ground. So, a tall cage isn't all that necessary.
This cage also has large pivoting doors that makes it a breeze to feed and interact with your pet. The distance between the tank's doors and the bottom is four inches, which is deep enough. You can mount a heat lamp against the wall or leave it dangling over the top lid.
This particular model is similar in ways with the Long Tall model. It is designed to lend a natural ambiance. Plus, it is complete with an amazing rocky backdrop. Surely, your Beardie will feel at home straight away! The grooved wall is made of foam that you can remove anytime.
However, you will have to upsize your cage as your Beardie grows into adulthood. This cage is only suitable for a hatchling.
Pros:
Waterproof base
Has a realistic, rocky background
Dual front-facing doors for accessibility
Comes with a reliable safety lock
Fully assembled right out of the box
Stainless steel cover allows UVB penetration
Lockable mesh lid is easy to remove for cleaning
Cons:
Not suitable for a full-grown Bearded Dragon
6. Exo Terra Outback Terrarium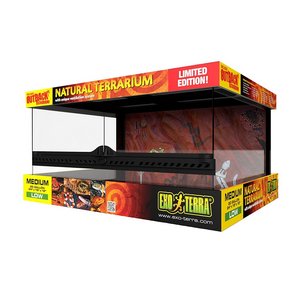 Designed by professionals, this terrarium is the perfect choice for your pet reptile. The front doors are designed with a precision that facilitates easy feeding and maintenance of the cage too. The cage contains two front doors. These doors can be opened separately, and they come with a lock specially designed to prevent your pet from escaping. The top ventilation allows penetration of ultraviolet B rays and infrared rays. This part is easily removable, in case, you want to clean the terrarium or decorate it.
There are closable wire inlets on both sides. This will be useful when you would like to install sensors, heaters or some background decoration like waterfalls, etc. Manufactured by Hagen, it comes in the dimensions of 25x19.6x13.3 inches and weighs 40.7 pounds. The front window is extra-high fixed to let your thick layer reptile pass easily. There is a limited edition hand-painted 3D rock, which also offers extra space for climbing. In order to heat the terrarium, please use the heating fixtures advised along with the product.
Pros:
It comes with front window ventilation
It contains two doors to prevent your pet from escaping
The stainless steel mesh cover provides durability
Cons:
It does not contain heating
7. Reptizoo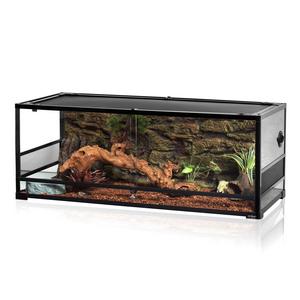 This terrarium provides your pet reptile a convenient environment to live in. This product has a dimension of 52x24.1x11.9 inches and weighs 70.8 pounds and is manufactured by Reptizoo, who has more than ten years of experience in this domain. The front door is sliding, and this allows for feeding your pet and maintenance.
There is a sliding glass lock, which is specially designed to prevent the escape of your pet. Further, the doors can be opened separately. The top ventilation allows penetration of ultraviolet B rays and infrared rays. For the purpose of decorating and cleaning, this top ventilation can be removed. The bottom is raised in order to accommodate a heater that can heat the extended ground surface. For the purpose of installing heat wave rocks, waterfalls, sensors, etc., there are closable wires found on the right. The pet can climb on the natural background.
Pros:
Top ventilation allowing for penetration of rays like ultraviolet B and infrared
Very easy to install the terrarium
The sliding door in the front provides for easy feeding of the pet and prevents escape
A window for ventilation on the left and right
Cons:
It doesn't include any decoration
8. Carolina Custom Cages Extra Long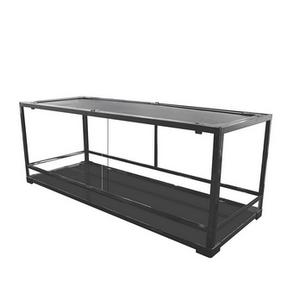 This terrarium is designed by no other than Carolina Designer Dragons, which is a boutique breeder based in North Carolina. The breeders have built a remarkable reputation of breeding healthy Bearded Dragons over the years. Ultimately, they have expanded their business into reptile supplies. With a notable history, it comes as no surprise that their products offer one of the best accommodations for your pet.
The extra long terrarium, which measures 48" x 18" x 18", is our most highly recommended cage. It is complete with amazing features and amenities that will surely blow your Beardie away! You don't have to take our word for it. Search the Internet and witness a multitude of happy reptile owners sharing positive impressions about this cage.
For one, assembling this cage is as easy as ABC. It is complete with equally sized glass plates and some screws that you can put together in a cinch. Its metal grate works well with any type of heating equipment. The top grate is not too fine, so it retains heat relatively well. This model also features sliding doors, making it a lot easier to socialize and feed your pet.
Rest assured no escape artist can break away from this enclosure. The door includes a simple keyed latch to prevent accidental opening. Likewise, this cage is complete with several grommets surrounding its perimeters that are much smaller compared to most terrariums. So, don't worry about your pet's dinner trying to get away.
Pros:
Super easy assembly
So much wriggle room
Large, sliding glass doors for easy access
Metal mesh and door lock provide added security
Removable metal mesh won't restrict heat
Easy-to-clean crystal clear glass
Holes for electrical wiring are small enough
Has waterproof base
Ideal life-long cage - no more size upgrades
An economical and solid find
Cons:
Dimensions are too big for a hatchling
9. Zilla Reptile Starter Kit 10
The Zilla Reptile Starter Kit is perfect for baby bearded dragons or other small reptiles. It comes equipped with everything you need in one convenient package in either a tropical or desert environment. The fresh air screen clamps into place and makes the perfect resting place for the two reflective dome light fixtures - a black incandescent bulb for nighttime heat, and a white spot bulb for daytime basking - these are a necessity for any reptile.
Even expert reptile-keepers need to know what the humidity and temperatures are inside your terrarium, so the Zilla company has made it easy with a gage made specifically for these readings.
The Zilla Reptile Starter Kit also includes a substrate carpet that is low maintenance, odor-fighting, non-abrasive, and cannot be digested.
Keep in mind when purchasing this product that it is not a "complete" starter kit. It does include the bare-basics, but you will still need to purchase decorations, food and water dishes, etc.
Product Dimensions: 20.2 x 10.5 x 12.6
pros
Comes in either desert or tropical
Has a fresh air screen with clamps
Comes with two 5.5-inch reflective domes and bulbs
Has a substrate carpet
Starter booklet
Temperature/Humidity gauge
cons
Bare-basics. Some additional products will be required
10. Carolina Custom Cages Terrarium Extra Long Deep
The Carolina Custom Cages Terrarium Extra Long Deep measures an ample 48 inches long by 24 inches deep by 18 inches high and like all the Carolina Custom Cages this model also has the key-lock feature for added safety.
This terrarium features a 4-inch deep base, which is enough to keep your scaly friend happy and healthy. The two sliding doors are great so you can easily clean your terrarium or for feeding your lizard. This Carolina Custom Cage Terrarium is just one of the 18 models this company offers and is built with the same care and quality you'd come to expect from this company.
You know this company's reputation is solid as they are now packing their terrariums with tougher cardboard and extra styrofoam, so your terrarium will arrive in perfect condition.
One thing to be aware of when you are assembling the Carolina Custom Cages is the glass panels are not labeled - each pair has its place - and if they are not properly placed, they will not work.
Pros:
Large-size
4-inch deep waterproof base
Key-lock feature
Sliding doors for easy accessibility
Securely packaged for shipping
Cons:
Assembly required and glass panels are not marked for placement
Buying Guide: Things to consider when buying a bearded dragon tank
Size
A baby Beardie needs to be housed in a 20-gallon tank, while an adult Beardie that measures at least 1 ft. in length needs a 40-50 gallon tank. Take note: a healthy Beardie can grow up to 2 ft. long (inclusive of its tail), especially when your pet is fed an ideal diet.
Rather than starting with a 20-gallon tank and buy bigger tanks progressively as your Beardie grows, just go for the 120-gallon tank and have your dragon grow into it. Regardless, you don't necessarily have to stick with the minimum size requirements.
The best course of action is to get the biggest tank your budget allows. Doing so ensures your Beardie has all the space he needs to roam around and lallygag his tooshie. Most importantly, you can put in other interesting equipment to keep your pet occupied.
Additionally, be sure to consider the amount of horizontal floor space when getting your pet's enclosure. Beardies aren't cut out for climbing, unlike geckos or chameleons. Therefore, enclosures with high sides aren't better suited for Beardies.
Type
Glass terrarium
Glass terrariums are the most mainstream type of cage for docile, cold-blooded reptiles. So, it comes as no surprise that this type of enclosure is one of the most economical choices. The main drawback of terrariums, however, is that they are heavy. It's going to be a challenge to move the enclosure once it has been set up with your Beardie inside.
Melamine cage
DIY-ers like constructing their own melamine cage. It gives them the freedom to tailor the enclosure according to their preferences. They use a melamine board, which is a type of wood that is coated with a fire-resistant plastic finish. You may install artificial rock formations inside to mimic your pet's natural habitat.
The only downside is that your Beardie is only visible from one angle. Melamine is also not as easy to work with compared to plywood. Lastly, melamine cages don't provide adequate insulation. Bearded dragons may not have a problem with it, but a lower temperature could cause a change in your pet's color.
PVC cage
A PVC enclosure is made of a heavy-duty plastic. It is very durable but also very light, so it won't be difficult to move it around. Unfortunately, this type of confinement comes with a hefty price tag. Some pet owners also find it less appealing.
Verdict: As far as functionality, ease of assembly and price are concerned, it is wise to choose a terrarium. Many companies provide high-end terrariums for Bearded dragons that use professional-grade glass. It is also a tried-and-tested type of habitat.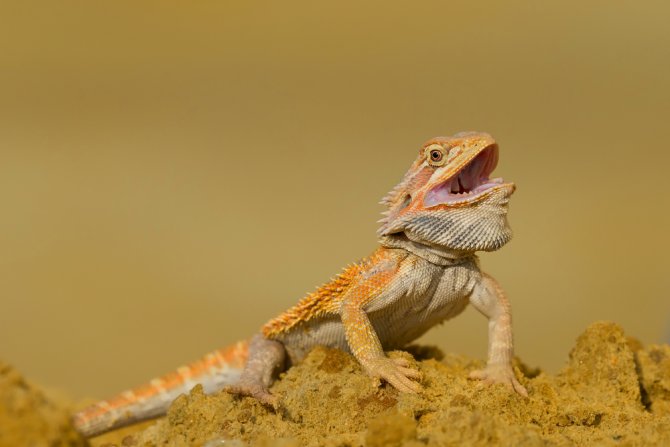 Security
Full Metal Screen
You don't want your Beardie to break away from its cage and get hunted by Felix the Cat. Hence, security is a crucial factor when choosing your pet's enclosure. Many terrariums are now specially calibrated for reptiles. The best ones are complete with a full heavy-duty metal screen cover that you can fit snugly on your pet's enclosure.
Plastic screens are not recommended since they will melt due to the heating lamps that you will use to provide warmth to the enclosure. Glass is also inadvisable as it limits the amount of air that goes into the tank.
Locking Lid
A locking lid is also a beneficial addition, especially for families with small children. You don't want your little Dennis the Menace to lay his hands on your reptile.
Durability
If you don't want to buy terrariums at frequent intervals, especially for a pet that can live for 10 to 13 years, choose a product that is sturdy and long-lasting. Yes, Bearded Dragons can live more than a decade, provided that they are well taken care of.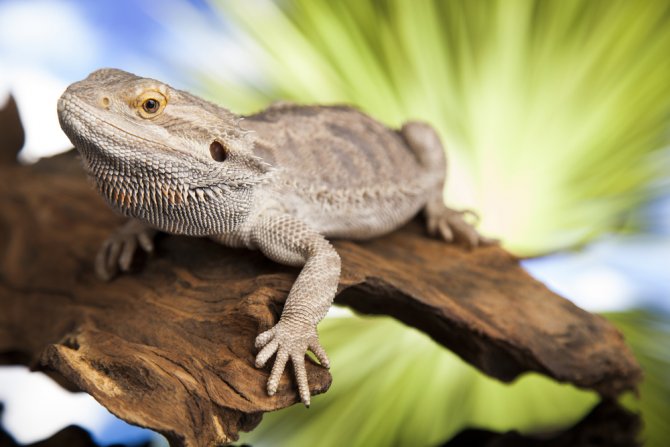 The Right Equipment
Getting the best cage for your Beardie is merely winning half the battle. To win the other half, you need to gather the right equipment. To keep your Beardie in top shape, prepare the following items:
1. Basking light
Did I mention that Beardies love to bask in the sun? Another reason why you shouldn't opt for a glass lid to cover your terrarium is that it prevents you from using a basking light.
A basking light helps keep your Beardie toasty. Adequate UV exposure also allows Bearded Dragons to draw vitamin D into their skin. This promotes calcium and phosphorus absorption from their food, which is vital for numerous metabolic processes including muscle contraction, bone formation, and so on.
Otherwise, their bones will soften and break easily. They could also suffer from muscle tremors and organ failure that will eventually lead to their death.
2. Heating tool
It is best to employ both a heated lamp and a heated rock, particularly if you live in a cool environment. The rocks also add character to your pet's enclosure.
3. Temperature and humidity monitor
Keep a weather eye open on the temperature of your pet's habitat. Beardies are incapable of regulating their body temperature. Rather, they adjust to that of their environment. Know that their digestion, immune system, and metabolism are greatly influenced by their body temperature.
Thus, get a reliable temperature and humidity monitor to achieve the appropriate temperature gradient. Your Beardie's tank should vary from 90 degrees Fahrenheit on one end so he can revel in UV light, to 80 degrees Fahrenheit on the other end so he can chill if he wants to.
Bearded Dragons also require adequate humidity to keep themselves hydrated in order to shed skin properly. Without it, your Beardie would retain its shed skin, which could hamper their eyesight.
4. Water dish
Bearded dragons draw out water from their food but they also like to get soaked occasionally. Choose a large, shallow dish so he could easily climb into it.
5. Substrate
They are not adept climbers. If there's one thing Bearded Dragons are good at, it's digging. Digging is a good exercise for Bearded Dragons. It also trims their claws. Sometimes, they dig to create a more comfortable basking area.
6. Hide huts
Another reason why Bearded Dragons dig is that they want to build their own cubbyhole where they can retreat away from prying eyes. So, give him a few places to chill.
7. Decor
Decorations add interest and color to your pet's enclosure. Your Beardie won't likely appreciate it, especially when he finds out he can't eat the fake plants. Nevertheless, it transforms a drab cage into a beautiful centerpiece!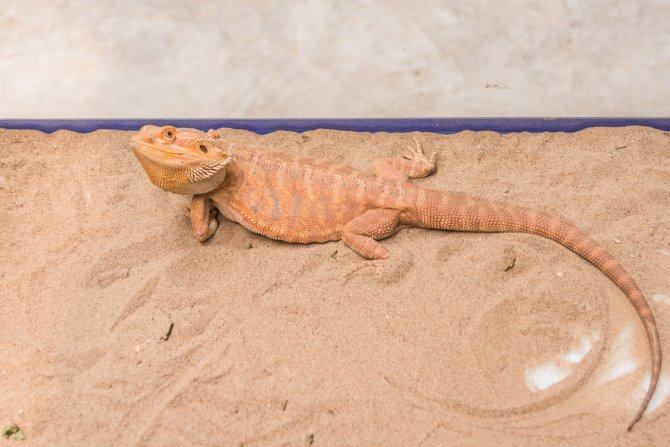 Frequently Asked Questions
What should be the temperature for a Bearded Dragon tank?
Bearded Dragons are native to the hot regions of Australia. So, you must simulate their natural habitat in captivity.
The basking area should be kept between 90 to 110 degrees Fahrenheit. Never let it go beyond 110 degrees Fahrenheit. The cooling area, on the other hand, should be around 80 degrees Fahrenheit. It should never go down below 80 degrees Fahrenheit, especially at night.
What size tank do you need for a Bearded Dragon?
A good rule of thumb is to choose a terrarium measuring three times more than the length of your Beardie (inclusive of its tail).
A baby Beardie should be housed in a 20-gallon tank. The bare minimum for an adult Bearded Dragon is 50 gallons. However, simply adhering to the minimum requirement restricts freedom. About 120 gallons would be best.
Do Bearded Dragons need a water bowl in their tank?
Yes, they do although they don't drink some. Bearded Dragons can't detect stagnant water. The only reason why it is needed there is that it helps keep your Beardie hydrated. Even if he can't see it, he will bump into it eventually and he will have an instant bath. Bearded Dragons also sip water occasionally.
Does my Bearded Dragon need special lights?
You need to supply broad-spectrum lighting for your pet's enclosure. You can choose between fluorescent tubes, compact fluorescent bulbs, and mercury vapor bulbs.
All too often Bearded Dragons raised in captivity suffer from Metabolic Bone Disease due to insufficient exposure to UV lighting. Special lighting ensures your Beardie receives adequate UV exposure, which is crucial for vitamin D synthesis in his skin.
Which type of substrate is most preferable for Bearded Dragons?
Sand is good but it is not advisable for baby Beardies as it increases the risk for impaction. Newspaper and reptile carpet liners, on the other hand, are more pet-friendly.
Can I use live plants instead of fake ones?
Yes, but it is not recommended. Any live plant you put in your pet's habitat could get eaten in a week or two.
References and further readings:
Grenard, Steve. (1999). The Bearded Dragon: An Owner's Guide To A Happy Healthy Pet. New York: Wiley
Forsyth, Gail. (2013). I Want A Pet Bearded Dragon. Cedar City, UT: Breed Profiles Publishing
Petmd, Inland bearded dragon
Bush Heritage, Bearded dragons
Animal Planet, Bearded Dragon: Stats & Facts
Conclusion
Simply standing back and admiring the beauty of a Bearded Dragon terrarium provides you perfect contentment. How much more when you have already brought home an amazing pet? That will surely send you to cloud nine. But that won't turn into a reality if you settle on a shabby enclosure.
We highly recommend the Carolina Custom Cages Extra Long Terrarium as it offers a long list of useful features at a price that won't cost you an arm and a leg. So, choose this terrarium! It is apparently the biggest one in this list, which is beneficial as it eliminates the need for size upgrades. Your Beardie will be a lot happier if he has ample running space.
So before the excitement of having a Beardie gets the best of you, be sure that there is already an assembled and fully furnished terrarium waiting for your pet.