Only we pet lovers can appreciate the pain we would feel if we had to leave our pets behind when we have to travel. We always try to manage and take our pets wherever we go. Don't you all agree? But when it comes to longer jaunts that entails travel by an airplane, it becomes difficult to make arrangements and take our pet with us.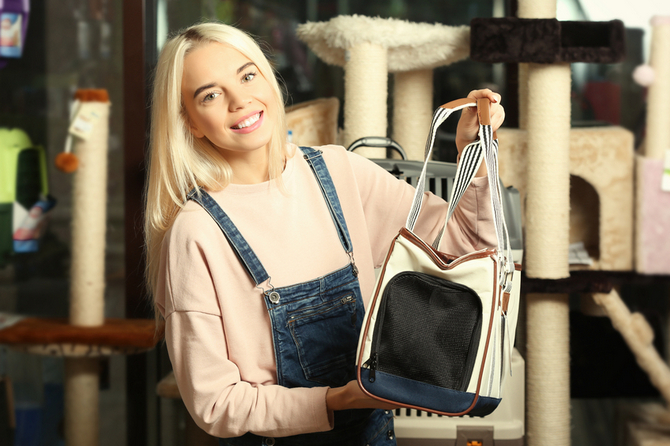 But that need not be the case. It is quite possible to carry your loved pet with you inside the aeroplane. All you need would be a pet carrier which will accommodate your pet. The important and basic requirement is that the carrier is IATA approved.
You will also need to have some knowledge about the rules and regulations.
In this article, we will talk about the best among various pet carriers available on the market. You can then choose the carrier which best suits your pet.
We will also tell you the points you need to keep in mind once you decide to take your pet on the flight with you. Then there will be some doubts cropping into your minds. We'll try to answer all of those for you.
So, here are the best of the products and their reviews:
Top 10 Airline Approved Pet Carriers
Buying Guide - Pet Carrier for Aircraft Travel
The very first thing you need to know are the guidelines. Basically, the IATA (the International Air Transport Association) has framed certain guidelines about the pets, pet carriers, the specifications etc.

Some examples of the relevant and need-to-know guidelines:

Your pet should be able to stand, turn around within the carrier and also lay down comfortably. Beware snub-nosed breed pet owners. Your pet carrier should be a size bigger.
The carrier should have proper ventilation (2 sides ventilation for domestic and 4 sides-ventilation for those carried on international flights).
The carrier should have enough safety equipment and a secure locking system so that it doesn't escape outside.
It should be sturdy and should not collapse.
The bottom surface needs to be non-sagging and should not leak.
You need to put an ID tag on it.
Please have the feed bowls attached inside. Don't leave any hard items loose inside the carrier; your pet might get hurt during movement of the flight.

The IATA gives broad guidelines. But each airline has its own rules in the matter of carrying of pets. For example:

While some airlines allow you to carry your pet in-cabin, some allow the pet to be transported only under check-in/cargo. There are others who do not allow pets at all.
Generally, airlines allow pets weighing up to 15 lbs, whereas some allow even up to 20-22 lbs. Each has its own rules.
Likewise, the dimensions of the carrier allowed in-cabin also varies. While specifying the measurement capacity-wise, others have specific measurements for length, width and height. So, it becomes imperative for you to check the particular airline's website and then make your decision for the purchase.
There are even minimum age criteria for the pup.
Though this is mentioned at the end, you should be considering this matter first. You should check your budget and decide. This is because while on one hand you will have to pay extra charges to the airlines, you have to spend an extra amount on the cost of the pet carrier, too.

Size matters; and weight does too. As you have seen in the above-said paragraphs, if your dog is too tall or too heavy, you should be considering other options for travelling with it.
Check the height, weight, width etc. of your pet very carefully and then buy the carrier of the right size. Later you may be able to accommodate your pet inside somehow or the other but it would be torturous for the pet during travel to adjust its body in the carrier.
There are varieties in carriers which are meant especially for dogs or cats or other pets etc. You will find such segregation in these reviews too. Please choose to keep this in mind.
It is advisable to buy your pet carrier well in advance. Try to make the pet use it a few times before your travel. This way your pet will get used to being inside the carrier.
Is your pet prone to small accidents? Even otherwise, put pet pads on the bottom surface and also carry some extras in the pocket which will be usually available with the carrier. This is because any pet which is travelling newly by aeroplane is bound to feel a certain amount of anxiety. So, when you choose a carrier, make sure to check that the bottom surface is relatively well-padded and preferably waterproof.
While on the matter of accidents, one way of avoiding accidents would be to provide water and food very sparingly to your pet before the travel and during it. How sparingly? It should be your decision and judgement.
Also, do make it a point to take your pet for a jaunt for doing his thing during layovers, however short their duration be. Your pet will be happy for the opportunity and will stay nice and clean and you can heave a sigh of relief.
We all know that you are proud of your pet, love it very much and would like to provide it with all of the comforts. But please note that an airport is not the place to advertise this. Please don't carry your pet in your hands. Airports frown on this habit. Security checks are the only places where your pet will be out of its carrier. So, the best carrier for such freedom-loving loving pets would be carriers from which the pet can put his head out and enjoy the goings-on around it. Keep this in mind when you choose your pet carrier.
Please take your pet on a flight in a pet carrier only if it has the temperament to adjust to such a confined stay for a prolonged period inside a cooped up environment. Someone had even narrated his first-hand experience seeing a pet being put through this torture. It is cruelty to the pet if it is not amenable to travel by flight, a nuisance to the co-passengers and will prove to be a punishment to you.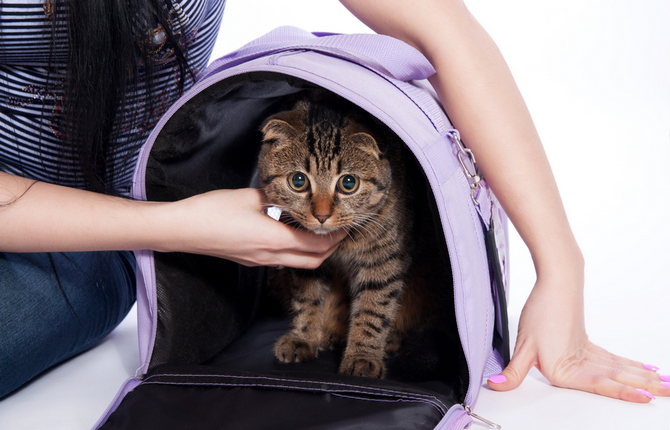 FAQs
How do I know which is the right sized carrier for my pet?
You should know how to measure your pet. Please measure the length from the nose to the root of the tail. The height should be measured from ground to the top of the head while the pet is standing. The width would be across the shoulders. Add extra inches and check the same against the inner dimensions of the pet carrier you intend buying.
What size carrier will fit under the seat?
Each airline will notify on its website the dimensions of baggage/carrier which will fit under the seat. Some airlines mention total capacity while some give length, width and height separately. Go through the same carefully. Especially for the height, you may verify it against the collapsed height of your carrier. This is because during the flight the pet will be sitting and most of the carrier bags have a provision to collapse the standing height into lower heights.
Can I put a bowl inside the carrier with food for when my pet gets hungry?
Loose, unlatched hard items are not to be put inside the carrier. They may hurt your pet if they roll over.
I find carriers tagged as "IATA/TSA/FAA approved". Is this sufficient for me to decide on a buy?
While it is true that the carrier may conform to set standards, it is not a matter of 'one shoe fits all'. Each airline has different and set specifications. So, you would do well to check on the website of the particular airline and then decide on the product.
Which carrier is best for my dog?
There cannot be a hard and fast rule because it depends on the size of your dog, its preferences, the price range which you can afford, etc.
But the aim of this article is to give you some pointers and as mentioned in the products page, you will find that the 'SturdiBag' and the carrier by 'Natuvalle' are best for dogs, big and small.
Can my dog sit on my lap once the flight takes off?
No, it is not allowed. You have to sit him/her in the carrier bag till disembarking.
I have two pets. Can I carry them in the same carrier bag?
Yes, you may. But according to IATA regulations, they should be of the same species, be compatible and weigh in total, less than 30 lbs.
How about long duration flights? Will these carrier bags be useful?
The carriers are generally well ventilated and cushioned. But it is not advisable to take pets for journeys of more than 5/6 hours because the pets may not feel comfortable with long duration confinements.
I generally prefer aisle seats for myself since I feel they provide more room. Will the under-the-seat space also be equally convenient?
No. The window and middle seats have more under seat space in most of the aircrafts.
Check out these reference links for details of airline under-seat area dimensions, IATA regulations etc.
IATA, Traveler's Pet Corner
Final Words
Most of us wouldn't ever like to leave our pet back home when we travel, whether it is for a few days or for a longer duration.
But when it comes to travelling, flights are a different matter altogether as compared to other modes. It entails conforming to many regulations. At the same time, most of the pets undergo some anxiety too. This wrecks the usual nature of the pet and in turn, creates anxiety for us too.
So, to avoid these hiccups, it pays to have the best carrier for carrying them. The best is not necessarily the costliest or most advertised but the one which the pet feels comfortable in. This is why it is so important to choose the pet carrier carefully and wisely.
This article was an effort to bring you to ease in making your choice for the buy.
Have you picked one yet? Bon voyage; to you and to your loved one (I mean your pet of course!)